Ched Evans, Gelson Fernandes and Kelvin Etuhu, anyone? No? Well, they all started for Manchester City in the first Premier League game of the 2008/09 season.
Weeks later, the Abu Dhabi United Group took over from Thaksin Shinawatra, going on to break the British transfer record for Robinho on deadline day and officially taking over on September 23.
The rest, as they say, is now history.
Six years on, having not won a major trophy since 1976, there now stand four gleaming pieces of silverware in the cabinet, signalling that their brightest era has just begun.
In football, years can look like lifetimes. Glancing upon the City squad who faced Aston Villa back in 2008 is certainly a testimony to this.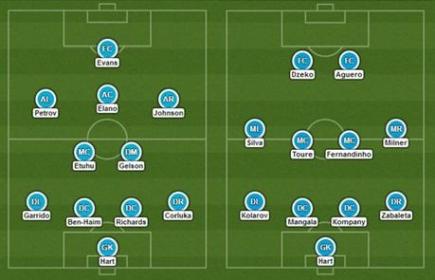 WHERE ARE THEY NOW? City in 2008 (left) and now (with thanks to Lineup Builder)
In a fixture they lost 4-2, only Joe Hart still plays for City, while an 18-year-old Daniel Sturridge had little impact in his 10-minute cameo towards the end.
Apart from that, the team sheet poses a mammoth game of 'Where are they now?' which even the biggest football nut would struggle to complete.
You won't get the satisfaction of all the answers here either, but to give a couple away, you'll find Ched Evans in prison and Michael Johnson in your nearest chippy.
Evidently, it was never going to be a case of overnight success when the consortium took over. Alex Ferguson's seemingly eternal tenure at Manchester United and billionaire Roman Abramovich's Chelsea dream posed two major obstacles.
In an open letter to the fans back in September 2008, new chairman Khaldoon Al Mubarak addressed their immediate desire for stability.
"We are not going to do crazy stuff, but it makes sense for us to build a dynasty. We're here to help build a sustainable club. I think we are going to have a blast doing it!" he said.
It can sometimes be the case of 'in one ear, out the other' with comments of new owners but most of what Al Mubarak has said rings true today.
One case not supporting this would be when he stated that they "will be patient" with then manager Mark Hughes as they hunted down silverware.
However, this 'dynasty' he spoke of may well last for decades. Instant success has been complimented by a £150million City Football Academy which will open later this year. 
The new complex aims to become 'a global centre of excellence' that focuses on the local community as much as it is does on worldwide success.
It appears that under Sheikh Mansour, despite the managerial changes, there is an authenticity behind their desire to make City the greatest team in the world.
"We understand it takes time to build a team capable of sustaining a presence in the top four of the Premier League and winning European honours," he told the club website in 2008.
Rome wasn't built in a day, and neither is a football club's legacy. Without donning the hardhats, the Sheikhs were evidently aware of the lengthy construction time such dreams take.
City were only promoted to the Premier League in 2002, yet 12 years down the line and over £1billion worth of investment later they are the current champions of England.
In six years' time we may well be talking about the champions of Europe. It is undoubtedly the next step for them on their quest for intergalactic domination.
Vincent Kompany's comments before the Bayern Munich game last week led many to believe that Sheikh Mansour is in fact calling for Champions League glory this year.
"The club is asking us to win it now, so that's one thing. Before we won the league it was more difficult to believe we could do it than with the Champions League," he told MCFC online.
"My experience of the Champions League is that it's not more difficult to go to the end, but everything has to be perfect. Eventually it will happen our way."
City are fifth favourites for the title behind Real Madrid, Bayern Munich, Barcelona and Chelsea, but a spirited performance against Munich, despite losing 1-0, will give them hope.
Perhaps they may have to 'do a Chelsea' and sacrifice the league (Chelsea came sixth the year they won the Champions League in 2012, after all) though the red side of Manchester testifies to the contrary.
United conquered Europe twice under Ferguson, in 1999 and 2008, going on to win the Premier League both times as well, plus the FA Cup in 1999 also. Did someone say treble?
Four days after Ole Gunnar Solskjaer tapped in United's infamous winner, City's Paul Dickov equalised in the dying seconds of the second division play-off final against Gillingham before winning on penalties.
Now look where they stand. Champions of England.
City have all the tools to claim this post-Ferguson era as their own. The will to succeed however, must stem from the players at their disposal. How many trophies they have come 2020 is quite simply down to them.