The pressure is on  for Old Trafford to adopt the Living Wager after new research revealed it takes an MUFC cleaner 13 YEARS to earn what a Premiership footballer would earn in a WEEK.
Just a week after Chelsea became the first Premiership team to obtain full Living Wage status, committing to paying their staff a minimum of £7.85 an hour, campaigners and fans are putting the heat on United to follow suit. 
One unnamed Premier League club was revealed by the HMRC last year to not even be paying some of its staff minimum wage when it published details of fines issued for employers not paying the minimum wage to staff.
Tom Skinner, co-ordinator of the Living Wage campaign and lifelong Manchester United supporter said: "As a fan I'm embarrassed that United are not paying the Living Wage.
"Our players are paid huge amounts, but the team is more than just 25 players, it's the whole staff – stewards, cleaning staff, everyone – and we need to do right by all of them."
Other Manchester clubs have been keener to embrace the idea, with FC United becoming a fully accredited Living Wage employer last month.
Over at the Etihad Stadium, Nixon Tod was one of a group of Manchester City fans who have had partial success in lobbying his club's board to take action.
The club announced in June 2013 that all directly-employed staff would receive the minimum £7.65 prescribed by the Living Wage campaign group.
While they have so far failed to extend the policy to agency workers, which include match-day and catering staff, he believes the bar has now been set for United to meet the minimum requirements.
Mr Tod said: "Alex Ferguson was always banging on about how he was a socialist.
"People like him should rise to the challenge and make it known that this kind of approach to low pay is not acceptable in football."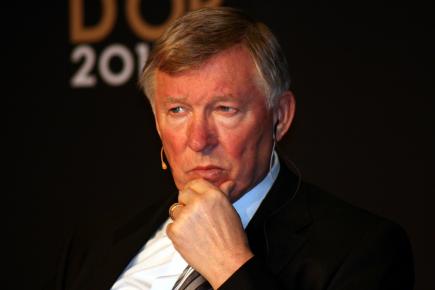 'BANGING ON': United supporter Nixon Tod has called for Alex Ferguson to 'rise to the challenge' (© The Sport Review, with thanks)
Ian Sterling, one of the leaders of Manchester United Supporters Trust, agrees with his Manchester City counterpart. 
Describing the missed opportunities for making a positive impact on the local economy and employing local staff, he says: "In terms of social responsibility and taking care of the community I would say they have totally failed on that account."
Dismissing the idea that the club is too much of a global brand to owe its allegiances to the local community, he says: "If you go into pubs around Old Trafford on a match day they are full of people watching from there. So it is not like they do not have local support."
Mr Sterling points out that several promising initiatives were put forward by the supporters' group before the Glazers took ownership of the club a decade ago.
These included a proposal to allow local kids to be able to pay on the gates and other schemes aimed at bringing social issues to the fore.
However, he is not optimistic that this month's positive move on the part of the Premier League will be followed by other clubs, blaming a lack of incentive from higher up.
He says: "Under the current government some caveats were put down for the FA to modernise but they failed.
"I would actually say that things have gone backwards. TV deals, clubs getting richer, less engagement with supporters.
"I would hold out very little hope for positive changes."
Top image courtesy of Ian C and Roosh Inf3ktion, respectively, with thanks