Manchester City fans are planning a tribute to club legend Mike Doyle during Sunday's Capital One Cup Final clash with Sunderland.
Blues supporters have suggested all of their sold-out 31,580 allocation break out into a chant of 'There's only one Mike Doyle' on four minutes in honour of their former number four.
Doyle was the last captain to lift a major trophy for City following a 2-1 win over Newcastle in the 1976 League Cup, until Carlos Tevez collected the FA Cup 35 years later.
Calls for the tribute began on the unofficial City forum Bluemoon with a post from 'wearethesouthstand'.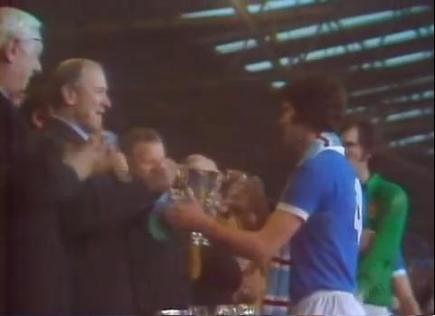 'ONE FOR DOYLE': Mike Doyle receives 1876 League Cup after beating Newcastle
The post read: "He was for so long the last City captain to hold up a trophy – the '76 League Cup. (Are there) any thoughts on a chant of 'one Mike Doyle' after 4 minutes (his shirt number) or on 76?"
A number of City fans backed the idea before the campaign started gathering pace and eventually reaching Twitter via @1894GROUP_MCFC .
They said: "Ok Blues spread the word. We're asking everyone to sing "there's only one Mike Doyle" on 4 minutes at Wembley."
The hashtag '#doitfordoyley' began trending in Manchester shortly after.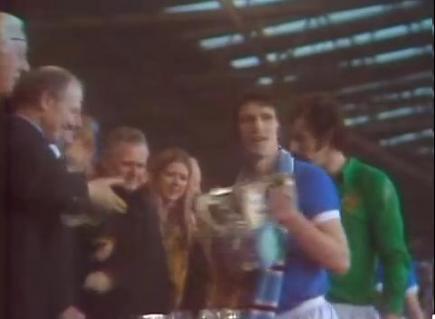 PROUD MOMENT: Doyle was the last City captain to lift major trophy until Carlos Tevez in 2011
Ashton-born Doyle, who died in June 2011 at the age of 64, missed out on a full tribute as his death fell in the summer and out of the football season.
After making his debut at the age of 18, Doyle made 448 appearances for his first club City between 1965 and 1978, scoring 32 goals.
The defender finished his career with spells at Stoke City, Bolton Wanderers and Rochdale before retiring in 1984.
Images and video courtesy of MCFC videos, with thanks.