After becoming disillusioned with life in a bobsleigh, Manchester Olympian Rebekah 'Bex' Wilson is rediscovering her love for sport on the rugby pitch.
The 24-year-old is no stranger to dramatic changes in sporting career. After excelling on the athletics track at junior level, the self-described 'pocket rocket' saw her progression in the sport be halted by her build.
Bex made the switch to bobsleigh and didn't look back, going on to compete at the 2014 Winter Olympic Games in Sochi, before walking away from the sport when its political strains began to take their toll.
The chance for a fresh start on the rugby pitch was one that Bex simply couldn't turn down.
"I wanted something new. I was 22 at the time, and it was time to be 22 and learn to love my sport again, and that's difficult in an individual sport.
"It's so easy at that top level in a very specialised role to forget why you're actually there.
"I started playing, and I got to Northern England level within my first year. My aim is to try and play for England on sevens, so I just need to learn the game."
Bex has always been strong minded enough to walk away when the realities of her experience in sport haven't matched up to her ambitions or values.
Dissatisfied with her progress on the British Bobsleigh programme with just 18 months to go until the Sochi Games, she handed her £20,000 UK Sport funding back and returned to Manchester.
Having worked with the Diane Modahl Sports Foundation for the past year, Bex knows first-hand that a lack of funding serves as a serious barrier to underprivileged young people who are looking for a pathway into elite-level sport.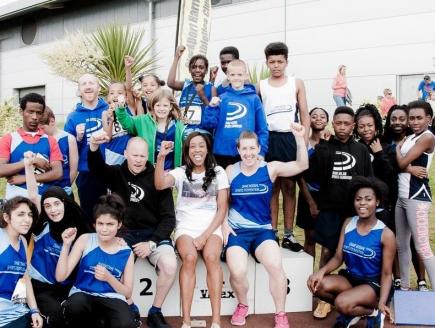 INSPIRATIONAL: Bex works with Diane Modahl (to Bex's right) to help children from Greater Manchester fulfil their potential (image courtesy of Diane Modahl Foundation, with thanks)
"There's a lot of talent that is missed because of funding, and you will see it, because you will see certain demographics go into certain sports.
"I look at some of our camps sometimes and our schools, and I think 'Wow, that kid is naturally talented', but you know that they are already at a massive disadvantage.
"The opportunities for a lot of the young people in Greater Manchester are lacking, so they're never in the position to put themselves in the running for financial support, because, where would you start?
"That's where we try to bridge that gap to show them there's more out there."
The foundation was set up in 2010 to inspire disadvantaged young people across Greater Manchester to set goals and fulfil their potential. For Bex, it fulfilled a personal satisfaction that she found lacking in "all-consuming individual sport".
"I love my sport, and I love it because of the enjoyment around it, the support around it, and because of who it makes me as a person.
Road to… @EnglandAthletic @GianniFrankis @leahbarrow @emmajacko88 @EdiOkoro110 @Polevaultmax @RichHumby pic.twitter.com/GUqXv3li8j

— Rebekah Wilson (@BexGB5) February 12, 2016
"If I was going to work and pay the bills I needed to be involved in something that stood for the same values that I had as an athlete.
"I'm from a normal working class household, and I found athletics. I had very supportive coaches, and family members that helped me get to where I can get.
"So it's almost recreating those singular experiences we had, but on a bigger scale. It's giving back."
Although Bex appreciates being recognised for her recent achievements away from sporting competition, she has always diverted her focus away from political storms. 
Talk of boycotts and protests dominated media coverage of the Sochi Games because of Russia's track record on LGBT rights.  
US President Barack Obama and IOC President Thomas Bach both condemned the country's position, while Netherlands snowboarder Cheryl Maas sported a rainbow on her glove in protest following a slopestyle qualifying event.
For Bex, it was important to keep her full focus on what she could achieve at the event.
"We weren't really exposed to it because we'd been training, we had a job to do, and we would go and do it.
"You only have to look at history gone by to know that something will surround an Olympics. It's whether you choose to get involved in it or you choose to say: 'Well this is what I can control, it's my sport, and I'll just continue to do that'.
"You have to distance yourself and draw a line, and concentrate on what you do."
What's most remarkable about Bex is the way she has overcome adversity in sport time and again. From physical battles to funding issues, she has defied the odds to compete at the highest level.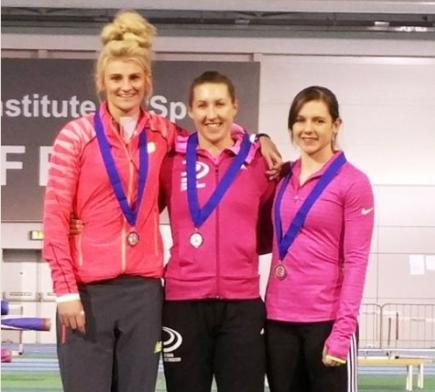 NUMBER ONE: Bex's success in athletics and bobsleighing inspires young people at the Diane Modahl Sports Foundation
It therefore comes as no surprise that Bex – not content with just playing rugby – is also flourishing after returning to her first love.
"I've also recently gone back to athletics. I competed for England last weekend, and the weekend before I was selected onto my first England senior team.
"So lots of doors seem to be opening for me!"
This places needs some music at 8am!! #Training #Manchester #EarlyStart #StepUp @DMSF_UK @RemelloEdwards1 pic.twitter.com/cHvzIdgADy

— Rebekah Wilson (@BexGB5) February 24, 2016
Image courtesy of Harris and Ross via YouTube, with thanks.