As Britain settles in for an unprecedented three-week period of self-isolation and social distancing, one can imagine the voice of Clive Tyldesley will, once again, become a mainstay in the lives of many. 
As the lead commentator for ITV since 1998 following the retirement of his mentor, the late and great Barry Moore, Tyldesley would go on to lend his voice to no less than 17 Champions League finals. I should know, I think I have probably watched highlights of at least five of those already in the past few days since society effectively was put on hold.
In a sporting sense, it is not hyperbole to suggest that Tyldesley provided the soundtrack to moments that many of us would unapologetically name amongst the best of our respective lives – occasions that many of us will relive over the coming weeks as we look for ways to occupy ourselves in the absence of the nation's most beloved distraction. 
For many during this period, football will most probably come to represent the old normal; the symbol of a simpler time when something that is, for all intents and purposes, nothing more than an otherwise futile form of entertainment, was thought to be, as Bill Shankly once quipped, "not a matter of life and death" but "much more serious than that". 
For obvious reasons, Shankly's quote- not for the first time- now seems quaint at best, however. Despite this, with the current league season delayed until April 30th at the earliest, I cannot be the only one who sits here longing for the return of "the most important of unimportant things" as the current incumbent in the Scotsman's old Anfield hotseat, Jurgen Klopp, christened it recently.
And so, to hear the sound of Clive Tyldesey, the voice of the 'Miracle of Istanbul'- the greatest night of my life, no less- emanating from my loudspeaker had a genuinely settling, disarming effect. 
If anyone associated with the beautiful game could claim to have seen it all, in living memory, it is Tyldesley. Alongside the aforementioned 17 Champions League finals, the 65-year-old has led the ITV commentary team at four World Cups and four European Championships.
Part of his charm as a commentator lies in his uncanny ability to articulate the thoughts of the proverbial everyman. Undoubtedly, his main draw is his mastery of the fine balance that befalls many a commentator of understanding the diversity of one's audience and providing the suitable tone, so nobody at home feels neither patronised nor left ill-informed. 
Within seconds, it becomes clear where the roots of this enviable skill lie. In short, Tyldesley is a Bury man, born and bred. 
He begins by regaling tales about his ties with football from an early age including his upbringing living next door to former Bury and Tranmere Rovers manager David Russell in the same Greater Manchester town that famously, alongside Tyldesley, produced Neville brothers, Gary and Philip- who would both feature in Manchester United's Champions League triumph in 1999- a game which effectively would immortalise all three in the national psyche.  
"My first playmate was David's son and the two families were very close indeed- so I grew up next door to one of the 92 football league managers in the country. Two doors away lived the Bury reserve goalkeeper, Roy McLaren, who would go on to be assistant manager at Aston Villa when they won the European Cup", he explains.
His ties to local club Bury – a club that were sadly expelled from the Football League after 135 years as a result of longstanding financial woes in October of last year – like so many people native to the town in Greater Manchester, are numerous.
Roots: Tyldesley's first trip to a football ground occured before he was even born!
"My father did some youth coaching at Gigg Lane, I went to Gigg Lane before I was born! My mother visited while she was pregnant," he tells me.
However, it would be his father's team of choice that would first properly catch Tyldesley's eye. 
"My dad was a Manchester United fan of the Busby Babes era and so took me to see United play starting from when I was five years old. Throughout my childhood and into my university years I was an ardent United fan. In the Second Division season in 1974/75, I missed about five games in all, home and away.
"I grew up watching a successful as well as glamorous team which contained no less than three European Footballers of the Year in Denis Law, Bobby Charlton and George Best.
"The whole football experience was taking me over from a young age. I started to consume sports on television as avidly as anybody.
"Although I know I'm not the only kid who ran around the back garden commentating, for some reason I have never got to the bottom of, I always wanted to be a football commentator," he recounts.
Perhaps surprisingly for those more equated with his work as a football commentator, the example Tyldesley himself cites as evidence of his deep-rooted passion for commentary from an early age is that of a cricket match between Lancashire and Gloucestershire, a Gillette Cup semi-final, which he attended in 1971.
The match itself is still widely recalled in the community and was one of the most memorable seen at Old Trafford. David Hughes came in to bat at 8.45pm, and in semi-darkness hit 24 in an over to win one of the most astonishing one-day matches ever played.
He tells of the moment when batsman Hughes hit the winning boundary, and for a second – I feel like I am there. 
"If there were 15,000 people in Old Trafford that day, 14,999 of those ran onto the field and one teenage boy had already started to do his bowling analysis – so I was an anorak from an early age," he laughs referring, of course, to himself. 
If Tyldesley's encyclopedic knowledge of sport began to take shape at an early age, it seems his time boarding at Kirkham Grammar School in Lancashire is where he feels elements of his oratorical flair may have had their genesis. 
"I was in a boarding house and schooling in the 1960s was a tough environment. In a boarding house surrounded mostly by older boys you either had to fight your corner or talk your corner – and I couldn't fight," he admits. 
It is unsurprising that Tyldesley has been quoted in the past as describing football commentary as tantamount to an artform, in itself. Clearly the roots of his craft lie in his insurmountable passion for sports broadcasting; the quality of his broadcasting the result of sheer hard work as much as talent. 
"My message has always been that we are communicators and, therefore, journalists. I regard myself as such, first and foremost and so the principles of journalism are absolutely sacrosanct to me and I have studied and thought about that. Consequently, I see football commentary as a piece of journalism."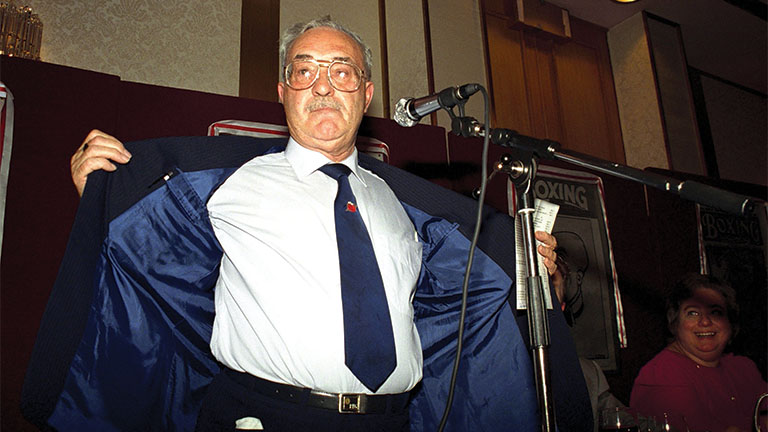 Mentor: Tyldesley attributes 90% of what he knows about commentary to the late Reg Gutteridge
For Tyldesley, it is clear that what he describes as the artform of football commentary, is all centred around technique. In short, as he explains, the eloquence and clarity he is known for in the gantry comes as no accident, with his ability to judge what tone an audience requires, a skill he first learned from his mentor, boxing commentator Reg Gutteridge. 
"Reg took a shine to me and took me under his wing. He taught me 90% of what I know about commentary – which was to a step back from what you are doing and to identify the basic purpose of what you're trying to do. Then you adapt it for your audience and adorn it for the right sense of occasion," he states.
"The audience is king and queen; you are there to serve your audience, not yourself. All the time you are thinking about who you are commentating to. It changes game-by-game depending on the size of the audience, the platform you are working with and, over the years, the way people consume the media itself. 
"So yes, a lot of it is about technique. Any ability I do have comes from the fact that I take the business of trying to identify and communicate with an audience very seriously."
He explains this by recounting a line from Gutteridge who it becomes clear is a person who has had an unquestionably large influence on Tyldesley's approach to his profession, throughout his career. 
He admits his approach for a World Cup game with viewing figures often upwards of 20 million has to be different to a European tie between two lesser known continental sides with a viewership of 250,000, for instance.
"Reg used to say to me that if you're ever fortunate to commentate to an audience that large, there then is an argument for even explaining things like the offside rule, as you're then talking to your Auntie Joan and Uncle Edward who only watch two matches a year. 
"The example he used was of a teenager at the back of a maths class in school where they've got to a half an hour in and haven't understood a word of the lesson but are too frightened to ask. That is the sort of situation I try to avoid."
"Reg once gave me a verbal hiding for saying 'of course' too many times during a broadcast. For him, every time you say that, you are essentially splitting your audience. You are saying to half of the audience, I am now talking to those who are already well-versed, avid fans of the game."
Tyldesley feels the best co-commentators he has worked with share his commitment to journalism.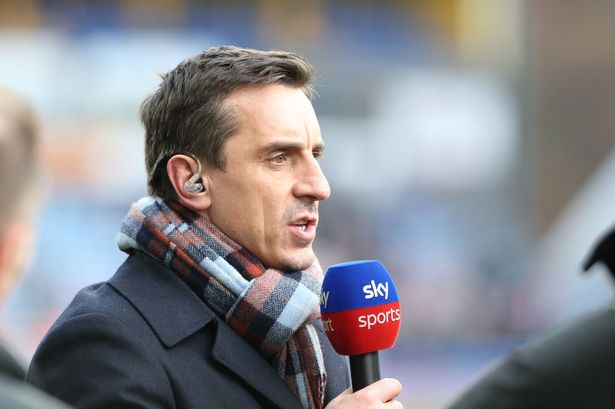 Outstanding: Tyldesley paises Sky Sports' Gary Neville for his exceptional analysis
"The best analysts at the moment on TV, I'd say, are Gary Neville, Jermaine Jenas and Lee Dixon. None of those were exceptional players, however, they are outstanding analysts because they are able to work out the process of being a journalist – they have bought into it," he opines.
He recalls a time following the ignominious sacking of former co-commentator Ron Atkinson, when he had dinner with Sir Bobby Robson who had joined the ITV team for the Euro 2004 finals in Portugal, in place of the former.
"I remember sitting down with Bobby for an hour over lunch about a week or so before the tournament and saying: 'All of the games you've played in and managed are important to you, I can see that. Our team is as important as any team you have played in. We take as much pride in it. You are no longer a former football manager, you have to now become one of us.' And that is what the great co-commentators do.'"
He recalls the fury of long-time co-commentator Andy Townsend in the aftermath of the Champions League semi-final between Liverpool and Chelsea in 2005; a tie famously decided by what has since been referred to as a 'Ghost Goal', courtesy of Luis Garcia.
https://twitter.com/copa90/status/1124247932595855360?lang=en
The lack of definitive camera angles on the night to show whether the goal had crossed the line angered the former Republic of Ireland international, something he told ITV producers at the time. However, his clear unrest at the damage that the lack of clarity may have inflicted on the quality of the broadcast itself, proved to Tyldesley the Irishman's clear passion for the role.
"He felt that if Sky were covering the game, they would have had the camera angle," he recalls. 
"After the game, over a post-match drink, he tore into the director at ITV, John Watts. John explained we simply could not have had it- it would have meant tearing out thirty odd seats from the stand at Anfield.
"Afterwards, I went over and hugged him and said 'that was great, Andy'. Because he cared. He cared as much as anybody that the broadcast was as good as it could be."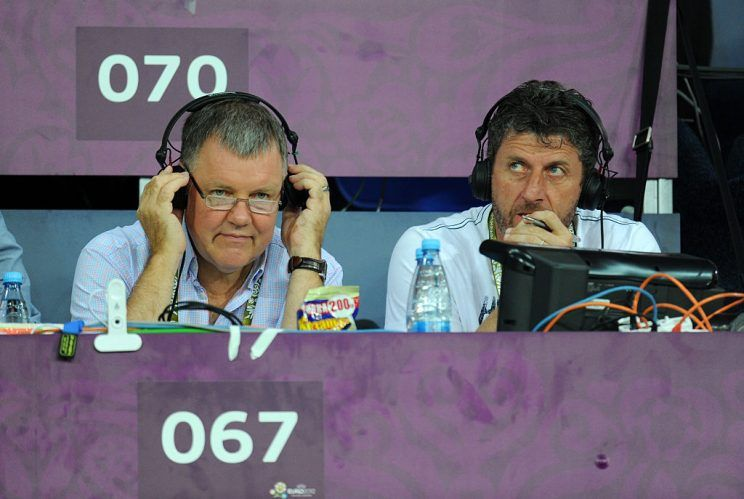 Collaborator: Tyldesley feels the success of his partnership with Andy Townsend owes a lot to the dedication of the pair
During the period between Liverpool's European Cup win in 2005 and Manchester United's victory in 2008, more than two English sides reached at least the semi-final of the competition, in each season. 
An English side made the final of the competition in each campaign during that period- with Manchester United and Chelsea facing off in an all-English final in 2008- in an era that is fondly recalled, particularly by fans of the four clubs who emerged as mainstays in the Champions League latter stages- Manchester United, Chelsea, Arsenal and Liverpool.
For many fans of that period, Tyldesley's voice remains synonymous with those glorious European nights.
A friend of mine, an Evertonian, once told me he struggles to listen to Tyldesley on account of his synonymous association with the great European nights that Merseyside rivals Liverpool enjoyed during the 2000s. 
In many ways, on reflection, some would suggest this is testament to his Tyldesley's quality as a broadcaster. Spectacles though they already were, he brought the glamour of those nights to life, somehow making the most miraculous of sporting feats seem that bit more magical – his effortlessly crafted words indelibly resonating with supporters, in some cases, decades on. 
"Istanbul and Barcelona were, if you like, the headline acts of my career but I would hope that every commentary that I did was as important to me and the audience," he asserts, modestly brushing off my suggestions of his iconic status amongst fans of certain clubs.
"It's a very big compliment for any commentator to feel our words were part of someone's experience. But they belong in the moment, even if you got them wrong – that's it, they're gone. So I don't get too precious about any pieces of commentary.
"If I'd have shouted 'and [Ronny] Johnsen has won it', as opposed to Solskjaer I probably wouldn't be having this conversation now. 
"In many respects, 'Solskjaer has won it' broke the cardinal rule of commentary because it called the winner across the line before it got to that point. 
"I'm sure if Bayern Munich had equalised in the last of the added minutes, took it to extra time and then won a penalty shootout – again, I probably would not be having this conversation," he laughs.
"The most important thing I did that night was to get the goalscorers right and the final score."
To those who took less delight in the likes of Liverpool and Manchester United's successes on the continent during this period, Tyldesley's immortal words clearly must stand as painful reminders of nights of despair. 
However, for those for whom the iconic Champions league finals in 1999 and 2005 stand amongst the greatest they have had the pleasure of witnessing, the lines "Can Manchester United score? They always score" and "Hello, hello, here we go", will forever evoke the unique plethora of emotions that accompanies the nostalgic euphoria of remembering football glory of years gone by.
In hindsight, Tyldesley's reaction to Liverpool's first of three goals on their way to their iconic comeback in Istanbul in 2005 sounds almost prophetic in tone. However, in truth, he admits he was struggling to envisage Rafael Benitez's side getting much out of the game having been outclassed so handsomely in the first-half at the Ataturk Stadium. 
"Did I really believe that when Gerrard scored the first, Liverpool were going to score two more in the next six minutes to draw level? No, I didn't. For us, there was no sign of revival at half time. They came in at half-time 3-0 down but they might as well have been 33-0 down." 
"In actual fact, it was the only six minutes of the game that belonged to Liverpool. Once they got it back to 3-3, Milan dusted themselves down and resumed their domination of the match. So it wasn't as if Liverpool then took heart, were confident and put Milan under constant pressure.
"Like Roy Hodgson once said to me, football matches are always analysed in the opposite direction. From the final whistle back to the first."
Unshakably deferential to the end, Tyldesley is quick to suggest that his role in the tapestry of those iconic nights in Barcelona and Istanbul, has been overstated, however. 
"I'm not a great one for picking the greatest games or my best. Ultimately it's down to what the people decide," he vows.
"We're not that important. I didn't score that goal in Barcelona that won United the Champions League. I just shouted the name out! I couldn't have done it without the material. These things happen in the moment and then they're gone – if people remember them that's great. 
"The Liverpool final would be totally unmemorable if they hadn't made that comeback – I just happened to be there.
"It all comes back to this – it's about serving your audience. That's the job of a journalist and that has never been more important, in my lifetime, than it is now."