This year's J.P. Morgan Asset Management Round the Island Race might have been a very different affair to his last one, but there was no wiping the smile off Sir Ben Ainslie's face.
The 2013 version of the historic, 50-nautical mile race around the Isle of Wight was another notch on the Macclesfield man's impressive belt as he set a new multihull record of 2hrs 52mins 15secs in completing the course.
This, added to his four Olympic gold medals, meant he went into this year's edition at the weekend full of confidence of adding yet another accolade to his glittering CV.
However, Mother Nature had a different idea and Ainslie, racing on the Farr 45 Rebel with members of his America's Cup crew, took longer to complete the first 13 miles than he did to finish the entire race last year.
In fact the winning boat – Team Richard Mille – took line honours in 8hrs 51mins 37secs, almost three times slower than last year's record-breaking time.
And while Ainslie took even longer to finish, the most successful sailor in Olympic history was still more than happy to be a part of such a special occasion.
"It was a very different set of conditions to last year but it's a fun race and a bit challenging in light winds," he said. "We had a good group of people on the boat as well so I really enjoyed it.
"It was getting to that point where people were ready for the finish, it was a long race.
"But it's a great course and when the sun is out like it was it makes for a beautiful day – it could be a lot worse.
"It was a different way to go about it to last year but it was fun and it's always different and it's a good challenge because of that.
"The fact you get so many boats out there is great and there's all different levels of sailors. There are first timers to very experienced sailors and the idea is to just to have a lot of fun.
"People want to do well and try and win the race but really with that many boats and the variable wind conditions, it's about just getting out there and having fun."
With enough Olympic gold and one silver to sink a boat, not to mention an America's Cup victory, you wouldn't think there was anything in sailing that Ainslie hasn't done.
But you would be wrong, with the 2014 J.P. Morgan Asset Management Round the Island Race throwing up one last surprise.
"We had to do a bit of kedging which is a first for me," Ainslie added. "We had to stop ourselves going backwards with the wind and I've not done that before so that was a first and I ticked that box.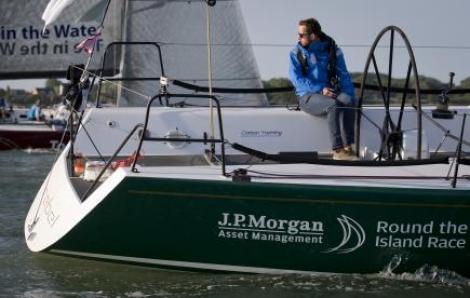 "We had some pretty close periods when all the boats came together and there was no wind.
"We go around the outside but then we got stuck with one of the bigger boats and that cost us a lot of ground."
The J.P. Morgan Asset Management Round the Island Race is one of the largest participation sporting events in the UK and the largest yacht race of its kind in the world. Organised by the Island Sailing Club in Cowes, it is dubbed 'Britain's favourite yacht race', regularly attracting around 1,500 boats and 16,000 competitors www.roundtheisland.org.uk
Main image courtesy of Ben Ainslie via YouTube, with thanks.