A 74-year-old recipient of an FA Long Service Award says better exit routes are needed for young aspiring footballers who are told they have no future playing the sport professionally.
Mel Pomfret, from Bramhall, became assistant secretary of the Stockport District Football Association in 1982, soon becoming secretary – a position he has held for 34 years.
In an interview with Mancunian Matters, the Manchester City fan outlined some of the problems that professional clubs encounter.
"Professional club academies take local youngsters at the age of seven-nine years and then coach them up to the age of 16-18 years, but a large percentage of them are told they are not going to make it.
"I would like to see better exit routes for young people. We should be trying to ensure that when they turn 16 they transfer into open age clubs.
"Parklife Huts has the idea to build a large community facility with offices and a gym and one or two third generation pitches and some grass pitches to bring football together into one hub.
"The FA is working hard to encourage these developments."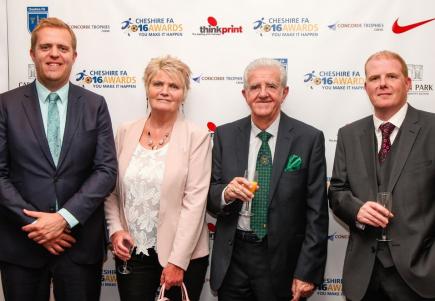 Mel, his wife and two sons on arrival at the 2016 Cheshire FA Awards Evening (l to r – Brad Pomfret, Claire Pomfret, Mel Pomfret, Mitch Pomfret)
The father-of-two clearly cares very much for the sport, becoming a member of the board at Life Leisure, a non-profit social enterprise company that manages 13 sports and leisure facilities in and around Stockport.
While Life Leisure is enjoying a good spell however, grassroots football is not.
"In 1966 the Stockport League was thriving with six divisions. Cheshire County FA has lost 12 divisions in the last few years.
"At Cheshire County FA we've just had a third generation pitch installed. Football is still very strong at the junior end but we lose them along the way.
"The local authorities are strapped for money. It costs around £150,000 a year for the upkeep of a ground.
"Providing pitches is not a strategy. We are working to make facilities improve."
The recently resigned chief executive of Cheshire County Football Association Simon Gerrard, who has worked within the Cheshire County FA for 10 years, says the appetite for traditional weekend league football is simply not what it was.
"There are more participants playing football than there ever has been before, but what this is about is consumer choice," he told MM.
"They want to play to fit in with their own leisure time."
Gerrard also paid tribute to Pomfret.
"Mel was a big inspiration for me as a young and upcoming chief executive. One of the best things about him is his integrity.
"He's a stalwart of the game. He puts a lot of effort in."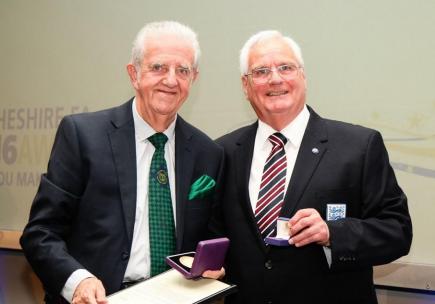 Mel collecting his award at the 2016 Cheshire FA Awards Evening from Cheshire FA Chairman and President, David Edmunds.
Pomfret, still a secretary of the District FA Football, says his passion for the game is something he's had his whole life and he doesn't see it receding.
"I played from dusk till dawn in my childhood. I enjoy football and can walk away from it at any time."