Manchester City and Bayern Munich fans are up in arms after being told they could not meet with Uefa officials to discuss the Champions League 'closed doors' games in Moscow.
CSKA Moscow had been forced to play their home games against Manchester City and Bayern Munich with no fans present, but there appeared to be up to 300 home fans present at both games while visiting fans were turned away, leaving them up to £1,000 out of pocket.
Man City Supporters Group group 1894 called on Monday for fans all over Europe to protest against Uefa at this week's Champions League games and City fans joined with their German counterparts in asking the European governors of football to meet with them before tonight's game.
They received minimal response from the European governors of football, which led a spokesperson for 1894 to say: "We are not surprised. A cop out from a faceless organisation."
Frustrated Munich supporters groups have been in touch with clubs such as Borussia Dortmund and a number of Swiss clubs hoping to recruit them to the cause.
Gregor Weinreich, a member of Bayern's Club Nr. 12, said: "Uefa have handled it really badly. They're always talking about respect but there isn't any for supporters who travel abroad."
Patrick Gasser, head of Uefa's Football and Social Responsibility Unit, said that they had already made efforts to consult with fans.
"We fully understand the interest of Manchester City and FC Bayern supporters in the topic of matches behind closed doors in Moscow," said Mr Gasser.
"Uefa met representatives of Fans Europe on October 31 in Nyon where we discussed the issue at length. 
"We consider the FSE board as the democratically  elected representatives of European supporters."
An 1894 spokesperson added: "You can imagine what the response from both sets of fans will be tonight."
City fans have already booed the Uefa anthem at their previous home Champions League tie against CSKA Moscow, from which Russian fans were banned and a number ejected.
However, this time it will be both sets of supporters united against Uefa before City seek to extend their European dream this season and City and Bayern fans affected by Uefa's decisions met outside the Football Museum at midday to make their feelings known.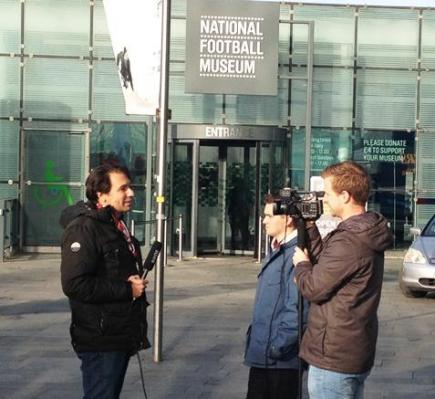 BAYERN ON FILM: Media seek reaction from Munich fans