The only German fans who saw Bayern Munich's Champions League game in September against CSKA Moscow did so from a rather unusual vantage point – the top of a skyscraper.
The Russian club had been ordered to play the game behind closed doors after incidents involving their fans which included racist behaviour, crowd trouble, and setting off flares.
However, since most of Bayern's fans had already booked their flights just 10 minutes after the draw was announced, a number of them decided to travel to Russia anyway.
While the story made headlines, especially afterwards when Bayern refunded the fans who shelled out 100 euros each for the room with a view, MM got to the bottom of their escapades when chatting with travelling supporters in town for the penultimate Group E game against Manchester City on Tuesday.
"A lot of guys paid a lot of money for flights which they couldn't cancel and Uefa handled it really badly," lifelong Munich fan Gregor Weinreich told MM.
"Fortunately, we knew about this skyscraper next to the stadium, but then they changed the venue, which was really disappointing, but then luckily it was moved back to CSKA Moscow."
Some members of the Red Munichs 1989 supporters club travelled a day early to Moscow and approached owners of the skyscraper to ask if they could rent out the top apartment.
Gregor said: "The guys arranged to meet with the agency, and they were a bit surprised because they wanted to rent it to us for a year or two, and we said we only wanted it for one night!
"We could see the game perfectly from up there. It was worth it because there was no alternative.
Weiter gehts! Die Optimisten unter uns meinen, dass man im Gästeblock in Barcelona auch nicht näher dran ist #CSKAFCB pic.twitter.com/JDqbEcht4x

— Club Nr. 12 (@clubnr12) September 30, 2014
"Only two or three guys knew about the plan, and when the club found out about it a couple of hours before kick-off they paid for us, but some of the supporters refused the money."
Bayern and Germany midfielder Bastian Schweinsteiger's older brother Tobias, who plays for the reserves, was among the canny fans and also Tweeted his delight.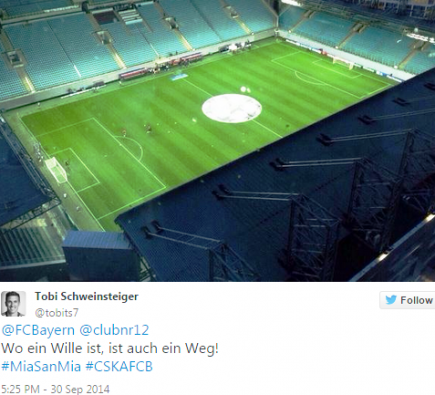 Three weeks later, around 300 fans made it inside the Arena Khimki for the 2-2 draw between Manchester City and CSKA Moscow – 50 travelling City fans also made the trip out to Russia, including lifelong fan Darren Page.
Darren, an office worker from Altrincham who made the pilgrimage across Europe, spoke of his disappointment at not being able to go to the game.
He said: "We had no idea it would be behind closed doors when it was first announced."
However, due to lax security measures he was able to watch some of the game at least inside the stadium.
"We just walked through to the stands, there was no security. It was only because somebody from City saw us that they kicked us out," he added.
"I ended up watching the rest from behind the stand with the police even though we couldn't see anything from one end because the stand was in the way."
City had been out of the Europe's elite for more than 40 years, so before the recent investments from their billionaire owner Sheikh Mansour, Champions League football seemed more of a distant fantasy.
"It's a dream to see City in the Champions League," said Darren.
But with Uefa's handling of the CSKA game, coupled with financial penalties, City's dream has turned into a nightmare.
Darren said: "In a way I now wish we weren't in it. Obviously I want us to win but it's just the way we have been treated.
"I think City have been hard done by really, we were fined £50million and had our squad reduced.
"It doesn't seem fair when some of the money has been spent on the new training centre, on the academy which will help bring players through, and on the local area which will help create jobs."
Image courtesy of Club Nr. 12 via Twitter, with thanks.