Is it time to for England fans to panic?
England's number one Joe Hart looked statuesque as Hollywood actor and comedian Kevin Hart's penalty flashed past the goalkeeper during the American's visit to the club today.
The actor visited Manchester City while promoting his new movie Ride Along – and was clearly delighted to score past his 'cousin'.
Philadelphia-born Hart met City's Shrewsbury-born Hart and a number of other players, including Alvaro Negredo and Javi Garcia, during his time visiting the club.
 He was also handed a signed jersey with his name printed on the back.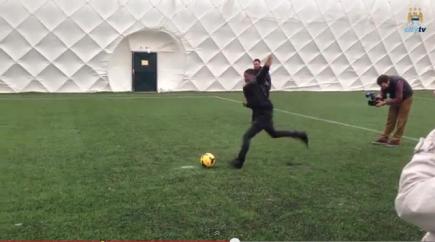 Hart is a gifted athlete having been crowned twice the Most Valuable Player at the annual celebrity game during the NBA All Star Week and showcased his prowess from the penalty spot.
Before smashing the ball past Joe, Kevin said: "This will be one of the best kicks ever.
"This is me going up against Joe Hart aka my cousin – the best goalie in the game right now. And I'm about to break his ass.
"I'm about to put this in the goal… I suggest you brace yourself!"
After a near-perfect spot kick, Kevin enjoyed riotous cheers from the onlookers.
"This is the best day ever," he joked.
Images and video courtesy of MCFCtv via YouTube, with thanks.