Manchester schoolchildren with a thirst for speed – yet as little as six hours track experience – this week took to the BMX World Cup track to compete for selection to a showcase race in April.
The National Cycling Centre (NCC) is hosting the UCI BMX Supercross World Cup on April 18-19 and is putting on a development programme in advance for local students.
After showing promise at in-school sessions put on by the NCC, 55 students from four secondary schools were selected in order to face each other: Abraham Moss Community School, Manchester Communications Academy, St Peters RC High School and William Hulme Grammar School.
Up to 16 students (eight boys and eight girls) will then pedal the same weekend as the world's best riders, something NCC BMX development coach Andy Adkin said was vital for growing the sport.
"Schools development and a broad-reaching legacy programme is core to the future of BMX everywhere," he said.
"It's wonderful that local schools here in Manchester can bring young riders to an international event staged live in their own city.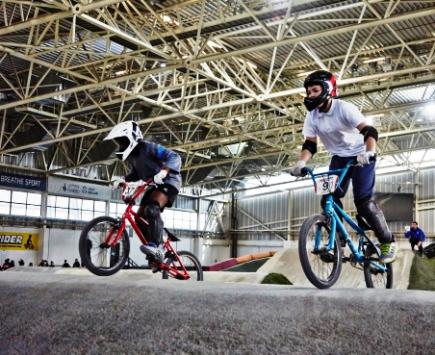 EYES ON THE PRIZE: Daniel (left) and Yusef hope to become one of the lucky 16 schoolkids chosen from the shortlist of 55
"Saturday's showcase race at the UCI BMX Supercross World Cup Manchester offers a rare opportunity for students to ride in the path of our Olympic heroes, ensuring the event brings lasting benefits to the community."
Councillor Rosa Battle spoke of her excitement about the opportunities the centre has to offer for future generations.
"Manchester is the home of British Cycling and we've played a key part in helping the country's best athletes develop their talents across all cycling disciplines," said Manchester City Council's executive member for culture and leisure.
"We are extremely proud of the world class cycling facilities in the city and the UCI BMX Supercross World Cup will add to the list of truly unforgettable competitions we've hosted.
"It is incredibly exciting that local school children will be a part of this year's event – it shows how competitions of this calibre have the power to truly inspire and leave a lasting legacy in Manchester." 
For further event information and to book tickets to the World Cup visit: www.ticketmaster.co.uk/britishcycling