Manchester skier Rebecca Greaves claims she is now riding on the crest of a wave of confidence at the Delancey British National Alpine Ski Championships after picking up a bronze medal on Saturday.
The women's junior and U18 slalom race was contested in Tignes, France and Greaves (above right) produced a combined time of 1:43.40 minutes to finish third in the U18 rankings behind Yasmin Cooper and Lucinda Dilworth.
It was the 17-year-old's first medal of this year's Championships on the penultimate day of racing.
At times Greaves has struggled for form this season and she acknowledges that this bronze is her best result in a while – even if she surprised herself by ending up on the podium.
"It feels really good to win a bronze medal at the British Championships – it is definitely a real confidence boost for me," said Greaves.
"I think I fought quite hard for it, especially because quite a few people didn't make it down to the bottom, but I think I just need to attack more in future races.
"I think I was happier with my first run, even though the snow conditions were probably worse.
"Heading into the race, I wasn't expecting to end up on the podium at all, so it was a really nice surprise for me.
"I've enjoyed the Championships. It is the best result of the season so far for me but I'll just keep on going."
The Delancey British National Alpine Ski Championships run until April 1 and are the biggest event of the year for the British ski racing world – with Delancey as the principal sponsor for the sixth year running.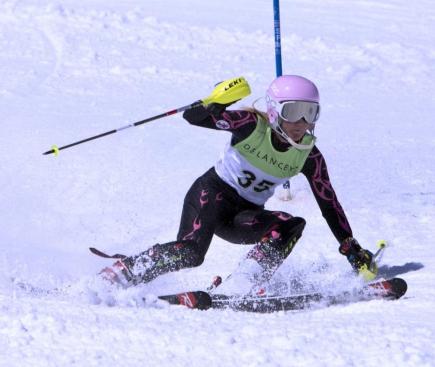 ATTACK MORE: Greaves vowed to be more aggressive in future despite her pride at clinching bronze in the women's junior and U18 slalom race​ 
Greaves will have another opportunity to clinch a medal on Sunday when she takes on the junior and U18 giant slalom.
And she admits that she is very keen to end her campaign on a high with another good performance.
"I'll look forward to the GS although I prefer slalom but I will go into the race confident and hoping to put in another good performance," added Greaves.
"This is the last event of the season for me but then I'll do summer training and then next year I'll be better hopefully."
To follow the progress of the Delancey British Alpine Ski Team visit www.teambss.org.uk or follow @teambss on Twitter. As Principal Sponsor of British Ski and Snowboard, Delancey is proud to be able to provide British athletes with the support they require to win World Cup and Winter Olympic medals. For more information visit www.delancey.com