The EIHL season was cancelled agonisingly close to its finale. When the announcement came on (aptly) Friday 13th March, there were just 16 days and 31 matches of the regular season remaining.
In years to come when people look back at the 2019/20 season, they will see no league champion, nor a playoff champion. Instead, they'll see a table frozen on that fateful day, with Cardiff Devils sitting top by a single point, champions without a trophy.
After last season's dramatic final round when Coventry Blaze defeated second placed Cardiff to hand Belfast Giants the league title on regulation time victories (39 to 38), 2019/20 had a tough act to follow.
However, as we've already mentioned, just one point separated Cardiff from second placed Sheffield Steelers when the season came to a premature halt. The Welsh side had the advantage heading into the final rounds, with three games in hand over their Yorkshire rivals.
But 'games in hand doesn't mean points in hand' and Cardiff had a tough run-in, including fixtures against Sheffield, Belfast and last season's bogey side Coventry.
Speaking of Coventry, sitting two points behind Sheffield in third, the title wasn't out of their grasp just yet. In fact, with first and fifth separated by just six points, it was still a five-horse race for the trophy and the all-important playoff seedings.
At the other end of the proceedings, four teams were competing for the two remaining play-off berths. Fife Flyers required a minor miracle to bridge the seven-point gap in five games, but Dundee Stars were just one win away from eighth.
Could Glasgow Clan and Manchester Storm hang on, or would one or both have missed the cut?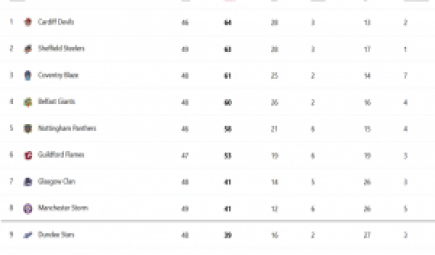 NO CHAMPION: EIHL table when the season was stopped on 13.03.2020 (full table here)
With the season poised for such a thrilling climax, it seemed rude not to see it through to the end. Armed with a match schedule, a calculator and a 50p coin, MM played out the remainder of the season to crown the 2019/20 league and playoff champions.
The formula was simple: take the two teams playing, add up the number of goals scored by each side and divide by the number of matches played (usually four or five) to get the average score.
If the scores were tied, the 50p would be flipped (heads for home, tails for travelling) to award an overtime (OT) victory.
So, for example: Belfast Giants were due to play Nottingham Panthers on Friday 13th March. The sides have met four times so far this season:
Belfast Giants 3:0 Nottingham Panthers
Nottingham Panthers 4:1 Belfast Giants
Nottingham Panthers 2:0 Belfast Giants
Nottingham Panthers 4:0 Belfast Giants
Belfast have scored four goals to Nottingham's 10, meaning Nottingham take the two points having been awarded a 3:1 victory (yes, their 2.5 goals have been rounded up to three…).  
The same method was used for the remaining 30 fixtures and the results did not disappoint – well, in terms of excitement they didn't. For some teams, however, the disappointment is (almost) real.
Starting at the top, your 2019/20 league 'champions' are the Cardiff Devils! Taking a whopping six wins from their final eight matches, and receiving overtime loss points against Belfast and Nottingham, the Welsh side made the most of their games in hand to claim the title with a comfortable seven-point cushion.
The pick of their matches? A 4:3 OT victory against Coventry Blaze, sweet revenge indeed.
Sheffield Steelers secured second place and a favourable playoff draw with four victories in five matches but were nearly pushed into third by a resurgent Nottingham side.
The Panthers jumped from fifth to third after accumulating an impressive 13 points from their hectic end of season schedule and missed out on second by the narrowest of margins: regulation time wins (26 to Sheffield's 32).
Coventry and Belfast each slipped a place to finish fourth and fifth respectively whilst Guildford Flames stayed sixth, their 11-point haul not enough to bridge the gap to the top half of the table.
At the other end of the table, one victory and two overtime losses were enough to ensure playoff qualification for Glasgow Clan but the race for eighth went down to the wire.
Faced with one of the toughest schedules – Sheffield (twice), league leaders Cardiff, in-form Nottingham and Guildford – Manchester Storm took just one point from their final five fixtures, a 3:2 OT defeat to Guildford*. But just how crucial would this coin toss prove?
Meanwhile Dundee defeated Glasgow and also earned an overtime loss point against Guildford to collect three points. With the two sides level on 42 points, both their seasons now hinged on regulation wins.
With 17 wins to Manchester's 12, it was Dundee Stars who captured the final playoff berth and a first post-season appearance since 2016/17. Elation in the Marmalade City, despair in Manchester – a season ended by the flip of a coin.
Collecting the wooden spoon, unsurprisingly, were Fife Flyers. An overtime win against Coventry Blaze the only reason to be cheerful in a dismal end to the season.
And there we have it. Your 2019/20 playoff match-ups are as follows:
[1] Cardiff Devils vs [8] Dundee Stars
[4] Coventry Blaze vs [5] Belfast Giants
[3] Nottingham Panthers vs [6] Guildford Flames
[2] Sheffield Steelers vs [7] Glasgow Clan
Congratulations to Cardiff Devils, league champions for the third time in four seasons; commiserations to eliminated sides Fife Flyers and the truly unlucky Manchester Storm.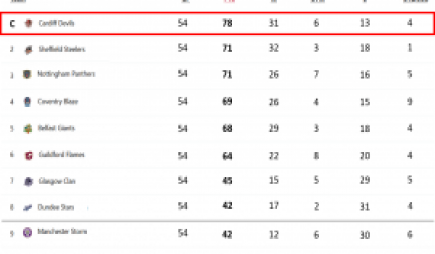 DEVILS DELIGHT: The final 2019/20 standings see Cardiff Devils crowned champions and Manchester and Fife eliminated
The Playoffs
Eight teams, 12 matches, one champion. Can Cardiff defend their crown? Could Belfast Giants go one better than last year and secure a first playoff title since 2010? Is a new name going to be etched on the trophy? Will there be an outright winner or will the fate of the final rest on a coin flip?
A quick change to proceedings before we start. As the quarter-finals are two-legged, a home and away leg was played to produce an aggregate score. Overtime was played in the second leg if the match was still tied. The semi-finals and final were played under the original, one legged system.
But enough chat, let the playoffs commence!
Cardiff Devils and Sheffield Steelers got off to a routine start, breezing through to the semis 10:6 and 10:7 respectively. Guildford Flames upset the seedings to eliminate Nottingham Panthers, triumphing 8:5, but Belfast Giants left it late to overcome Coventry Blaze.
Following a high scoring 4:4 draw in the Midlands, the Northern Irish outfit required an overtime goal to secure their spot in the semis with a 3:2 OT win on home turf.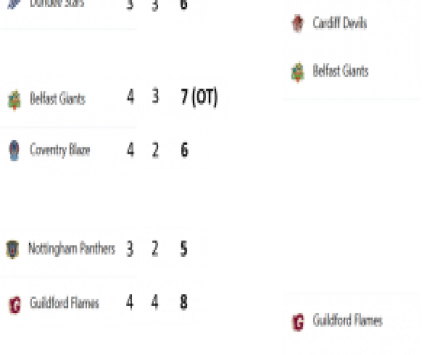 PLAYOFFS: Cardiff, Belfast, Guildford and Sheffield progress to finals weekend
However, if the quarters were fairly routine, the semis were anything but.
Playing at the neutral venue of Nottingham West Didsbury, overwhelming favourites and recently crowned Challenge Cup champions Sheffield were held to a 4:4 draw by Guildford, forcing the fixture into overtime. A tense five minutes ensued but it was Sheffield (and probably Brendan Connolly) who got the crucial goal/coin flip to advance to their ninth EIHL playoff final.
The other half of the draw was a repeat of last year's final which Cardiff won 2:1 in regulation time. This time the teams headed into overtime with two goals apiece but the coin again favoured the higher seed. Cardiff progressed to the final as Belfast were eliminated.
However, it wasn't all over for Belfast. Contesting the third play playoff they got the better of Guildford Flames to earn a bronze medal and force the Surrey side to settle for fourth for the second season running.
Now for the grand final. Cardiff Devils versus Sheffield Steelers, first versus second.
The weekend before the season was cancelled, Sheffield had beaten Cardiff 4:3 in South Wales to win the Challenge Cup. Unfortunately for the Yorkshire side, cup form was completely irrelevant in this fixture.
In the league, the teams had contested six goal-laden matches, including two 7:3 victories for Cardiff. With five victories to Sheffield's one, it was firmly advantage Cardiff and the coin remained untouched as the Welsh side claimed the title 5:3.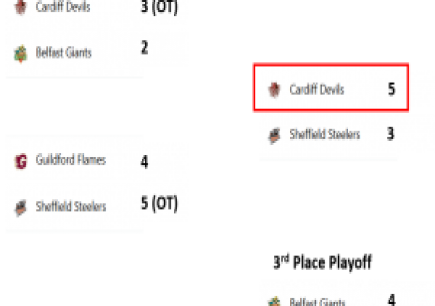 DOUBLE DEVILS: Cardiff claim a third successive playoff title with Sheffield second and Belfast third
And that's a wrap on the 2019/20 season. 282 matches, 43 simulated fixtures, 14 overtime coin flips, the final playoff place decided on regulation wins and a league and playoff double for Cardiff Devils.
All that's left to say now is roll on September when the EIHL proper resumes but be warned, the 2019/20 season will be hard to eclipse.   
*Manchester Storm's full results:
Sheffield Steelers 5:2 Manchester Storm
Nottingham Panthers 4:2 Manchester Storm
Manchester Storm 2:3 OT Guildford Flames
Cardiff Devils 3:2 Manchester Storm
Manchester Storm 2:5 Sheffield Steelers