No-one does braggadocio quite like Tyson Fury, who claimed WBC heavyweight champion Deontay Wilder's dismissive taunts brought him back to boxing.
The controversial Wythenshawe fighter's homecoming at Manchester Arena on June 9 will see him return to the division after two and a half years away.
Fury, forced into a lengthy layoff due to drug-taking and mental health issues, has signed with famed promoter Frank Warren and will take on a ring-rust opponent in a month's time.
"It was really Wilder who spurred me on because he said I couldn't do it, he said I was done," said the 25-0 banger, on a collision course with Wilder and compatriot Anthony Joshua.
"I was walking along the canal with my dog at the time and thought 'What a fat pig I am, look at the state of me'. I felt like jumping in and drowning.
"But I said to myself I was going to turn it round, turn myself round and knock him out.
"Wilder and Joshua are good fighters and good champions, but I believe my talent, skill and confidence alone are enough to beat them.
"I believe I can tie one hand around my back and beat AJ, Wilder as well. That's how confident I am in my own ability."
DISNEYLAND INSTEAD OF TRAINING
Fury revealed much in an exceptional press conference in Salford on Thursday lunchtime – all except the opponent he'll be taking on in a month's time.
Albanian cruiserweight Sefer Seferi, 39, is expected to line up in the other corner, unlikely to trouble the Mancunian having only fought once at that weight.
The self-styled Gypsy King's finest hour came when he beat Wladimir Klitschko in Düsseldorf on an unanimous points decision to become unified world heavyweight champion.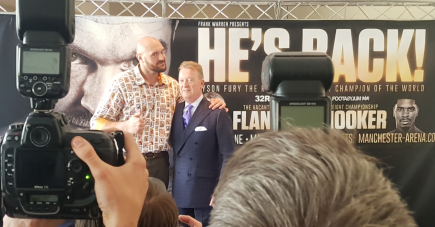 10 PINTS OF BEER: Entertainer Fury poses with promoter Frank Warren – saying his pub days threatened to scupper his June 9 comeback in Manchester
But in recent weeks, he's struggled to even make it to training and the influence of new trainer Ben Davison has injected him with some much-needed drive.
"The two and a half years out of the ring have really helped me," said Fury.
"I've been boxing since I was a little child and haven't had any breaks, so I needed some time off to rekindle and spent some time with my family.
"The fire's back now. It took two and a half years and I never thought it would come back.
"Every time I went to the pub and had ten pints of beer I thought, yeah, I want to fight tonight. But I almost didn't make it to our training camp.
"I almost turned round five or six times with Ben on our way to Marbella for training. I was making excuses, I wanted to go to Disneyland Paris instead.
"Ben told me that as long as we get you to Marbella, we've done it – and we made it."
Fury is a figure irrepressible even to himself and there are few moments in which his body, mind and mouth can be said to be in true harmony.
"BIGGER PAIR OF BOLLOCKS"
In a ten-minute, unbroken soliloquy, the 6ft 9in scrapper became a ball of energy that it was easy to see could run off the rails.
"I'd like to see the man who can stand in front of me and take anything away from me," he growled.
"He'd better be good – very good. If he's good, I'm going to be better.
"If he's more hungry than me, I'll have to outheart him. If he's got a bigger heart than me, I know he hasn't got a bigger pair of bollocks."
Fury's puerile humour must frustrate and amuse those around him in equal measure.
Terry Flanagan, fighting on his undercard at the Arena, is taking on Maurice Hooker and he couldn't resist a bawdy gag over watching Flanagan with a hooker.
"FLANAGAN AND A HOOKER?" @Tyson_Fury admits being confused when he read @terryflanagan5's opponent name #HesBack pic.twitter.com/FWZvYMYdnV

— Frank Warren (@frankwarren_tv) April 26, 2018
"I'd pay to see that," he chuckled, his last utterance offering a telling echo of the misogynist views that have got him into trouble in recent years.
New promoter Warren is one of those tasked with reigning Fury in, interrupting his fighter's claims he's ready to fight Joshua 'now' with a warning.
"Tyson needs two or three fights under his belt," said Warren. "I'm sure he's good to go but it's been two years and seven months. He needs to get that ring rust out of his system."
Wherever you stand on Fury, there's much to be admired in the way he's fought his demons.
His remarkable feat of beating Klitschko was somewhat airbrushed out of history due to him holding a set of views incompatible with modern sensitivities.
"I want to inspire others to come back," said Fury, in a moment of unexpected depth.
"There's a lot of mental health problems out there, especially in sport, so I want to show people if I can come back from where I've been, anybody can."