Altrincham tennis starlet Peter Alam admits he is pinching himself in amazement as he prepares to follow in Andy Murray's footsteps and grab the limelight at Wimbledon.
As the likes of British No.1 Murray, Novak Djokovic and Serena Williams gear up this month's Wimbledon assault, Alam can rest safe in the knowledge that he also has a spot booked at the world-famous venue.
The 14-year-old St Ambrose College pupil has long been known as one to watch for the future, and he was at it again last weekend as he claimed victory at the HSBC Road to Wimbledon North Regional Qualifier at Ilkley Tennis Club in West Yorkshire.
Alam, who trains at Bolton Arena, will now play in the National Finals of the HSBC Road to Wimbledon 14 & Under Challenge at the All England Club between August 8-13, where he will be looking to walk away as overall champion of the tournament.
Murray made history at Wimbledon back in 2013 when he became the first British winner of the Grand Slam in 77 years, and Alam admits he can't wait to grace the hallowed turf himself.
"I am feeling really positive and I was really happy with my performance," said Alam, who dreams of turning professional like his idol Rafael Nadal.
"I'm really excited to be going to Wimbledon because it is such a big tournament and I can see what the courts are like.
"I think I can do well in the national finals but I know the opposition will be very difficult.
"Last year I just missed out which was disappointing so I'm glad I can go. Wimbledon is the biggest tournament in the world and it will be interesting to see how far I can go."
Alam was not the only winner from the area either with Macclesfield's Ben Nicol also booking his spot at Wimbledon.
"I am feeling really excited to play at Wimbledon and I am so proud of myself," said 14-year-old Nicol, who dreams of turning professional like his idol Rafael Nadal.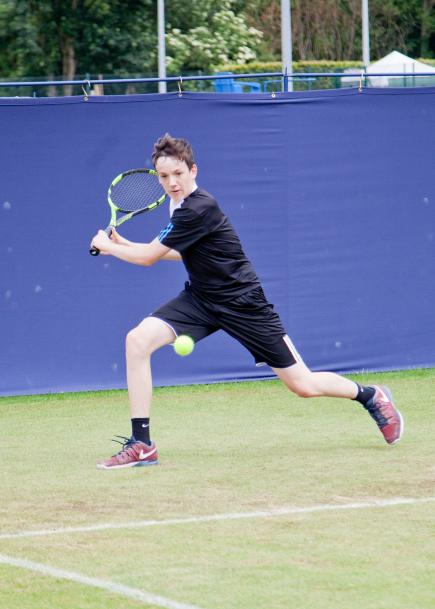 SO PROUD: Macclesfield's Ben Nicol hopes to emulate Rafael Nadal's stellar career
"I feel I had control of all my games so I am really happy to be through to the national finals.
"I'm going to be playing on the famous courts that all the professional players use so I'm really excited."
The HSBC Road to Wimbledon National 14 & Under Challenge, the UK's largest grass court tournament, forms part of HSBC's investment in grassroots tennis; an area of the sport the Official Banking Partner of The Championships has been supporting since 2008.
Each year over 10,000 youngsters take part in the series of national tennis tournaments, helping to inspire the next generation of Wimbledon stars to take their tennis careers from the back garden to Centre Court.
And after watching the action for herself at the South East regional qualifier, HSBC ambassador and former Scottish international tennis player Judy Murray was impressed with what she saw from the crop of 2016.
"The HSBC Road to Wimbledon is a wonderful grassroots programme which more than 10,000 youngsters take part in each year and culminates in the chance to play at Wimbledon, which is every young tennis players' dream and inspires them every year," Murray said.
"This programme is a very big part of the British tennis calendar and youngsters recognise the HSBC Road to Wimbledon as a tournament that offers a prize to play at Wimbledon. This prize is a real incentive to enter and do their very best to make it to the final stage.
"Going along and receiving coaching on how to hit the ball properly is one thing but competitive opportunities at a young age need to be fun and stimulating because you want them to enjoy the sport and keep coming back. In my opinion it doesn't get more stimulating than the ultimate prize of being able to play at Wimbledon.
"Wimbledon is one of those places that is on most people's bucket list or it is their dream to go there but for most people they are only able to see it on the television so the HSBC Road to Wimbledon is creating a wonderful opportunity for kids across the country."
HSBC is the Official Banking Partner of The Championships and is committed to supporting grassroots tennis, helping to inspire the next generation of Wimbledon stars to take their tennis careers from the back garden to Centre Court through the HSBC Road to Wimbledon 14 & Under Challenge. @HSBC_sport