FC United of Manchester clearly didn't listen to the saying 'Rome wasn't built in a day' when what started as a protest to the Glazer takeover at Old Trafford in 2005 turned into something a little bigger.
In a few short weeks FC United, who have soared up the ranks of English football to the seventh tier, will celebrate their greatest achievement yet when they open their new £6million Broadhurst Park stadium in Moston.
Building only started just over a year ago, another remarkable chapter in the community-owned club's nine-year existence as they prepare for another AGM this evening.
Just three and a half hours to go to our AGM this evening. This is where our members shape the club they co-own and review its progress.

— FC United Manchester (@FCUnitedMcr) November 26, 2014
Like any club there have been highs, the win away to Rochdale in the first round of the 2010/11 FA Cup springs to mind, and lows, such as losing out on three occasions in the Northern Premier League play-offs.
But you don't achieve what FC United have in quick time without a defiant, glass-half-full mentality which club general manager Andy Walsh and the fans have in spades.
"It's been fantastic really," was Walsh's assessment when speaking with MM earlier this month.
"The fortitude of our supporters to see us through to this point of having our own facility is quite something, and initially people didn't think that we would last more than a couple of months when we first started out.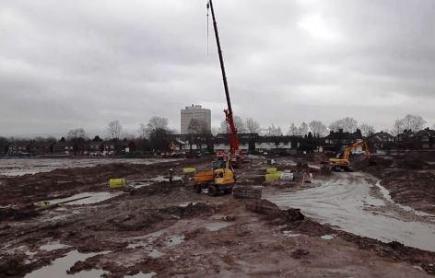 GOOD FOUNDATIONS: What the Moston site looked like at the start
"But we have, and we've just grown as a football club. We've got more members now and we've got more season ticket holders than ever before.
"Without being supporter owned and a volunteer led football club, we could not have done what we've done and we would have probably collapsed after three months."
The role the supporters have played is what Walsh believes makes the club so special. For the past nine years they have set record league attendances despite having to travel to several lodging grounds, including Bury's Gigg Lane and currently Bower Fold, home to Stalybridge.
They have dug deep into their own pockets and set up several fundraising events which has eventually led to them raising half of the £6million required to build their new home.
"£2million of that is from our community shares and three quarters of a million from our own supporters' pockets, so that is nearly £3million. The rest is borrowing or grant funding," said Walsh.
"This has never been done before: there is no other group of supporters that has built a club from scratch and built a ground within such a short period of time as we have here.
"Lodging at Bury, Hyde and all the other places has been very difficult but again our supporters and volunteers have made that possible."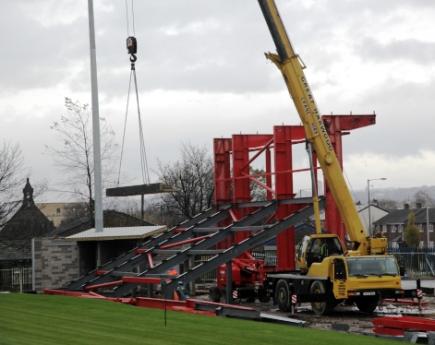 STEEPED IN HISTORY: The steel framework being put up was salvaged from Northwich Victoria's Drill Field, one of the oldest football grounds in the world
In the modern era, football fans are often getting shunned by their clubs with the majority of owners opting to do what's best for them. However, after allowing its supporters to name the new stadium and give them a voice in the design of the ground, that is far from the trend at FC United.  
"This football club will be true to its principles, its values, its founding principles and its founding values," said Walsh.
"It will be true to the fact that the supporters and the community will be put at the heart of everything we do and that will always be the case at this football club.
"The ground is enclosed and one of the things that we committed to do was to make sure that we tried to contain the atmosphere.
"The stadium has been designed around the supporters and that is what's important for us – it's making sure we have a facility that the supporters are proud of and will come and enjoy watching the game with us."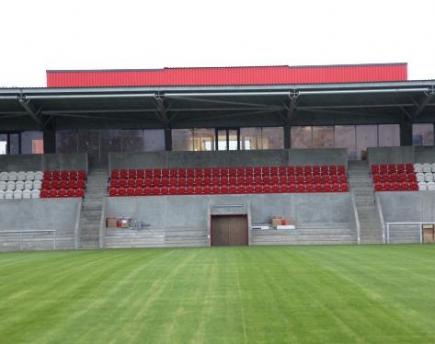 NEW HOME: West Stand is set to house 1,500 supporters
'Proud' is certainly what the supporters will be. The 5,000 capacity stadium, which has the option to be expanded, is set to be of the highest quality and has the perfect infrastructure in place to compete in the football league.  
However, in 2012 the club was in danger of having no football ground at all after a small group of local residents appealed against the decision to build, before permission was finally granted at the High Court in January 2013.  
"It was a concern," reflected Walsh, who also revealed it cost the club an extra £500,000 in delays and legal fees.
"We took it seriously but we always had confidence in the scheme, our legal advisors and our supporters to be able to see us through it. But it was a worry because we had come so far."
The battles and struggles were no doubt worth it after Walsh expressed the importance of now having their own football ground.
"When we move in, not only will the supporters feel more comfortable but the players will too," he said.
"The players train at Manchester College and they have played their games at Stalybridge, Bury and elsewhere so to have their own dressing room that they can feel is home will be a great assistance.
"We're hoping to get out of this league sooner rather than later and hopefully with our new ground it will spur us on to do just that."
While Walsh revealed the club's desire to progress up the leagues, he was quick to point out that winning is not everything at the club.
They work continuously hard in the community and have created two grass pitches for local side Moston FC while a further 3G pitch will accommodate 11-a-side and 9v9 as well as three 5-a-side pitches. All three will be open to the public.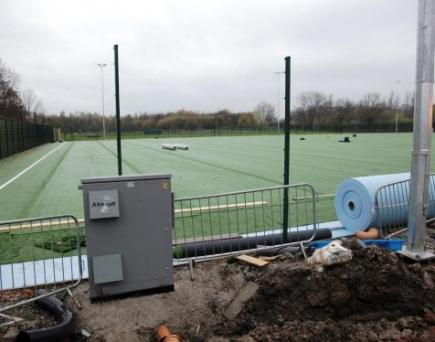 OPEN TO ALL: 3G pitches behind the stadium are for public use
"Yes, every time our players go over the white line they want to win a game. And yes, every time our supporters come to a game they want to see us win and get promotion," said Walsh.
"But this club is more then just about promotion. It is about the community and supporters and giving something back to them.
"If you stand in the middle of the function room we have specifically designed it so you can you see the centre spot of our main pitch but also the centre spot of everyone of our other pitches as well.
"So if you start as a junior on the junior pitch you can see from that centre spot through to the artificial pitch and then into our stadium.
"That's the pathway all the way through. It's unique and it creates that feeling that everyone who comes here is part of what we do." 
Main image courtesy of Matthew Wilkinson via Flickr, body images from Richard Searle, with thanks.