Following recent doping scandals involving Russia and Kenya, Manchester's Diane Modahl believes the IAAF must do more to preserve innocence in athletics.
The organisation has been thrown into disrepute in recent months following an alleged cover up of widespread doping among Russian athletes, while Athletics Kenya have claimed they are expecting a ban after missing a deadline to prove it was working to combat doping.
Having previously cleared her name following a false doping accusation, Modahl is deeply concerned about the IAAF's handling of the issue.
And with her current involvement in sport at grassroots level, she insists that young athletes must be able to trust the organisation and athletics as a whole.
"There must be honesty on both sides, not honesty that protects only the establishment or bureaucracy, or a reputation of an organisation," she told MM.
"[Young people] must come into the sport because they are passionate about it, because they love it, because they want to do well, because it makes them feel amazing.
"That's what we want to encourage – that level of honesty that is pure, that is innocent, and I think that's what we require at the highest strategic level."
Modahl's own career is a story of commitment, hard work and total dedication. After winning the 1984 English Schools 800m title, she went on to win a silver medal at the Commonwealth Games just two years later.
She competed at the 1988 Olympic Games in Seoul, before winning gold at the Commonwealth Games in Auckland two years later. For Modahl, it was a relief to see her years of training finally pay off.
"I remember sitting in the stands at the Europeans, at the World Championships, at previous Commonwealth Games, and hearing the national anthem being played, seeing the national flag being raised," she said.
"I'd be thinking: 'I'm working hard, I'm committed to all this. Why aren't I standing on that winner's rostrum?'
"When it eventually came together it was an amazing feeling of relief.
"That big broad smile very quickly turned to floods of tears because of the long nights spent doing the reps, the hill training at Heaton Park, training at Wythenshawe Park.
"It was an incredibly proud moment for me, my team and the whole family. I'll never forget it."
Modahl's career continued to head in the right direction following her gold medal, competing at the 1992 Olympic Games in Barcelona and winning the 800m title at the 1994 European Cup, but the success would come to a sudden halt later that year.
Following an event in Lisbon, she was banned from competition for four years after being falsely accused of a doping offence when her urine sample mimicked a positive reading for testosterone.
Modahl challenged the accusation, arguing that the Portuguese laboratory had mishandled the sample by keeping it in a room at 35c for three days, after which time its pH level had risen beyond the level considered valid by the International Olympic Committee.
After a lengthy battle at considerable expense, Modahl won her case. The British Athletics Federation lifted her ban in July 1995, and the IAAF cleared her charges in March the following year. 
She returned to competition, and starred at the 1998 Commonwealth Games in Kuala Lumpur, claiming a bronze medal in the 800m. It was a result that meant everything to her after what she had been through.
"That bronze medal that I won in Kuala Lumpur was probably worth ten times more than that gold medal I had won eight years previously. It came at a huge emotional, physical and financial expense," she said.
"When I was standing on the winner's rostrum in 1990 it felt right, it felt good, it made me feel like I belonged. In 1998 when I won the bronze medal, it was almost a medal of defiance, almost swearing at the world.
"Despite being called a cheat, despite being paranoid and having to get back on a track that no longer felt comfortable, to come back against the backdrop of all that was an incredible victory.
"But it wasn't the same victory. It wasn't a victory at all in many ways."
With the issue of doping in athletics rearing its ugly head again of late, Modahl believes that as president of the IAAF, Lord Sebastian Coe must do everything he can to protect innocent athletes, and not create another story similar to her own.
"I hope [Lord Coe] would be thinking that the drug testing system was put in place to protect the innocent athletes. It mustn't override that fact," she said.
"Whatever they are thinking about doing, it must always come from a place of innocence, and the procedures must always come from a place of protecting the innocent athlete. That's crucial."
Modahl's passion for sport, and her own experience as a young sportswoman growing up in Longsight, inspired her to launch the Diane Modahl Sports Foundation in 2010.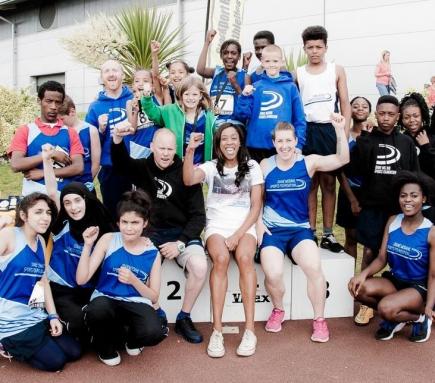 ATTAINABLE DREAMS: Diane Modahl (centre) has inspired young Mancunians to give sport a try no matter what their background is
The charity brings local elite-level sportspeople to schools across Greater Manchester to help underprivileged children set goals and reach their potential, in both sport and the wider world.
Crediting the beginning of her own athletics career to an opportunity from a volunteer coach, Modahl knows how important it is to inspire young people and make sport 'come alive'.
"When you're younger you don't have any preconceived ideas of whether you are really good at something, about your social status or your financial status, and I was no different," she said.
"I would always say it's important to inspire young people with stories and real life experiences from people who actually have grown up locally to them so they can hear that those stories are real.
"Some of our kids will have been sat on the settee watching the telly seeing Darren Campbell, Jenny Meadows, all their local heroes, but really feel very far removed from their life and their realities.
"By bringing in people who look like them, who talk like them, who have grown up across Greater Manchester on their patch, it suddenly becomes attainable and achievable in terms of whatever their dreams are."
Her work with the foundation has seen Modahl stay rooted to her home city, which she believes has a unique quality in seeing the value of sport as a tool to improve the lives of young people more than other parts of the country.
"I've stayed rooted to Manchester because I know that there is so much energy, there's motivation, there's a real willingness," she said.
"If we provide an opportunity those young people will step up, because of the Northern grit that we have. We're not interested in handouts at all.
"What we are interested in is a hand up, and we want to be able to say to our kids: 'Come on, work hard, develop some resilience, commit to this, focus on this,' and the foundation is there as another level of support."