Stevie Lyle is one of the greatest goaltenders in British ice hockey history. During his 23 seasons between the pipes, Lyle played for 12 clubs in five different countries, won six major trophies and was crowned British Netminder of the Year six times in 10 seasons.
Add to this 82 Great Britain caps, 13 World Championship tournaments, seven Olympic qualifiers and a spot in the Ice Hockey UK Hall of Fame and you have a career that many skaters can only dream of.
After making his competitive debut for the Cardiff Devils at the tender age of 14, Lyle claimed his first trophy three years later when the Devils won the inaugural Ice Hockey Super League (BISL) in 1997.
The Welshman spent the following season in North America before returning to his boyhood club and collecting a playoff champion medal in 1999.
Lyle left Cardiff again in 2001, transferring to BISL rival's Manchester Storm, but his time there was to be short lived. The franchise folded the following season and he re-joined the Devils, now playing in the British National League.
Over the next six seasons, he represented numerous clubs in Britain's top two leagues – collecting silverware with Guildford Flames, Bracknell Bees and Belfast Giants – and enjoyed successful spells in Italy and France before returning to South Wales for the fourth time in 2009.
After making his final appearance in red, white and green in 2012, Lyle spent a season with Basingstoke Bison in the English Premier League before ending his career with Swindon Wildcats in 2017, aged 37.
A member of the last Manchester Storm side to reach the playoff final (2001-02), Stevie Lyle spoke to Mancunian Matters to look back on his phenomenal career.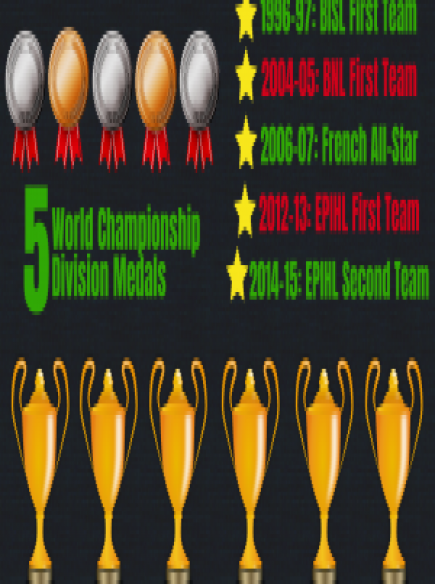 Ice hockey is a fairly small sport in the UK. How did you first get into it?
I started when I was about seven. I didn't live far from the Cardiff Devils ice rink so I would go down and skate for a couple of hours every Saturday. Then I found out they had a junior team, so I started going to training. They always needed a goalkeeper so one day they chucked me a pair of cricket pads and that was that. Because we were always short of goalies, I'd stay on for under 12s and under 14s so I got loads of time on the ice and loads of experience.
I made my debut when I was 14 in the European Cup in Tilburg. We were playing Sokol Kiev and [Cardiff Devils coach] John Lawless played me because he thought they wouldn't be expecting much of a challenge from me… and then we won! Jason Wood started the next game, but he got injured after five minutes. A shot from Kip Noble – who I later played with at Cardiff – went through his cat eye cage and cut him open so I came on and played the rest of the tournament.
I got lucky again in the first BISL season when Frank Caprice got injured. We won the league but got knocked out in the playoffs, and I was voted league MVP. I don't know if any other keeper has done that…
When did you realise it was something you could make a career out of and it wasn't just a teenage dream?
I signed my first contract when 15. John Lawless brought me into the office and said: "How would you like a contract?" I thought he was joking, but he wasn't, and I had my first contract for £12.50 a game. I left school around that point as well. My teachers said: "Look, you're on the ice every day of the week and only making one or two lessons. You can always come back to education so go and do this."
But it probably wasn't until the first season in the BISL. Before then it had been a bit surreal but then we won the league and I was voted MVP. I didn't even know about [the award] until I was told I was in the running for it and then they called to say I'd won. That brought a lot of press attention.
The next season I went to America dreaming of the NHL. I joined the Plymouth Whalers in the Ontario Hockey League – they were the junior side of the Detroit Red Wings. But they had OHL draft pick Robert Esche in the team, so I only managed a few games. I went from winning awards at Cardiff and being a 16 or 17-year-old trying to act like a grown up with the rest of the guys, to being on a junior hockey side and having to pack people's bags for them. It felt like a step backwards from Cardiff, so I came back.
Sometimes I regret that and wonder what could have happened if I'd stuck it out, maybe moved to a different team. But that's just the way things turn out.
Was there an NHL team in particular that would have been your dream?
I'd have taken any of them, but it would be the Detroit Red Wings. They were winning Stanley Cups at the time and they're my favourite team.
DOUBLE TROUBLE: Lyle after winning the EIHL Knockout Cup and EIHL Challenge Cup with Belfast Giants in 2009
You had a short spell at Manchester Storm in the early 2000s. What are your memories of playing in Manchester?
I had a great time in Manchester, it's just a shame we couldn't finish my second season. It was a time when a couple of the teams were struggling financially and that season [2002-03] we just didn't have enough money coming in and the owner had to pull the plug.
But I had a great time, a great group of guys and we reached the play-off final in my first year, I think. Playing out of the MEN Arena was great too. Don't get me wrong I loved playing at Cardiff, and I think our small rink sometimes intimidated teams, but playing at the MEN felt like you were in the NHL.
As you've already mentioned you briefly played in North America, but you also played in Italy and France. How did these experiences compare to British hockey?
It's quite different. I played 82 times for Great Britain and got to play all over and the atmosphere is so different. In Slovenia for example, it's like a football crowd with flares and people constantly bouncing. It was nice to experience different cultures but also different rinks. It sounds silly but as a player it can get boring skating on the same ice week in week out.
In Italy I was in Appiano and in France I was [in the Alps], really close to Geneva, and we got ski passes. It was great because we'd have training in the evening, so I'd spend two or three hours a day out skiing. It didn't feel like I was there to play hockey. It was more like a holiday.
You played for around a dozen clubs in your 23-year career. What was your favourite match or favourite moment?
There's so many to choose from. There's obviously all of the finals I played in, the first BISL season when we won the league… but I think it has to be that first tournament in Tilburg. I didn't realise how big it was at the time but playing in the European Cup, our results were important for British hockey not just Devils fans.
Who was the best player you played with, or against?
I'm trying to think – there are so many! I played with some really good guys at Cardiff Devils, but I think actually it has to be a guy called David Legwand. I played with him at Plymouth Whalers and he went on to be a first round draft pick and had an amazing career in the NHL. He's a really nice guy though. Some people, being a first round pick goes to their head, but he was always a nice guy.
PLYMOUTH PALS: David Legwand skates for the Buffalo Sabres during the 2016 NHL season
Do you still follow any of the teams you played for?
Obviously, Cardiff. I had so many great years there, but I had a good couple of years in Belfast too, so I root for them, except when they play Cardiff! I still watch a lot of games because some of the guys I played with like Jonathan Phillips are still playing and it's nice to see how they're doing.
Do you think Cardiff would have hung on to win the league last season?
Yeah I think so. Sheffield had a couple of bad results before the Challenge Cup final and didn't really have the games to close to the gap. The play-offs would've been interesting though with Nottingham and Belfast, and you can never count out a team like Coventry so who knows!
Finally, what are your predictions for next season? Will Cardiff be dominant again?
I'll have to wait until I've seen the line-ups before I make a decision on that. Speaking to [Sheffield Steelers coach] Aaron Fox the other day it sounds like he'll be keeping a lot of the squad and just adding a couple of new faces, and the same with [Cardiff coach] Andrew Lord so I reckon it'll be those two teams going for it again. But again, you've got the rest of the big four and there's always a few surprises, so we'll have to see.
Header image: @IceHockeyUK on twitter, with thanks.