Retirement may be new for Mark Cueto though the Sale Sharks legend is still up at the crack of dawn as he gets to grips with life after rugby.
"When you have kids you won't think this is early," he laughed, regarding our 7am interview, "it's a lie in."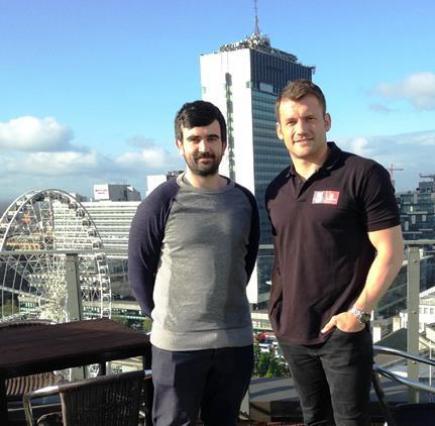 STAY IN ENGLAND: Mark Cueto with MM's Michael Hincks as the former rugby international prepares for the Emirates Find the Flag competition in Manchester.
Never mind the time, we got stuck in on England rugby's hottest topic – the overseas selection debate, which rules out English players playing abroad from featuring in the national set-up.
The rule means Clermont Auvergne full-back, Nick Abendanon, who won European Champions Cup player of the year, did not get a look in when Stuart Lancaster named his 50-man World Cup training squad.
Toulon forward Steffon Armitage, who won the accolade last year, also misses out, as players in France and beyond can only be selected in exceptional circumstances.
"For me it's pretty black and white," Cueto told MM. "If you wanna play for England, be it the Six Nations or a World Cup, you have to play club rugby in England.
"The minute they decide to go out to France and sign a contract to go out there, they know they are putting their international prospects in jeopardy."
Cueto, who remained with Sale throughout his career, admitted Armitage had got in touch after engaging in the matter on Twitter, regarding England's Elite Player Squad (EPS) agreement as devised by the Rugby Football Union.
He said: "It's not that I got into a debate, but on social media I got asked my opinion on Steffon and Nick and I said ultimately, in the agreement they are never going to get picked, if you want to play for England you stay in the Premiership.
"Steffon actually messaged me back, and said 'not completely true, know your facts', but I'm not going to get the EPS contract out," he added with a smile on his face.
@willcarling rules are rules for me- don't leave the prem if u want to play int rugby! However, the disruption chat is a load of rubbish

— Mark Cueto (@Mark_Cueto) April 29, 2015
"Whether it's right or wrong is a different debate, but at the minute that's the EPS."
So then, is it right or wrong?
Cueto stressed it's important to keep the English players in England, but had his own view on the financial aspect which is what lures so many over the Channel.
"Financially," he said, "yes, there is more money directly in France to play in the Top 14.
"But if you back yourself and play for England in every game in a season, and take into account other things, such as sponsorship, that come off the back of playing for England, they pretty much add up equally anyway.
"It's easier to take the guaranteed money, but if you do well and you play for England, then there's not a huge amount of difference."
On the other hand, players such as Abendanon and Armitage, are mixing it in teams bursting with world-class talent, but will never replicate this in an England shirt while abroad.
Cueto added: "We're seeing with the guys out in France that the quality is just that extra 5, 10 per cent.
"They're put in a different environment surrounded by some of the best players in the world, so naturally they're going to improve as it's easier to play in a stronger team.
"However, it has been around for so long, players know once they sign overseas that they're turning their back on England essentially."
And it was a move that did cross Cueto's mind, he admits, back in 2010, but he did not want to risk his England place with the 2011 World Cup 18 months or so away.
"It was a no-brainer."
Such is the mind of a man who remained loyal to his club, and having taken on an ambassadorial role with Sharks, his aim is to help them out of their 'difficult period', who are slowly rebuilding after flirting with relegation in 2013.
In contrast, Cueto and Sharks' purple patch came at the start of his career, where they ran out Premiership winners in 2006 and European Challenge Cup winners in 2002 and 2005.
He conceded it will be a challenge to keep young players away from tempting moves to highflying English clubs such as Nothampton, Saracens and Bath – let alone overseas moves – but Cueto will forever express his love of the club to the youngsters.
And then what of next season, it's notoriously difficult for recently retired players to reach for their suit instead of their kit, so will Cueto be tempted?
"I don't know," he smiled. "I went out for a run the other night believe it or not, and I was saying to my wife, I don't know if its mentally because I know I don't have to train or play again, but my body almost feels fine now.
"For the last two years there hasn't been a day when I've not been in pain. And the run the other night I actually felt really good.
"I'll be one of those classic old pros when the season starts thinking I can be out there doing it but it was definitely the right time for me to retire."
Already running having just retired, Cueto certainly won't be turning into an old-fashioned forward anytime soon.
"Not a chance."
Mark Cueto is an Emirates ambassador for Rugby, encouraging young fans to find the flag hidden in Manchester today to win the chance to lead a team out at Rugby World Cup 2015. Visit Emirates Facebook, Twitter or Instagram to follow the #EmiratesFlag.
Main image courtesy of Emirates, with thanks