Sale Sharks are still in the battle to break into the Aviva Premiership's top six this season but former Sale star Jason Robinson believes the club will need more investment in order to challenge in the upper echelons of the league.
Sale currently sit seventh in the standings, three points behind Harlequins in sixth, after winning the majority of their home games but struggling on the road.
They will lose instrumental play-maker Danny Cipriani at the end of the season, with the fly-half rejoining former club Wasps on a big-money deal.
And HSBC ambassador Robinson – who scored England's only try in their 2003 World Cup final win over Australia – is adamant the Sharks must loosen the purse-strings if they are to push on towards a top-four spot in the coming seasons.
"Sale Sharks, for the majority of the season, have done well at home and struggled on the road," explained Robinson.
"They are always around the middle of the table chipping away and it is a credit to them that they are there because it is a very competitive league
"In order to get to the next level and be in the top three or four then they will need a bit more investment there.
"It will be interesting to see what happens there now Cipriani is committed elsewhere. He has done really well for Sale in the last few years and it has probably been just as good for him and he has focussed more on his rugby than anything else. It worked both ways.
"But when you look at some of the other teams and they are bringing in big names which certainly will help you as a player and Cipriani thinks a bit quicker than a lot of other people.
"He is one of those players who tries things, like the little kick-throughs. If you don't have other players around you who can read it then you can get caught out a bit."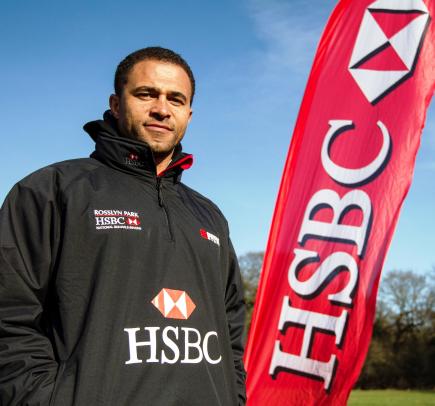 CHIPPING AWAY: Former England and Sale winger Jason Robinson commended his old club for constantly pressuring the league's bigger clubs
Cipriani left boyhood club Wasps in 2010 to move to Australia before joining Sale in 2012, where he has been a consistently impressive performer.
The 28-year-old is moving back to Wasps in order to help his England chances – a move Sale director of rugby Steve Diamond has called 'misguided' – but Robinson is looking forward to seeing Cipriani in an all-star backline.
"Naturally certain players will bring out the best in you and the higher the quality of player you have around you the better you will be as a player," added Robinson.
"Even when you make mistakes they are not highlighted as much because the other players make up for it.
"It will be interesting to see how Cipriani gets on at Wasps because you also have Kurtley Beale who has signed, you have Frank Halai, [Christian] Wade, [Elliot] Daly.
"That is a serious backline which will cause a lot of problems and you would like to think it would bring out the best of Cipriani as a player."
In Rugby Seven's biggest year the next generation of rugby stars, inspired by the Rugby World Cup, from more than 650 teams descended on Rosslyn Park HSBC National Schools Sevens to start on their own journey and break new ground http://www.rpns7.co.uk/