When Karen Baird became Salford City chairman in June 2013, she had little idea that she was presiding over a club on the brink of the most successful period in its history.
Far from anticipating a surge into uncharted territory, Baird was more concerned with the fact that many of City's potential fanbase didn't even know they existed.
"When I started you'd ring a taxi up and say it was Salford Football Club and they'd say 'Salford has a football club? I thought it was just rugby!' she remembered, laughing at an idea that now seems ridiculous.
The reason behind that ridicule lies in a takeover that captured the imagination of the nation.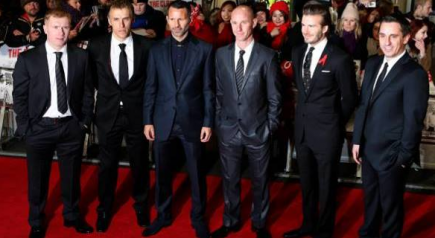 CLASS OF 92: The five Salford owners, along with David Beckham, won everything together at Manchester United
When Manchester United legends Ryan Giggs, Gary and Phil Neville, Paul Scholes and Nicky Butt purchased the club with businessman Peter Lim in 2014, they transformed Salford into one of the most high-profile non-league outfits in the country.
The protracted takeover was only ratified in November, but in the 11 months since the Ammies have secured promotion to the Northern Premier League for the first time in April 2015, and progressed to the first round of the FA Cup, where League Two side Notts County lie in wait.
In the same period, average attendances at Moor Lane have grown from below 100 to over 400, whilst an increase in spending power has attracted players such as ex-United striker Danny Webber to the Dirty Old Town.
And the club's notoriety is set to receive another boost when the BBC air a documentary showcasing the Class of '92's time at the club tomorrow.
Baird herself is a Liverpool fan – admitting 'I never thought I'd be friends with Gary Neville' – but irrespective of her loyalties, she hailed the influence of the Old Trafford icons at her club.
"The difference now is massive," she said.
"Hopefully we'll keep getting bigger, keep doing stuff with the community and get a youth team.
"These things take time, but they're plans for the future definitely. 
"Last year was a massive achievement in itself – that the aim is to get promoted again shows that we have come a long way."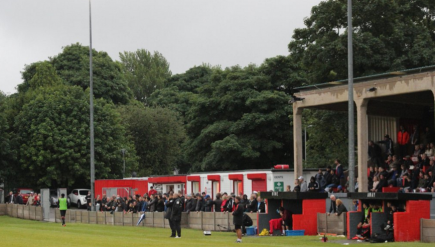 HUGE STEP FORWARD: Moor Lane could be in line for a refurbishment if the club continues to develop
Back-to-back promotions isn't out of the question either, with Salford currently sitting fourth after 15 matches, with three games in hand on leaders Darlington 1883.
If Salford were to be playing in the Conference North next year, the Lane would have to be significantly revamped and expanded – another huge step forward for a club that expected nothing of the sort just two years ago.
But Baird is confident that the good times are here to stay for her club, stating that their illustrious owners have a '20-year plan', with the aim of establishing the club in the Football League.
"There will never not be a Salford City now," she said.
"It's brilliant that they're as passionate as us about it, they try and get to every game, they come down to training and give advice to players.
"It's the managers who pick the teams and make all the decisions, I think people think they don't but that's the case.
"If they ever want advice they can go to them, but they make the decisions, and to be fair, if they didn't I don't think it would work.
"It's not like five businessmen coming in, they are well-known footballers and this is what they wanted to do – they wanted to be involved with the football club and take it as high as they can.
"Everyone wants to come and play for the Class of '92. And that's the thing really, everybody thinks we've got the biggest wage bill but a lot of players want to come and play for us. It isn't about the money."
Some have suggested otherwise, with not all glances in the direction of Salford's new-found wealth accepting it magnanimously.
And Baird admitted that such envious aspersions were an unwanted distraction – as well as being wide of the mark.
"It's quite annoying in a way," she said.
"We have got a good budget, I'm not saying we haven't, but I think it's probably similar to the other clubs who will end the season in the play-offs.
"A lot of people do underestimate how much players want to come and get involved with the class of '92 – they change everything."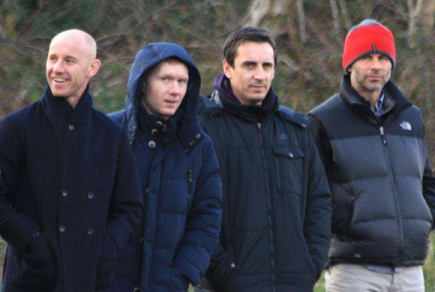 THEY CHANGE EVERYTHING: The Manchester United legends are often seen watching their team at Moor Lane
Salford are not the only Manchester United influenced club making waves in Britain's non-league football structure.
FC United of Manchester, founded in 2005 by Old Trafford supporters perturbed by the club's sale to the Glazer family, have gone from strength to strength in recent times.
The move to their impressive new stadium Broadhurst Park came in time for their first season in the Conference North – just one league above Salford.
All of that has been achieved through fan power, with FC becoming a leading figure in the national trend towards community and supporter ownership of clubs.  
"I like FC United, I think they've done a great job growing it organically with the fans," said Baird, who combines her chairman role with her job as a partner at Champion Accountants.
"I think it's quite lucky that they went up when we went up because I don't want us to meet them too soon.
"But it's different really isn't it, we're just doing things in a different way, they've done theirs organically and we've…"
Here Baird tailed off, perhaps reluctant to acknowledge the influence of money in Salford's rise, more likely indisposed to add fuel to fires she doesn't want burning in the first place.
But if the Class of '92 have injected cash into a non-league club in one of the biggest cities in the country without a professional team – in one of the poorest and disadvantaged areas to boot – is it really a bad thing?
One thing is for sure, if Giggs, Scholes, Neville, Neville and Butt can build a Football League club in Salford, there must be over 200,000 people on their doorstep waiting to take them into their hearts.
Images courtesy of CityLife Manchester, The Irish Examiner, Joseph Gibbons and Duck and Cover, via Twitter, with thanks