A 67-year-old Bolton Wanderers record was equalled as Liverpool put Manchester United to the sword on Sunday evening.
Ole Gunnar Solskjaer sat behind the wheel of his comedy clown car as his side crashed, stalled and tumbled through a farcical first 45 minutes and went four nil down in the process.
Perhaps then shellshocked United fans could be forgiven for not hopping onto Twitter in their post-match malaise to scroll for Bolton-based trivia.
But those who didn't, and instead spent their evening locked in a darkened room under self-imposed media blackout (or at the pub) may have missed a semi-comforting nugget of information doing the rounds.
This wasn't the first time United had gone in four down at half time in the league at home, so said Bolton statistics account @BWFCStats.
January 1954
Harken back to January 1954, an icy winter day before 48,000 plus onlookers at Old Trafford and Wanderers, spearheaded by the Lion of Vienna himself, Nat Lofthouse, blew Matt Busby's Busby Babes away before the interval.
Lofthouse, playing up top, got two, as did Ray Parry, whose somewhat archaic "inside forward" positional listing on 11v11.com serves as an indicator of just how rare an occurrence this is.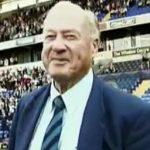 Willie Moir, who chalked up over 300 appearances for the club, got the fifth after the interval, with Tommy Taylor's strike for United the entire contents of a meagre second half response as the game ended 5-1.
Neither Lofthouse nor Parry could quite cap it off by going full Mo Salah, but their 45 minute duo of doubles served Old Trafford up a first half beating that would go unmatched for 67 subsequent years.
Manager Bill Ridding, who had joined Bolton in 1949 as a physiotherapist before becoming manager following Walter Rowley's sudden departure, had turned out quite good at the job.
Unfortunately, little footage remains of the encounter – in the days when football largely existed either in flesh or via radio airwaves being 4-0 down at half time was at least a fate you could aptly cower from without the omnipresent hum of Sky Sports and the Twitterverse ringing in your ears.
However, Bolton ended up finishing the season behind United on goal difference, 5th and 4th respectively, although these are mostly trivial rankings in the antediluvian pre-Champions League era.
Four years later, Ridding would again lead Bolton to a famous victory over United, 2-0 in the FA Cup final at Wembley, two more for Lofthouse.
On United's part the defeat was notably more forgivable than the 5-1 slaughtering, depleted in the wake of the infamous Munich Air Crash in which several young players, along with members of the coaching staff, lost their lives.
For now though, whilst Liverpool's remarkable win was able to trigger happy memories for Wanderers, United fans can emerge from their hiding holes safe again, at least until 2088 rolls around.
Main image: Nat Lofthouse Statue, Bolton Wanderers FC © Copyright David Dixon and licensed for reuse under this Creative Commons Licence.