Calls for basketball to be given more funding have come from both professionals and fans in Manchester alike, after it was discovered that it received just £33,500 from the UK's Governing sporting body in the period from 2017-2021.
Of 14 sports scrutinised by Mancunian Matters, Basketball received the lowest total from UK Sport, in contrast to rowing, which received £24, 655,408 over the same period.
This represents 735 times more funding and follows comments from Baroness Campbell the former Chair of UK Sport.
During the BBC documentary Gold Rush: Our Race to Olympic Glory, screened in July, she said funding sports such as basketball were not necessarily viable as the UK had little chance of producing medals: "If you were in business anywhere else, you'd look at your business and you'd say "Where am I going to get the greatest return?"
This is a long term problem. A 2004 Press Release from UK Sport reads: "The impact of funding will be diluted if too many athletes are supported".
Since then, the only Olympic Games in which Great Britain has qualified for has been when they received automatic qualification as hosts of the London 2012 Games. Here, they crashed out in the group stage, losing four out of five matches.
However, according to Jordan Wheelan, who plays for the Manchester Giants, basketball is worth much more than it's given credit for.
He said: "It definitely needs more funding. We invest so much in football, but haven't managed to win anything since 1966".
This may be a valid point, although basketball participation is incomparable to that of football.
Figures from Sport England's Active Lives Survey found that participation had declined by almost 20% between 2016-2020, with 264,600 involved in playing basketball by last year, down on 325,200 four years previously.
However, Wheelan is keen to point out the importance of basketball to many urban communities, who may not show up in official participation statistics:
"I've seen a significant increase in participation around Manchester, as well as more fans at games. But it needs investment to sustain it."
Basketball fan Elliot Wade, 35, who runs a business selling collectable basketball shirts agrees with Wheelan.
Installing basketball nets in his local park in Stalybridge at his own cost, it frustrates him how they are being repeatedly removed.
He said: "People use those courts for football. Unfortunately, the Council stick a basketball post there as a gesture".
Information provided by Manchester City Council reveals that there are eight parks or open spaces featuring basketball pitches under their jurisdiction, compared to 46 for football.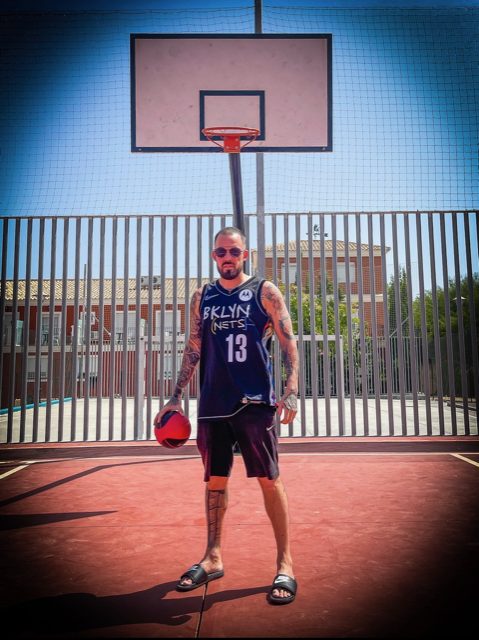 Wade reinforces the view that basketball in the UK is underfunded, with the lack of opportunity to play a major barrier to socioeconomic groups:
"It's very much seen as an American sport. Kids don't get the chance to play it at school, and resources aren't maintained. If a young player is getting good, they'll often be offered the chance to move to the USA to play, rather than staying here".
Echoing Baroness Campbell's approach to funding, Wade considers: "It's partly due to Olympic qualification. You're not going to get people to reach the level of achieving success until you invest at grass-roots level."
However, just as Wheelan predicted, things could be looking up for basketball. Wade reminds me that the UK are entering a team at next year's Commonwealth Games, due to be held in Birmingham.
This goes hand in hand with the fact that the British Basketball League are now streaming all their games for free, having previously been open to paying subscribers.
Project Swish, a partnership between Basketball England and Wilson Basketball are offering free nets to any court which has had them removed, meaning that Wade may soon be out of a job!
Returning to the Manchester Giants, they may well have had their equivalent of Manchester United's 'Christiano Ronaldo moment', resigning Team GB's Dan Clark.
As Wheelan says: "Dan's played in the highest clubs in Europe. It's great to have a player of that experience here in Manchester."