MMA's popularity is growing at an unprecedented rate across the world from New York City to London.
Numerous video games and events are being held worldwide from the Barclays Centre in NYC to the 02 Arena in London with crowds reaching around 20,000.
Yet, even with shows in England, we don't tend to think of mixed martial arts as being very big in the UK.
Mancunian Kane Mousah is proof that the UK is making its mark on MMA and that there is talent from right on our doorstep.
Mousah, 30, is an MMA fighter who is already on a hot streak with 11 wins and only two losses in his career since his professional debut in 2009.
Ahead of the Bellator MMA European Tour, which comes to Resorts World Arena, Birmingham on May 4, Mancunian Matters got the chance to speak to Mousah about his mentality going into the fight in May.
"My thoughts going into this fight are just as simple as this: I'm going in to fight another man who is trained in the art of martial arts and who is coming from a good gym, he's strong and durable, but that's as far as that goes! I'm somebody who's not got this far for no reason.
"MMA is not a sport of set up type of fights. At this level, anything is possible when you go into the cage. It's such a new sport that it's a totally different entity to boxing.
"I'm going with no doubt in my mind that we're coming out with the win. As a fighter, you have to approach the fight with that mentality. I'm looking at my opponent Mateusz Piskorz and I've seen areas which I can exploit.
"May 4, we're going to get the job done!"
The danger has arrived!!! @Kane86mousah makes his Bellator debut at #BellatorBirmingham on Saturday May 4th pic.twitter.com/gqYw2TW5uP

— Bellator Europe (@Bellator_Europe) April 6, 2019
Kane made no secret of his past involvement in gangs during his childhood but explains that one thing that makes him different from those he associated himself as a young man was his involvement in MMA.
"It was an avenue for me to channel my aggression because I was a young boy who had a lot of frustration when I was younger having a single mum, no father figure and not a lot of money.
"I got frustrated at times so MMA enabled me to get rid of that and focus. It was good for my discipline because, for me, it was just applying it to the occasion.
"Everyone asks me what the difference is between me and all these other people I grew up with. I said that I was able to dedicate myself to the situation. Fighting enabled me to have a different focus."
'EVIL SIDE, GOOD SIDE'
From past experiences, Mousah is very passionate about the issue of gang culture and gang violence within the cities across England.
Considering how relevant and important these issues are nowadays, it was refreshing to hear the MMA star talk about his views on the subjects and how things could be improved to prevent this sort of violence.
"I feel like the opportunities in these urban, lower class areas, council estates and the people who they are looking up to like role models are speaking about certain, specific things and not relaying the information correctly.
"They need to know that everything they're hearing is not for them to go and do it themselves. It's more for them to grab inspirations from the fact that these people are using what that they came from to make money.
"It's the correct communication youngsters need and the right role models to get involved with bigger projects and start giving back."
The passion for both his sport and current affairs is only a small part of who Mousah is. He explained how his tattoos represent the two sides of his personality and how they inspire him on a daily basis.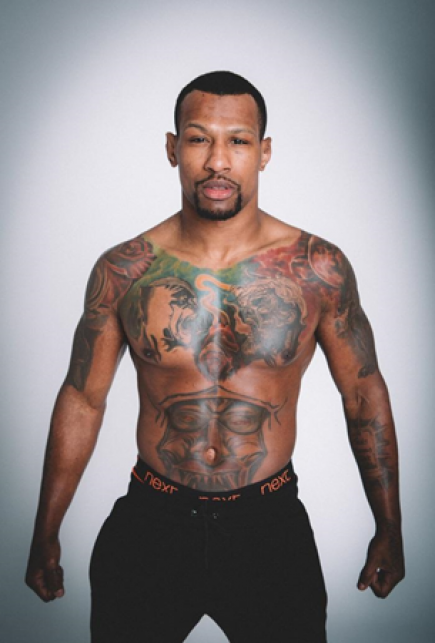 'NOW'S THE TIME': Mancunian Kane Mousah, whose tattoos include Wolverine and Sabertooth, says MMA and the North of England are a natural fit
"I feel like it doesn't matter who you are: you've got the evil side and the good side.
"The evil side can be when you're frustrated and angry and you have to be aggressive and you can say stuff that you might not actually mean, and you can think thoughts that you wouldn't actually be thinking.
"I've got Wolverine who represents good and I've got Sabertooth who is evil from Marvel.
"Wolverine's on one side and Sabertooth is on the other. Everything that is on one side, I've got a rose to represent love.
"I've got a Spartan Warrior on my arms to represent strength and I've got a werewolf and a full moon on the other side which is the unveiling of the beast whenever it needs to be awoken. I only use my aggression to apply it to the sport I'm in."
The future is bright for not only Mousah but also the British MMA scene itself. MMA may not be widely popular in the UK yet, but those like Mousah hope this Bellator tour is the first step.
"I just feel like now's the time. You've got myself and other Manchester fighters like Saul Rogers who is also on the card as well which is going to be good.
"I feel like we're leading the way, especially up North, for MMA and creating a noise and a buzz through the Bellatour which is a platform they are bringing to the table.
"It's just going to give the sport more reach and more interest for the general public."
With MMA star Ronda Rousey making a move to WWE to take up professional wrestling and Conor McGregor fuelling rumours of having a go himself after retiring from MMA, MM had to ask if that could be on the cards for Mousah.
Although his sights are firmly set on MMA, it seems like it's not something that is out of the picture.
"You know what, I've always been into wrestling since I was a kid and I'm a bit of a showman. You've only got so long in the sport but I feel like if something big comes up down in the future, then you know I'm open to anything.
"At the end of the day, you only get one life and you might as well live it having a bit of fun, a little bit of hype, creating a buzz and getting your name out there and creating a bit of a legacy. Whatever came my way, I'd definitely get involved."
The Birmingham Bellator show is a great step towards increasing exposure to the sport in this country. It's also a great chance to see some of the biggest names in world of MMA and especially those from right here in the North.
Tickets to watch Kane Mousah in action at Bellator Birmingham on May 4: Primus vs. Wilde are on sale now and can be purchased from TheTicketFactory.com and Bellator.com, as well as the Resorts World Arena box office