It's that time of year again when the red dirt of Roland Garros is beamed through onto our screens as the French Open reaches its usual thrilling climax.
But as much as we all love watching the tournament throughout the fortnight, it is just a taster for the main course ahead.
Just as soon as the clay court season comes to end are we then treated to the sight of those lush green tennis courts at Wimbledon as the short grass court season begins.
In preparation for the showpiece event a number of smaller warm up tournaments are held in the UK so that the players can acclimatise their game from the slower, more tactical clay to the faster and zippy grass.
One of those tournaments is the AEGON Manchester Trophy at The Northern Lawn Tennis Club in Didsbury.
MM took a trip down to the club for a quick look around and a chat with Stockport-born rising tennis star Liam Broady who has been given a wildcard into the tournament.
Avid tennis fans may remember the youngster from last year's Wimbledon when he came from two sets down to beat Australian Marinko Matosevic and win his first ever ATP main tour match in the process.
Also given a wildcard into that tournament he went down to David Goffin in the next round but the match really put him on the map and he says he is hoping for more success this year.
"It was a great win," said Broady. "Matosevic especially on the grass is very handy and it was all the more special because it was my first main tour win but to do it at Wimbledon was unbelievable.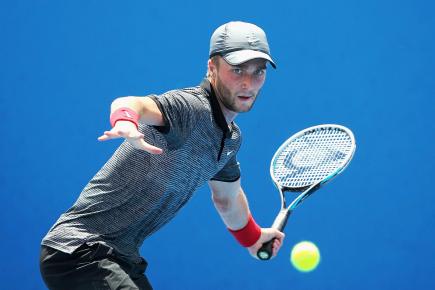 WIMBLEDON CALLING: Stockport's Liam Broady will be hoping to impress in Didsbury so he can be given a wildcard to Wimbledon (image courtesy of Getty Images, with thanks)
"I'd love to be given the chance to play again but it's down to the All England Club to decide and they will make the final decision in a couple of weeks.
"Fingers crossed I gave them more of a reason to pick them after last year. "
Whilst Wimbledon remains high in his thoughts over the coming weeks, the 22-year-old is a regular on the Didsbury courts and was clearly delighted to have been selected in an event so close to his heart.
"It's special being able to play at home in front of your friends and family," he said. "I was hoping to be selected because the tournament is really strong this year.
"It's got a lot of history, I can remember coming to the club at a young age to watch all the amazing pro players and it's kind of cool now to be in their position and it shows how far my career has come."
Indeed this year's tournament has attracted a number of players who are well known amongst tennis fans.
Reigning champion Sam Groth, Broady's first-round oppoenent, returns to defend his title on a surface that really suits his power game and where his booming serve can be so effective.
The Aussie succumbed to Rafael Nadal at Roland Garros – winning just three games overall – but holds the world record for the fastest serve ever recorded at a staggering 163mph.
"I actually played him last week," said Broady. "I won the first set 6-4 and then he retired because he injured his arm. Obviously he had a tough time against Nadal at the French but I don't think I'd be beating him here with that score line.
"He is the defending champion and is so comfortable on grass so this is really where you don't want to be playing him."
Another exciting player who is also lined up to make an appearance and prefers the grass courts is Dustin Brown.
He made headlines at last year's Wimbledon by knocking out Nadal after a scintillating display on Centre Court.
A friend of Broady, the unpredictable German will certainly add excitement to the week's proceedings and he could go all the way to the title.
"I know him very well," said Broady. "He is an incredibly dangerous, flashy player and it's uncomfortable to play him, especially on the grass. He has had great results on the surface and I think it will be brilliant to watch him play here."
Broady, who says he hopes for a good early draw that should give him the best possible opportunity to progress, was also quick to praise his British compatriots who have been making an impact at Roland Garros.
For the first time in 41 years, Britain had three male players into the second round and Broady is adamant that British tennis is still heading in the right direction.
"I think it's brilliant," he said. "British tennis is looking really good at the moment and the pressure is taken away from Andy (Murray) because of other players doing well.
Along with Murray, youngsters Kyle Edmund and Aljaz Bedene have broken the top 100 with James Ward and Dan Evans also having done so over the past 12 months.
These are good signs for British tennis as a busy summer lies ahead not only with the usual Grand Slam competitions but also with the added incentive of the Olympics and the defence of the Davis Cup.
Murray will be looking to retain his Olympic gold in Rio for sure but the most difficult assignment throughout may be the trip to Serbia in the quarter-finals of the Davis Cup.
That of course means Novak Djokovic lies in wait for what is sure to be a titanic contest of the current top two ranked players in the world.
"That's going to be one of the toughest ties you are going to have to play," said Broady. "Djokovic in Serbia!
"He is the best player in the world and they are mad for tennis over there but if Andy plays I think we have got a chance.
"I think he is in the top two players in the world on clay at the moment and Kyle Edmund is a very good clay court player too.
"Anything is possible! We proved that last year."
It would be an astonishing achievement if Great Britain were to retain the Davis Cup after last year winning it for the first time in since 1936.
Although having only positive words to say about British tennis at the moment, Broady was quick to point out that there is still much room for improvement.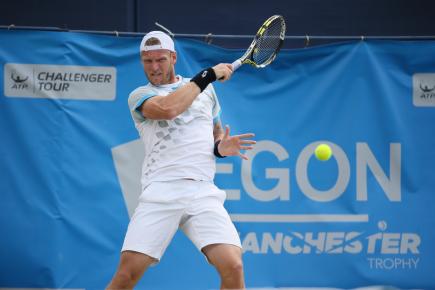 GROTH SPURT: Broady is familiar with first round opponent and defending champion Sam Groth of Australia, who boasts the fastest serve in the game (image courtesy of Getty Images, with thanks)
Compared with other countries like France, Spain and Belgium who repeatedly have players in the higher rankings, our production of top-level players is still relatively low.
Britain are of course bound by certain restrictions notably the weather conditions and notoriety in other sports, but Broady urged youngsters to just give it a go.
"I first got into tennis through my Dad and my sisters playing and it was just a natural progression for me to start," he said.
"It's a fantastic way to stay fit and once you actually learn how to hit a tennis ball it is such an enjoyable sport.
"I would urge anyone to just try it and see how it goes even if just to try something different if you play team sports where tennis is more individual and so all down to you."
The AEGON Manchester Trophy runs from Sunday May 29-Sunday June 5 at The Northern Lawn Tennis Club in Didsbury with the main draw commencing on Tuesday.
For tickets or for more information visit https://www.lta.org.uk/aegonmanchestertrophy
Image courtesy of Wimbledon via YouTube, with thanks.