It's been a long night shift in a freezer factory, but there's no time to sleep for Matty Scott.
Instead, he sets off on a 40-minute commute to Leicester where he'll spend the day sparring and conditioning  – how else does a young boxer prepare for what could be his final amateur bout?
"I'm still training all day, every day," Scott explains. "The factory job is just so I can afford to live. Making it professional isn't something you can just put 50% into. At this level, you've got to give it everything, or what's the point?" 
After a convincing unanimous decision in his last fight, Scott now faces his biggest challenge to date as he takes on Owen Demott for the Apollo Cruiserweight Championship at the Maher Centre. A win would be a step closer to the 23-year-old cruiserweight's dream of turning professional – a prize he has wanted since the age of 13.
 "Of course there's pressure. Boxing is my life," he said.
"If it came to it and I didn't make it as a professional, I'd find something else to do. There's plenty of jobs out there.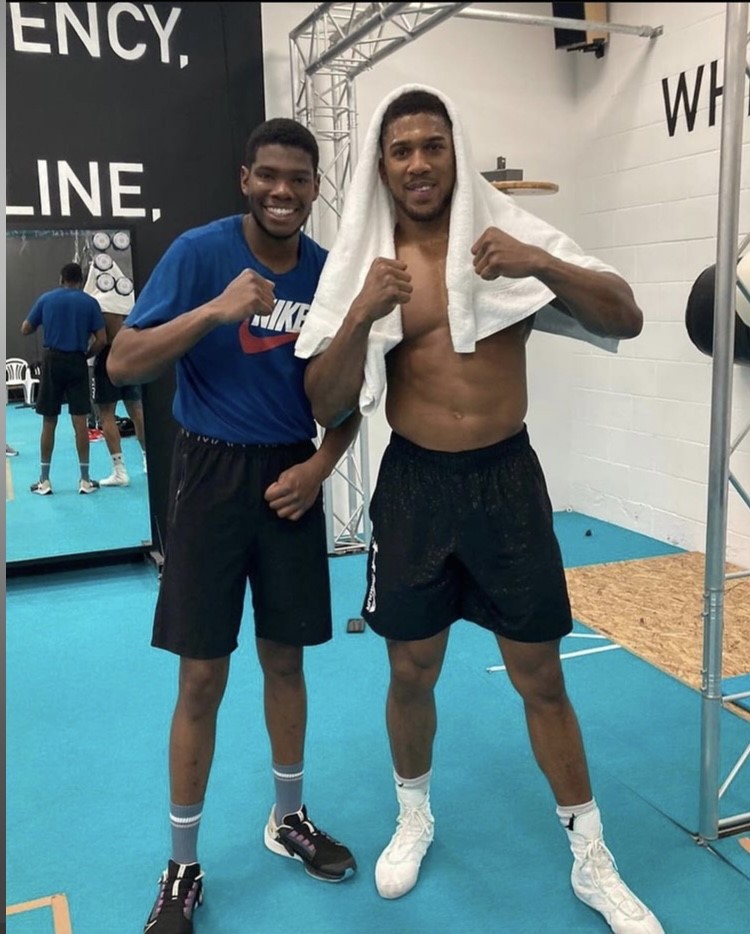 "But that's not what I want. I just don't want to make it as a professional, but to become a world champion. And you better believe I'm going to run this boxing thing to the ground until I can't do it anymore."
Since Amir Khan won silver at the 2004 Athens Olympics, boxing inside the UK has grown like never before.
Heavyweight giants Tyson Fury and Anthony Joshua have only attracted more eyes to the sport in recent years, and with a loyal fan base already in place, the pressures on becoming professional for amateur boxers are like never before. 
Most recently, Tyson Fury was paid $30m for his title fight at Wembley Stadium against British foe Dillian Whyte. Joshua is also expected to make around £100m from his highly-anticipated rematch against Ukrainian maestro Oleksandr Usyk, set to take place in Saudi Arabia.
Nowadays, young fighters are all too aware of the potential financial benefits of making it in the sport. 
But sport psychologist Charlotte Williams believes that these financial rewards aren't always a positive, especially for someone entering the sport.
Speaking to Mancunian Matters, she explained how money can take the focus away from the original love youngsters have for sport.
She said: "The money involved in sport is staggering. For young athletes, this can really lead to added stress, and that can affect performance.
"As an amateur nowadays, you don't just dream of holding belts, or winning trophies. You dream of the lifestyle that comes with it. The cars, the houses, the holidays, it's a package now. 
"It's important that a young athlete doesn't get lost in all this, and remembers exactly why they started the sport in the first place.
"Self-identity is also so important. Recognising yourself as a person who does boxing, and not just a 'boxer'. Without this, it can be easy to lose yourself as an amateur."
This isn't the only area of stress either for an amateur boxer. Williams went on to explain how there are various factors that can affect a young athlete as they enter the final stages before breaking into the professional game.
She said: "There are a vast number of stresses. Performance stress is one, which is what the athletes put on themselves through expectations and what they want to achieve. 
"Organisational stress, from the environment they're apart of. They might feel increased stress from the club they are apart of, from the coaches within those systems.  
Then there's personal stress, which is anything that can impact performance that comes from your life. From breakdowns in relationships, to injuries, anything can really affect this away from the sport."
Former Commonwealth Super-Welterweight champion Stacey Copeland knows all too well about the stresses a young boxer can face.
Having made her professional debut in 2017, the Mancunian ended her professional career undefeated.
But it wasn't an easy ride making it there. Having won silver at European level as an amateur, Copleand hoped to represent her nation at the Olympics.
However, the Olympic commission refused to add her weight category to the Games, leaving her unmotivated and in a difficult position in her bid to make professional.
Speaking to Mancunian Matters, she explained how a lack of motivation nearly cost her a career in the sport.
She said: "In the amateurs I went in the Europeans and won silver. Then I went to the world championships, competed there. But they didn't increase the weight categories for women at the Olympics and Commonwealth games.
"It was like a mega glass ceiling because there wasn't that option for me to take my dream where I wanted it to go. I had an injury after a mistake in surgery left me with chemical burns all over my legs. I was out for 12 months, and going back to amateur just didn't give me that drive that I needed after that."
Eventually, Copeland would make it in the sport. But reflecting on her career, she admits to wishing she had more knowledge on the different stresses she faced throughout her journey.
"I wish I read more books on sport psychology, and understood it more as a youngster," she said.
"It would have helped me a lot. I eventually learned to accept nerves, not try to fight them or fear them. Just accept I was doing something that meant that much to me that I was bound to feel fear. I learned to embrace these emotions.
"I had to learn to understand my 'why?' Why I was doing all this, why I was taking the risks, and why I wanted to inspire others. You can't do that if you're not willing to put yourself out there.
"I need that mix of fear and excitement, and turning professional gave me that feeling again."
From one former boxing superstar, to one potential future star. Matty Scott is now just weeks away from his bout in Leicester. He believes a win here will be his ticket to a professional contract – a dream he has had since he began the sport aged 13.
"I will be World Champion in 10 years' time," he said.
"I've got to be."
One more win, and he is one huge step closer to making this a reality. He will have the chance to swap the freezer factory for the boxing ring, and payday will be a lot more than just a few hundred pounds at the end of every month. The sacrifices will be worth it – but one unlucky right hook from his opponent, and the freezer factory awaits. Now that is pressure.