The UFC returns once again to the UK next month, with the iconic octagon set to showcase sparks and blood inside the 02 London.
In March, UFC Fight Night London was hailed as one of the most exciting non-PPV cards in recent history, with nine spectacular finishes including a major win for heavyweight contender Tom Aspinall.
The 29-year-old once again headlines this summer, as he faces veteran American wrestler Curtis Blaydes.
A win here could land him a title shot next. And with Jon Jones potentially facing Francis Ngannou for the belt later this year, the heavyweight fight scene has never been so exciting.
Elsewhere on the card, Liverpool legends Darren Till and Paddy Pimblett also look to rock the arena.
With a first-round submission win in his last bout, Pimblett has seen a quick rise in the UFC, and is already considered one of the biggest names on the roster.
His last fight created the most noise both inside the 02 Arena and across social media, landing the 27-year-old a new, more lucrative contract.
This time round, there is expected to be more eyes on the fights than ever before, as Dana White's company continues to grow.
To an outsider, the premier competition in Mixed Martial Arts can come across as a brutal, nonsense sport. Grown men and women rolling around in their own pools of blood, all training relentlessly weeks in advance to try to secure a viral knock-out blow that will land them a £50,000 bonus. 
But as more athletes inside the industry continue to gather attention on social media, the industry is finally being brought to the next level.
Paddy 'The Baddy' is the perfect example of this. A two-time champion in Cage Warriors, Pimblett made his highly-anticipated debut for the promotion in September 2021. That month, according to KWFinder – a website which tracks the number of searches a key word receives – his name received 400,000 searches on Google. A year prior to this, he received just 2,900 searches.
As a result, he has also earned himself a seven-figure contract with Barstool Sports, discussing MMA, football and other things for their social media channels. 
His scouse counterpart Molly McCann received a similar deal following her viral spinning elbow KO in March, as her strong post-fight interview attracted millions of views across the world.
But it isn't just individuals that are growing in the sport. As a whole, the UFC is reaching an audience like never before.
Throughout the 2010s, most UK sports fans could only tell you about 'The Notorious' Conor McGregor, an Irish kickboxer who completely changed the face of the game.
With over 45m Instagram followers, McGregor has done just about everything he can with his fame, from an exhibition boxing match against Floyd Mayweather, to launching his own Irish whiskey brand.
On the back of three losses from four UFC fights, it remains to be seen whether McGregor will fight again. However, many fans would now argue that the sport is beyond him, and that they no longer rely on him for views.
Over the last five years, searches for UFC in the United Kingdom have sky-rocketed. In 2017, the promotion was searched for on Google 823,000 times on average each month.
Fast forward five years, and in January 2022 'UFC' received 1.8m searches on Google inside the UK.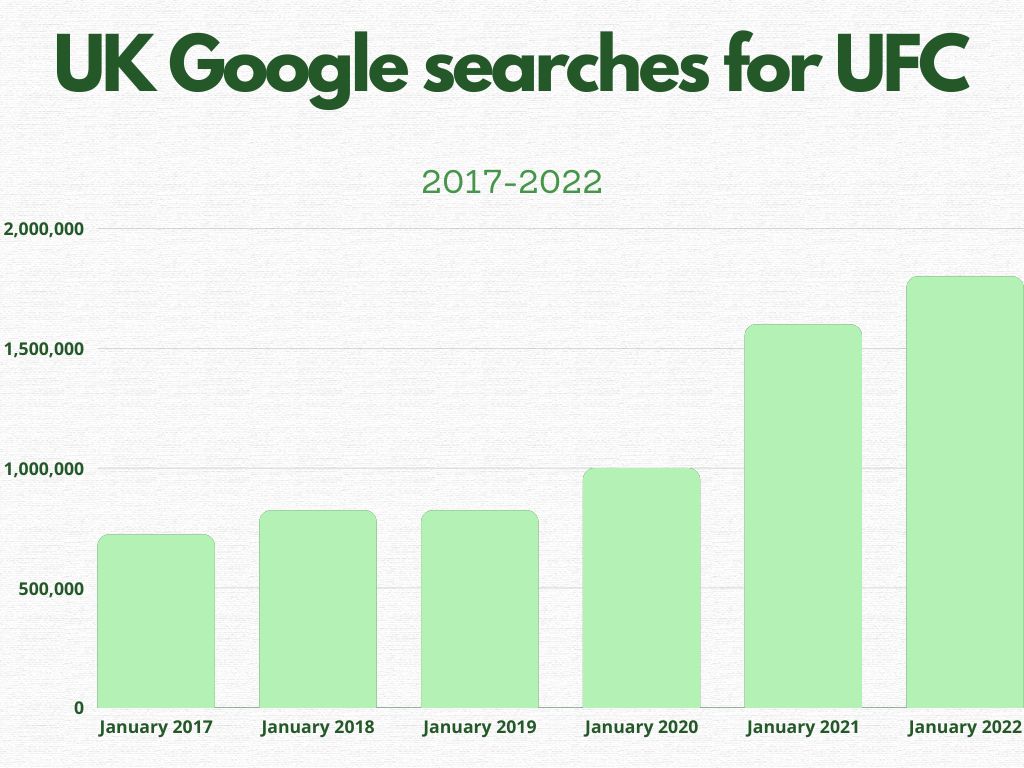 There are multiple factors that can be thanked for this. Firstly, the BT Sport coverage of every event, for free with a sports subscription, has made accessing every fight night so easy. 
The fact Dana White was also the first man to get a business up and running in the midst of a pandemic also worked wonders. Just two months after the world was put on lockdown in 2020, UFC had rented out there own 'Fight Island' hosting one of the biggest and exciting fight cards in recent years. The attention is also bringing a new hobby into many people's lives. KWFinder also shows that searches for 'MMA gyms near me' have taken a massive increase in recent years.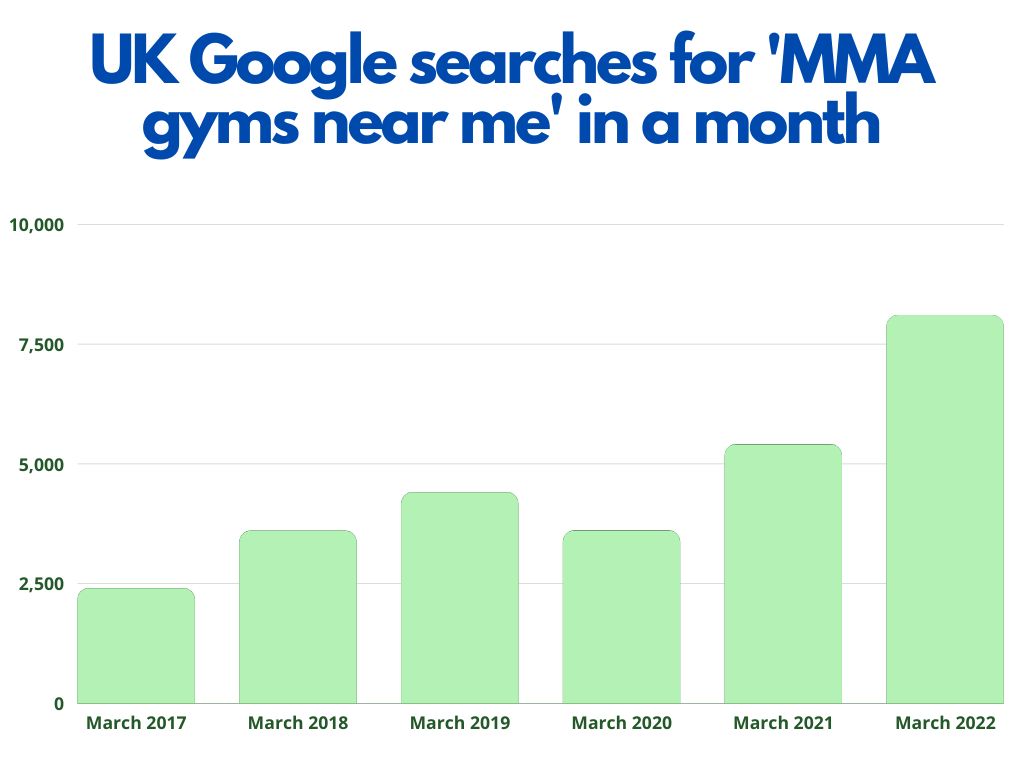 This is potentially great news for the future of UK MMA. The UFC is already boasting homegrown talent like never before, with a number of contenders across all divisions representing the UK.
The more people interested in the sport, the more potential of finding the next generation McGregor inside the UK.
And with tickets for next month's event once again selling out in less than two minutes, the sport's incline shows no signs of slowing down.