A brave Stockport girl is racing for wheels as she aims to win a competition to support her career as a budding wheelchair athlete.
Anya Waugh is eight years old and was born with spina bifida, a condition that leaves a gap in the spine during development which has left her paralysed from the knees down.
However, having watched the London 2012 Paralympics, the youngster decided to take up wheelchair racing to great effect: last season Anya became the fastest U-11 racer in the country, she's ranked eighth overall in the senior rankings and is very highly regarded by the Team GB coaches.
Now the Mars Milk £1,000 prize, voted for by the public, offers Anya the chance to pay for her expensive equipment and become the athletics star she desperately wants to be.
"When the Paralympics started, she sat for two weeks, amazed at these super-humans pushing these chairs with three wheels," said her father, Chris.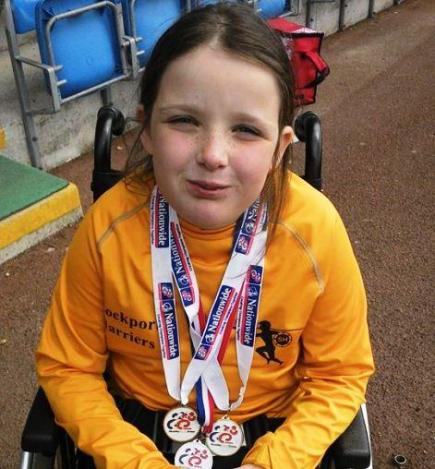 GRIN WHEN YOU'RE WINNING: Prolific champion Anya  
"She watched Dave Weir and Hannah Cockroft winning these medals and she said that's what she wanted to do."
Even to reach that point Anya and her family had been through so much in her short life. Chris recalled when he and his wife first received the news about their daughter's condition.
"We found out about Anya's condition very late into the pregnancy about 33 weeks," he said.
"When I think back to it all it was better finding out that late for us, we didn't get time to dwell on things and mope about feeling sorry for Anya or ourselves.
"Yes, it was scary enough: having our first child and then having to deal with Anya's spina-bifida but you just cope. It's what you learn to do very quickly when you have a child with a disability."
Despite having to deal with adversity every single day of her life, like the times when even crawling or sitting up seemed a slim possibility, Anya never showed any signs of letting it get her down.
"She was the most determined little thing we had ever seen," her father said. "That kept us going when times were hard.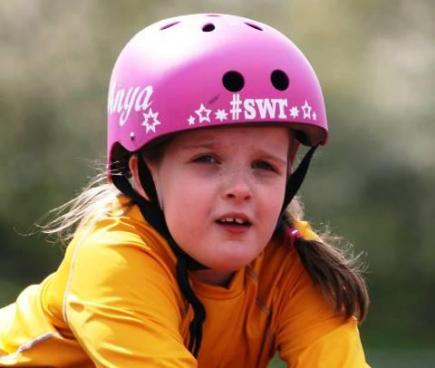 GRIT YOUR TEETH: Anya's steely resolve helped her parents cope  
"We struggled financially and mentally like most parents but we had no right to ever feel down or sorry for ourselves when the one person that should feel like that never did."
Eventually, Anya became physically unable to walk even with callipers and operations to help her legs.
Chris said: "She just told us 'I'm ready to stay in my wheelchair now'. That hit us hard because we didn't expect it as soon but it was her decision and we have always gone with what she thinks is best when it comes to her condition."
Anya was desperate to get involved in local dance and sports clubs, but none would take her on because of her disability.
"We were banging our heads against a brick wall, and then came the Paralympics," said Chris.
"The first time Anya tried a race chair at Sportsfest in Sheffield she met Hannah Cockroft, and the GB coaches said she had a natural talent.
"Disabled sport has had a huge lift since London 2012 but the key is to now keep that up and provide the funding and support for the next Jonny Peacocks, Dave Weirs and Hannah Cockrofts.
"At grass roots level it's hard going on athletes and small clubs and there really isn't much funding about, as many other parents know it's a case of funding yourself or trying to raise the money to keep your children going or, if you're lucky, finding the right grant."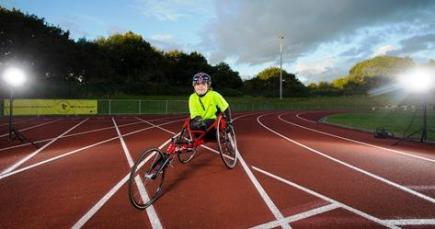 DUCK TO WATER: The eight-year-old was an instant hit 
The Mars Milk prize would keep Anya going for another season, travelling to events as well as helping pay for the equipment she needs to race.
You can keep up with her progress on Facebook and make sure to register your vote here.
Images courtesy of Chris Waugh, with thanks.