Manchester-raised British bobsleigh pilot Lamin Deen has his sights set on the 2022 Olympics and breaking more track records.
With two Winter Olympics, and a silver medal at the World Cup 2017, under his belt Deen, 37, has vowed to make even more history.
Deen and his crew are now beginning a four year training cycle in preparation for the next olympic games to be held in China — although there is a lot he wants to achieve before then.
Looking forward to the 2019 World Cup in Canada, Deen said: "Whistler is the fastest track in the world but I'm the fastest man on that track."
Deen made history there at the World Cup last year to become the first British bobsleigh pilot to not only break a track record, but to beat the fastest four man Bobsleigh speed ever recorded – his sled clocking 156.27 kmph.
Since the disappointing results in PyeongChang at the 2018 Olympics, the eternally-upbeat Deen has had time to reflect and told MM: "We had a great build up and were expecting big things. Unfortunately things Just didn't go right on the night."
Bobsleigh funding is very much results-based and, due to the lack of medals at the last Olympics, money has been reduced.
So it's now back to the drawing board for Deen and crew, to secure future funding through raising money and sponsorship deals from national businesses.
Deen says that with the correct set up and equipment his team can go on and break his current track record at the World Championships in March 2019 in Whistler — the highlight of the sliding calendar.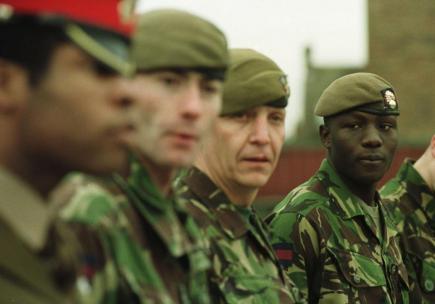 SERVICE: Deen decided to join the British Army at a young age
The two-time Olympian, still a serving soldier, was born in London and raised in Manchester's Moss Side, deciding to join the British Army at a young age, going onto see active service in Northern Ireland, Bosnia and Kosovo.
Life could have been very different for the athlete had he not taken the path he chose.
He said: "Manchester in the early 90's was a really bad place especially growing up in Moss Side.
"I was recently back in Manchester speaking with my barber that I have been going to since the age eight, we were talking about how bad it used to be with the guns, drugs, and knife crime.
"Some of my childhood friends went on to choose a life of crime and spending time in prison.
"It doesn't have to be that way."
Deen said he's thankful that he chose a different route, and joined the British Army, because the military has taught him the discipline and dedication that is needed to achieve success.
In the early days he started as a push athlete, then as the brakeman, but he knew eventually it was his time to shine.
He said: "I had been training with the best and doing very well, so I decided it was time to try my hand at being at pilot.
"Being a push athlete sometimes you're replaceable, I wanted to make myself irreplaceable, so that meant becoming a great pilot."