There's no nice way of putting it. Manchester Storm had arguably the worst offensive record in the EIHL last season.
In 2019/20, they scored a league low 119 goals at an average of 2.43 per game. Even bottom club Fife Flyers were more productive in front of goal, scoring 124 times.  
Tyson Fawcett and Layne Ulmer were the club's top scorers with 14 goals each – two of only five skaters to reach double figures.
On the power play, only Glasgow had a worse conversion rate (15% to Manchester's 15.3%) and yet the Scottish side still managed to score 22 more goals overall.
Compare this to their defensive skills and you have the makings of a Jekyll and Hyde side.
Leading the league on penalty kills and conceding just 151 goals in 49 games (largely thanks to Matt Ginn's all-star award winning heroics between the pipes), Storm had one of the top five defences in the EIHL – better even than title chasers Sheffield Steelers and Coventry Blaze.
In short, Manchester Storm have the backbone of a team far better than last season's eighth-placed finish. They are just lacking that clinical touch in the offensive zone.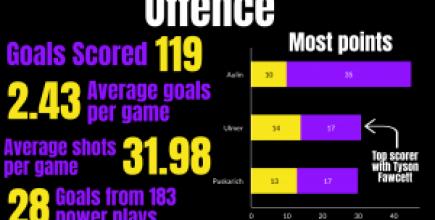 As we enter the stage of the off-season where squad announcements dominate social media, we scoured the EIHL to find four forwards who Manchester Storm could sign, after first getting some transfer tips from a man who knows a thing or two about scoring goals.
Transfer Criteria
FreeSports commentator Paul Adey spent over a decade at the Nottingham Panthers, amassing a club record 1,609 points, and he believes the biggest challenge facing Storm is financial.
"[Manchester] are not a big budget team and they have to rely on good recruiting," he said. "The problem is, if you have a good goal scorer in the EIHL he's not going to go for less money than he's on now – and those guys who can score goals aren't cheap."
In fact, such is the disparity in spending in the EIHL, there are effectively two competitions in one division.
"To compete against the big teams in the league, the top four or five who have much bigger budgets, is always going to be difficult," he continues.
"Some teams are competing for the title and for others, their goal should be to make the playoffs – if they make the playoffs it's a good season, anything beyond that and it's a great season."
However, although Manchester don't have the funds to attract an all-star like Sam Herr or Brendan Connolly, Adey did identify the type of player who might be the perfect fit.
"It's not a big rink [in Manchester] so they could use a power forward who scores goals, can get in front of the net and is strong in the corners," he revealed. "It's always good to have a couple of guys like that playing out of small rink."
To summarise, our transfer target needs to be:
A big guy, preferably 6ft plus, to dominate the offensive zone
A goal machine capable of scoring 20 goals a season, minimum
Not too expensive and happy to challenge for the playoffs rather than titles (for the moment)
The Candidates
Ciaran Long (Belfast Giants) – Age: 29; Height: 6ft 3; Weight: 81kg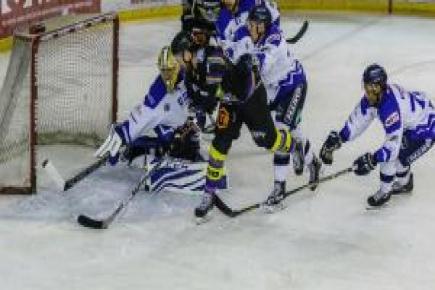 SO LONG: Ciaran Long (centre) leaves three defenders in his wake against Milton Keynes Lightning (Photo: @Ciaran_Long_89)
Long had a difficult season in Belfast, scoring just twice all season and struggling for ice time in a front line that boasts the likes of Ben Lake, Elgin Pearce and Jordan Smotherman.
However, just like a product in Good Housekeeping magazine, he is tried, tested and trusted in Manchester. During his two seasons in Storm colours he scored a huge 98 points in 106 league appearances – 60 (25 goals, 35 assists) of which came in 2018/19 alone.
Remember his performance against Sheffield Steelers in February 2019? Just the two goals and one assist for Storm's #89:
He's a proven performer on the smaller rink, he's familiar with the hockey that Ryan Finnerty plays, and at 29 he still has several productive years in his skates. Plus, he's British so he doesn't count towards the all-important import quota!
The big question is, can he be tempted away from a top four club?
Matt Marquardt (Dundee Stars) – Age: 32; Height: 6ft 3; Weight: 101kg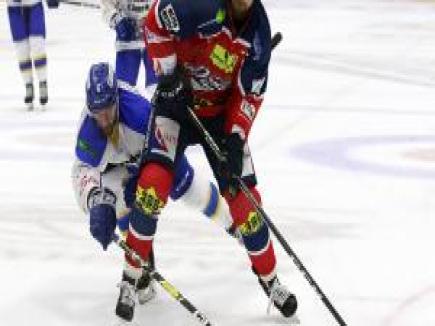 STAR MAN: Marquardt in action for Dundee against Fife Flyers (Photo: @DundeeStars)
The first import on the list and a proven EIHL success: 233 games, 84 goals, 98 assists. Drafted by the Columbus Blue Jackets in 2006, the Canadian showed that he is not past his prime by registering his third successive 20+ goal season and his 44 points in 48 games were vital in keeping Dundee in playoff contention.
At 6ft 3 and 101kg he is one of the biggest men, let alone forwards, on the ice and puts his physicality to good use, possessing a hit reel almost as impressive as Manchester fan favourite Mathieu Gagnon.
However, he is both player-coach and captain for Dundee – responsibilities which may carry a hefty price tag. An unlikely purchase but one has to try.
Scott Henderson (Glasgow Clan) – Age: 21; Height: 6ft 3; Weight: 93kg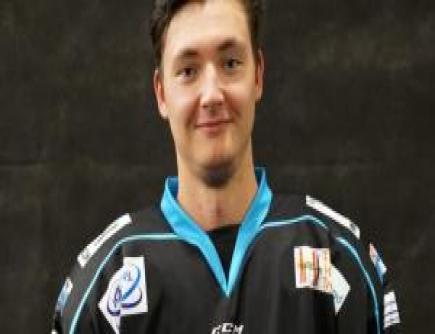 YOUNG GUN: The 21-year-old Scot could be one for the future after shining for Solway Sharks
Henderson is a wildcard entry. He's only made seven EIHL appearances (without registering a point) but his form for Clan's sister club Solway Sharks last season was remarkable. He shone in the SNL, scoring 26 goals in 14 games and added 14 more in 21 NIHL1 appearances. 40 goals (plus 59 assists) and still only 21.
Translating this form into Elite League success is not a given, but Ryan Finnerty is one of the best coaches in the league at developing young, or unfancied, talent – Frankie Melton, Zach Sullivan, Matt Ginn to name a few – so the Scot could be a risk worth taking.
Double bonus points: he's British and under 25 so, under next season's roster restrictions, doesn't count towards the 17 dressed skaters on the team sheet. Extra fire power anyone?
Matt Carter (Dundee Stars) – Age: 32; Height: 6ft 2; Weight: 94kg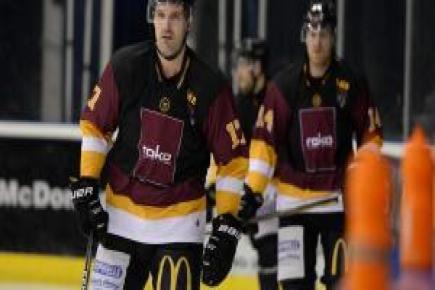 GET CARTER: The Canadian forward during his spell with Nottingham Panthers (Photo:
@chartsy17)
Another Dundee star because, as Adey says, you have to raid the teams around you.
Canadian Carter signed for the Scottish side just before Christmas and made an immediate impact, registering 11 goals and 11 assists in 23 appearances. Scale that up to a full season and you have a forward capable of generating 50 points.
A former Nottingham Panther and prolific goal scorer in France, Carter may be a relatively short term fix at 32 but his experience on the ice could prove invaluable to Storm's typically youthful line-up.
Check out this strike for Nottingham Panthers against Cardiff Devils from February 2017…
Anybody else think this was the goal of the night against @cardiffdevils? An amazing play by Nikiforuk & Carter dispatches with authority! pic.twitter.com/d5b7eAYUMC

— The Nottingham Panthers (@PanthersIHC) February 22, 2017
With the 2020/21 season not scheduled to start until September (provisionally), we have a while to wait before we know Manchester Storm's full squad. One thing is for certain, whoever is brought into the offensive line will have a lot of expectation on their shoulders.  
Main image: Twitter @Mcr_Storm with thanks.