Heads up – this is what the bowler hats are all about at Manchester's train stations today.
Fans of Preston North End football club are sporting the hats at their away game with Barnsley today (30thApril) to mark PNE's annual 'gentry day'.
Many of the fans have set off early today to take the train to the 12.30 pm fixture in South Yorkshire, proudly sporting the iconic British head gear.
PNE fans, Michael Garry, Dave Taylor and Anthony Jackson (pictured) said the tradition of wearing bowler hats to away games started in the 1970s.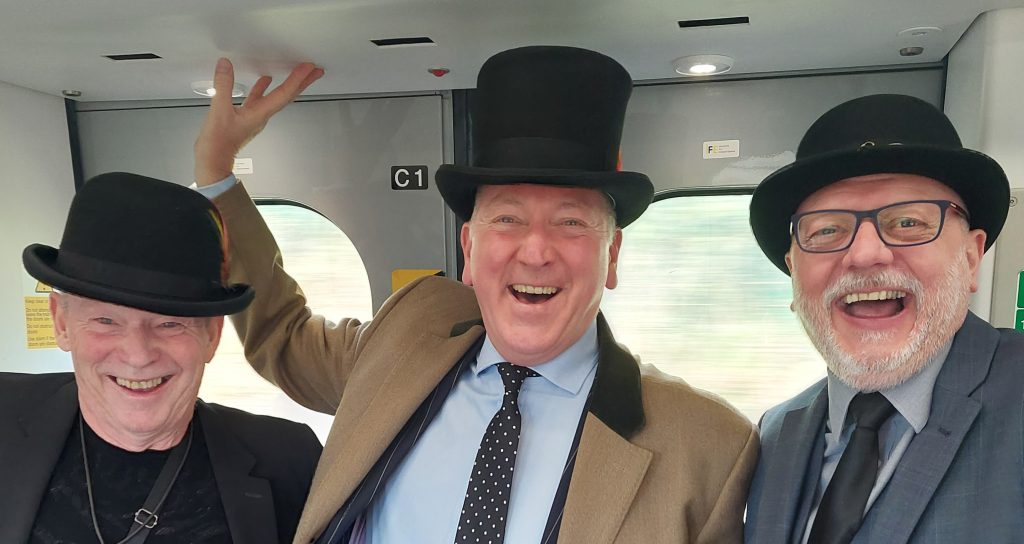 At that time, football hooliganism was rife, and PNE and its fans wanted to show they were better than that.
They decided to wear bowler hats to matches, to prove they were "the best supporters in the land", Michael explained. 
The tradition tailed off, but made a comeback around 2005, morphing from a show of anti-hooliganism into a public act of remembrance.
Donning the hats shows that wearers are thinking of fellow fans who have passed away in previous months.
"It's an opportunity to remember fellow Preston supporters who have died," Anthony explained.
The club and fans jointly decide which away fixture will be 'gentry day'.
The challenge is to agree on a match where as many PNE fans as possible can cheer on their team while honouring the hat tradition, Dave said.
It all depends on the size of PNE's ticket allocation at the ground and how many fans will be able to get there (an early kick-off makes it more difficult when fans have a long way to travel).
Michael, Dave and Anthony – all Prestonians – have travelled all over with their bowler hats, from Fulham to Queen's Park Rangers matches. This will be their second visit to Barnsley.
Anthony admitted they can "get strange looks" from the other team's fans at games. "But when they hear what it's all about they're always quite respectful about it," he said.
It's likely that bowler-hatted fans will be spotted on the way back through Manchester later, so if you see them, that's what the hats are all about! 
Barnsley v. Preston North End kicks off today (30th April 2022) at 12.30 pm at Oakwell Stadium, Barnsley.