Olha Ivanova decided to leave her home in the southeastern city of Zaporizhia the day Russian troops took control of the local nuclear power plant. The invaders were now around 20km away.
Her family of three had been sleeping on mattresses in the corridor – it was too dangerous to sleep in rooms with glass or windows in case of airstrikes during the night. 
Iryna Dumiak's husband told her to flee to safety in the UK with their four-year-old son Sviatoslav when they heard about the devastation left behind in the villages of Bucha and Irpin just outside Kyiv. 
Shortly after, missiles fell in her home region of Lviv.
Liudmyla Bohdanova endured 38 days of war before leaving Poltava, central Ukraine. It was the day four missiles hit the region's military airfield. 
"We never dreamed of changing anything. We were happy with everything. Then suddenly it's all over," Liudmyla says in Ukrainian.
"People are asking: How long have you gone for, when are you coming home? We cannot answer that. We've learned to smile through the tears." 
Having made the decision to flee, these women and their children have all ended up in Greater Manchester. Housed by strangers in a foreign country, they now face the challenge of starting a new, but hopefully temporary, life in the UK. 
And even though they may be safe from the missiles and tanks, their lives are still mired in uncertainty.
These women are among the Ukrainians – estimated at three million by the UN – who have registered for protection schemes across Europe since Russia began its country-wide attack on February 24.
The majority of Ukrainians leaving the country are women and children. Their husbands, brothers and fathers are unable to leave while the country is under martial law.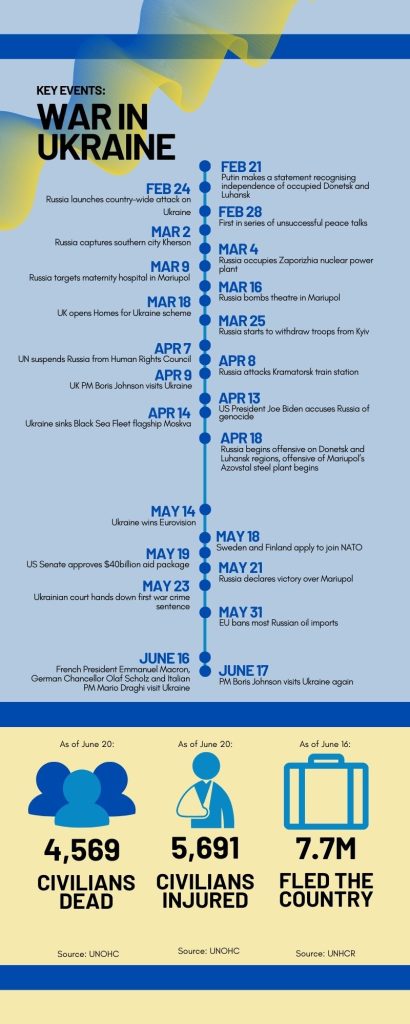 Of that three million, 77,200 have come to the UK, either under the family visa scheme, which helps British citizens secure visas for Ukrainian relatives, or the Homes for Ukraine scheme. 
Under the latter, Brits can apply to host Ukrainian refugees for a minimum of six months. A lot of the matching happens online in Facebook groups or through third-party organisations.
Visas obtained through either scheme allow Ukrainians to live and work in the country for up to three years. They are entitled to Universal Credit benefits, as well as access to the NHS, and the hosts receive £350 per month. 
For a lot of the Ukrainians now in the UK, the greatest barrier they face is language, particularly when it comes to finding work.  
"All the young ones know English, but it's hard for us," says 54-year-old Larysa Kulinich, speaking in Ukrainian. Back home, she worked in a pharmacy.
"At my age, I just want to live a quiet life, get up quietly and go to bed quietly, not build some sort of career. At my age, I have to start all over – everything from the start, without belongings, without money, without work."
Liudmyla, 43, on the other hand, describes her level of English as "only so-so." She arrived at the beginning of June and has already made the first steps in looking for work, but it has not been easy.  
"The woman in the job centre went on and on, and I thought: Problem, problem, problem," Liudmyla says. "She talked intensely about something for 20 minutes. I didn't understand. It's so fast."
Olha's priority is her 12-year-old daughter Kseniia. She has written to multiple schools around Wythenshawe, where she lives with her hosts, but has been unable to secure a place. With schools about to close for the summer holidays, time is running out. 
Childcare is also a problem for 31-year-old Iryna Dumiak, who has moved to the UK under the Extended Family scheme to live with her sister-in-law.
"Honestly, I haven't tried to find work and it's not that I don't want to – I hope to – it's just that, having a young child at the moment it's just not possible to leave him with someone or in a nursery whilst there's still the possibility of him feeling anxious and worried, even if it was only for half a day," Iryna explained. 
Dina Sytnyk, 35, who has moved to Dukinfield from Vinnytsia in western Ukraine, is also reluctant to start work. Her four-year-old daughter Sofia is only in nursery three hours a day. However, she is happy in the UK for now. 
"After living here for two years you could go anywhere. I don't know. I hope it will be possible to go back but if I have to stay here, Britain is a very good country." 
There is help out there for Ukrainians, like Dina, who are preparing for the possibility of staying in the UK indefinitely. 
United for Ukraine is an initiative set up by business leaders from the North to help employers connect with Ukrainians seeking employment. They provide information on other resources such as free English lessons and they make sure that all employers offer the real living wage. 
"For as long as the support is needed, we plan to continue working with businesses, encouraging them to share their job opportunities on the platform, and working with organisations who support refugees to help signpost them to the help they need," the platform's spokesperson Harriet Holbrook says.
Jez Myers, a business consultant from Reddish, was among the Ukrainians leaving the country in the early days of the war. He had been visiting his girlfriend Maria Romanenko, a journalist from Kyiv. 
Since their safe return, they have both been working to help Ukrainian refugees. Maria co-organises free walking tours of Manchester, while Jez has been assisting volunteer groups to match sponsors with Ukrainians in his local area of Stockport. 
He has found the support from both the government and local councils to be lacking.  
He says: "The government advertised what they would be doing, what councils would be providing, to quote them, 'wrap-around' support and, in reality, hosts haven't seen wrap-around support, they've seen very little support.
"There's funding, councils are receiving funding, and it should be spent on the things that Ukrainians are actually asking for, rather than the councils being told what it needs to be spent on," he adds. 
Support for displaced Ukrainians starts at home – with the hosts. From visa applications to sourcing school uniforms, it's these kind strangers that are on the frontline of the support effort for Ukrainians refugees. 
"Not everyone can accept people into their home. To do what a lot of English people are doing now," Olha says. "It's incredible."
Similarly, Lyudmila says that since she and her 14-year-old daughter Anastasiia arrived in the UK at the beginning of June, she has not stopped smiling.
"It's an unbelievable country. Unbelievable people. They have big hearts. We have great feelings towards them. Lots of smiles, love, warmth, presents." 
She found her sponsors, Amanda and David Oliver from Dukinfield, in a Facebook group set up specifically to match Ukrainians with hosts. Amanda's post was "inundated" with comments – Lyudmila's request was one of 34.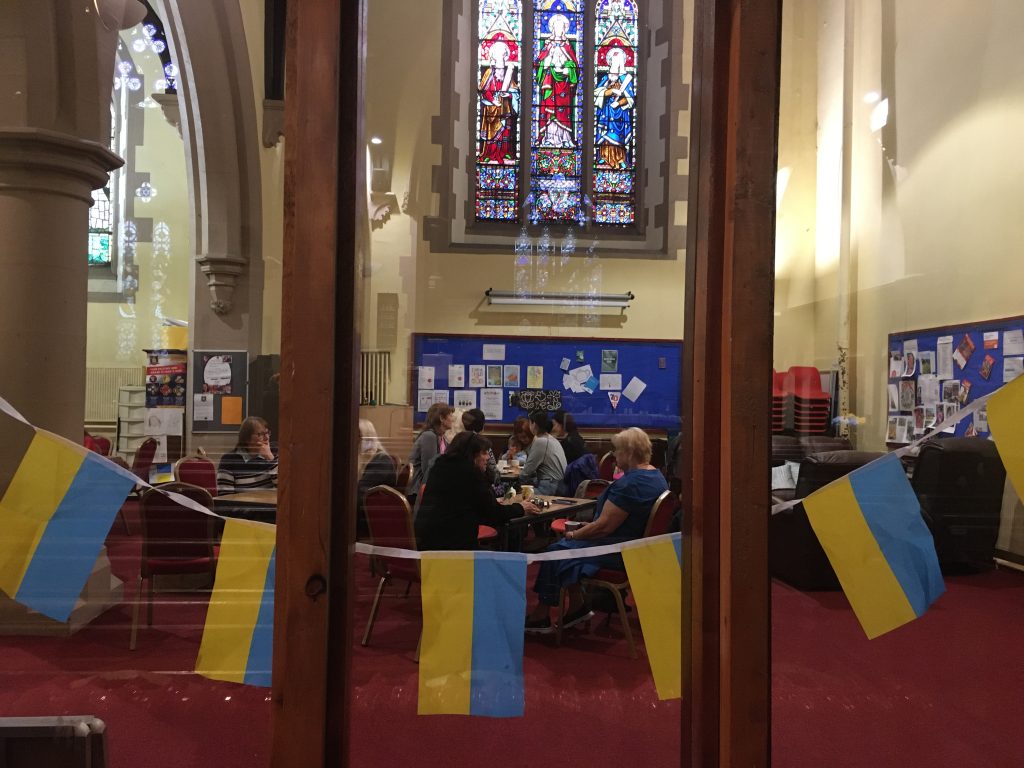 Once in the country, Amanda helped Anastasiia secure a free place at a private school. She has also been an important source of emotional support. 
One of Liudmyla's relatives died in Mariupol, a city in eastern Ukraine that was captured by Russia after a bloody three-month siege. Another relative was forcibly deported to Russia. 
"Obviously, it's traumatic for them. It's very difficult to adjust. Lyudmila came to church with us on Sunday – she didn't have to. They both got quite emotional. But at least they're showing it and not bottling it up," Amanda says. 
There's another support network that is a little more familiar to the newly-arrived Ukrainians. 
The Ukrainian community in Manchester was founded over 60 years ago by Ukrainians who were displaced in the aftermath of the Second World War.
Once again a war has brought Ukrainians to Manchester.
Bob Sopel, chairman of the Manchester branch of the Associations of Ukrainians in Great Britain, says the community centre in Cheetham Hill is now "bursting at the seams." 
He adds: "We've effectively created a 'mala Ukraina' – a mini Ukraine – that they can feel at home with.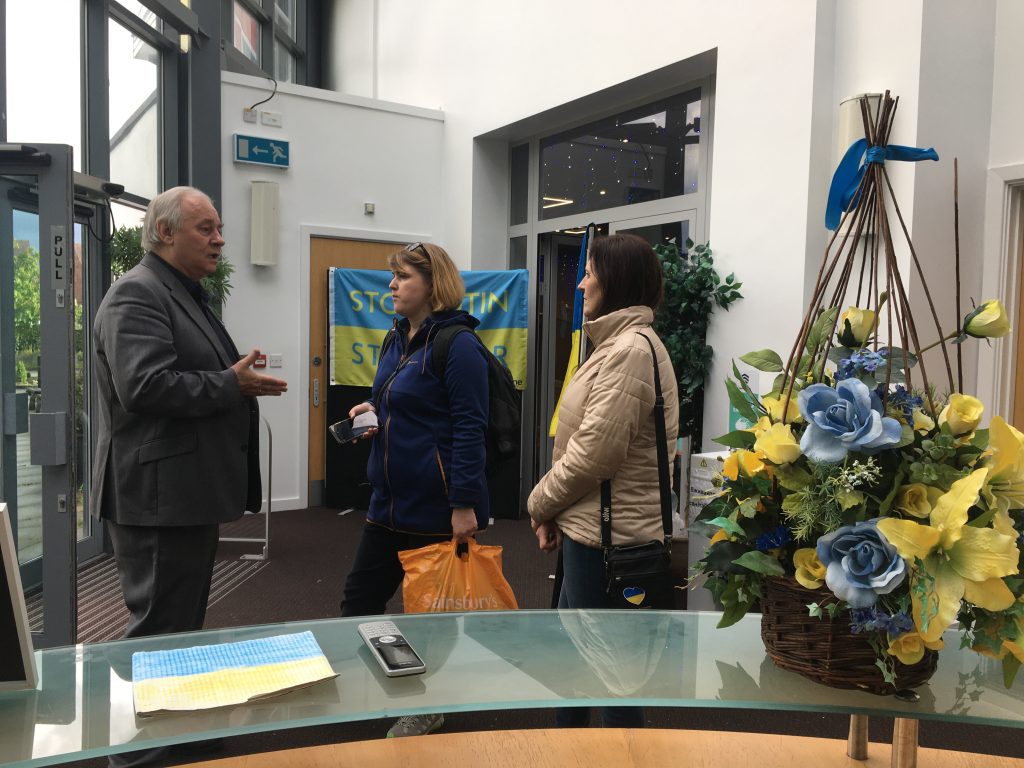 "I'm quite proud, and pleased, of the way that the community has responded to this, the way they are trying to look after the people, and trying to give them comfort, and some of the stories that you hear and different types of support needs."
The community has turned the bar area into a free shop, where Ukrainians can come and take donated toiletries and second-hand clothes. They also hold regular surgeries for the Ukrainian refugees, which are attended by representatives of the Department for Work and Pensions and council.
Every Saturday, members of the community gather in the city centre's Piccadilly Gardens to protest against Russia's attack on Ukraine. Here, they can stand up for the country they left behind and forge a new community in their new home.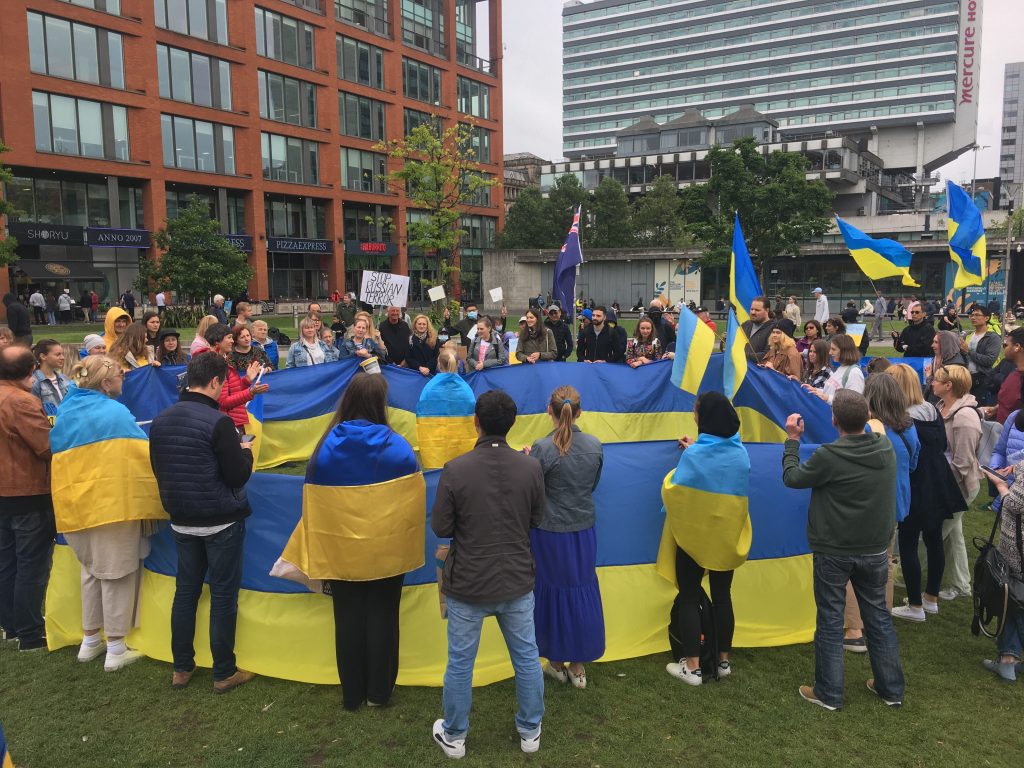 One thing is true for all these women: they all want to go home. They just do not know when or what state their country will be in when they return. 
"It's peaceful here, it's good, it's safe for us here," Larysa says. "But our hearts remain there."  
Contact details for support and information
United for Ukraine: https://unitedforukraine.org.uk/ 
Homes for Ukraine: https://apply-to-offer-homes-for-ukraine.service.gov.uk/ 
Manchester Ukrainian Club: https://www.facebook.com/UkrClubDniproMcr/