September is a time of new beginnings, and in the heart of Manchester city centre this has taken the form of post-pandemic appreciation, prompted by Wild in Art's latest project Gratitude.
The public art installation gives thanks to and celebrates key workers for their services across the pandemic by recruiting a host of British artists and designers to paint 51 statues which will be auctioned off on the 12th October with all proceeds going to the NHS.
St Peters Square hosts the second of four installations across the country, and has become a hub of interest and post-pandemic gratitude over the past seven days
Wild in Art project manager Kate O'Callaghan expressed both her thoughts and initial reservations for the project: "We're a private company that works with charities to produce public art events."
"We were a bit unsure as to what people would think- whether it was too soon to do something about Covid, the pandemic and lockdown but everyone's reactions have been really positive."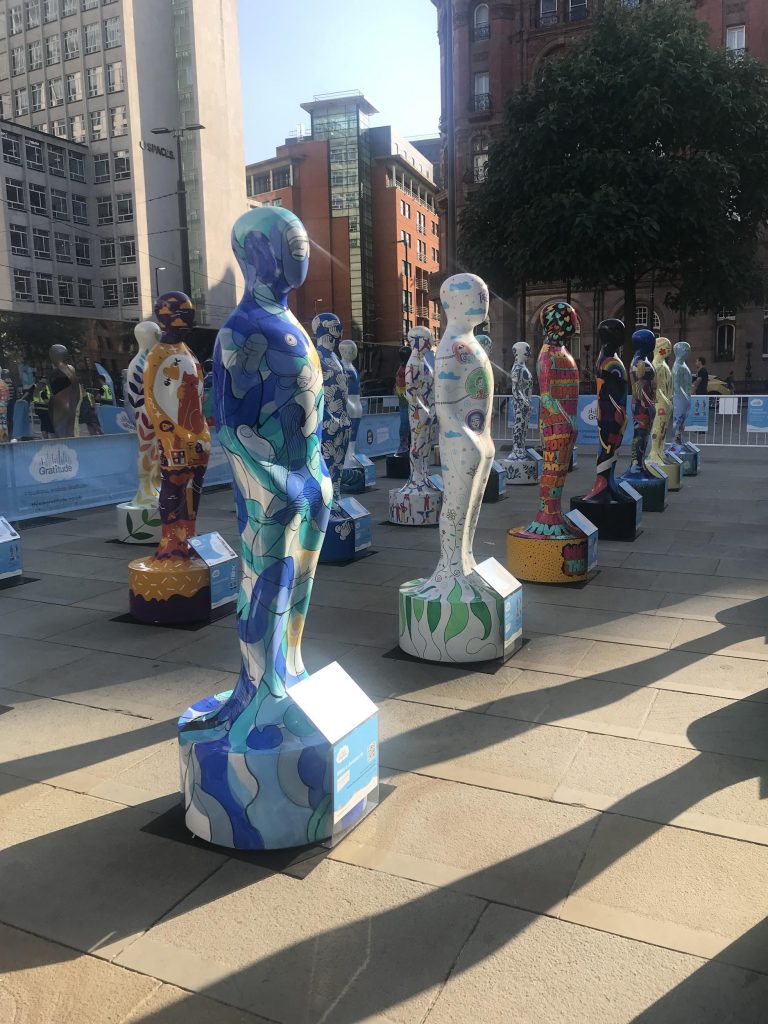 "We've covered all the different emotions of lockdown…and we've been really happy with the response."
Reflecting on the pandemic in a poignant yet optimistic fashion can be difficult, given its wide reaching and catastrophic effects on local communities.
The project's tribute to key workers has been positively received, by tourists and residents alike.
Emergency service worker Liz from Warrington noted: "It was a hard time, and the whole country's support behind us really helps that." "People don't ring emergency services unless they really need them- generally we're seeing people on the worst day of their lives…. This goes to show that people do really appreciate us."
When asked what she is grateful for Liz explained: "The fact the country came together- the fights not over, but the war time spirit has really shone through."
Jessica and Rama, Spanish students currently studying in Manchester noted that: "It's really lovely…all of the different styles are really cool. It's not something that you see everyday."
They expressed their gratitude for: "Everything we have- family, friends, having a job…and actually after this pandemic, the fact that we are alive, and everyone we know is still alive."
Using a gender-less human form, artists' interpretations of gratitude differ widely creating a riot of colour and pattern.
The project's events manager Patrick from Bath explained how: "We said to them- 'What are you grateful for?' 'What do you want to show gratitude to?' "
"Some of them have gone for NHS key staff, some have gone for teachers. We've got one dedicated to panic buying, one to the shift to online shopping…all different designs."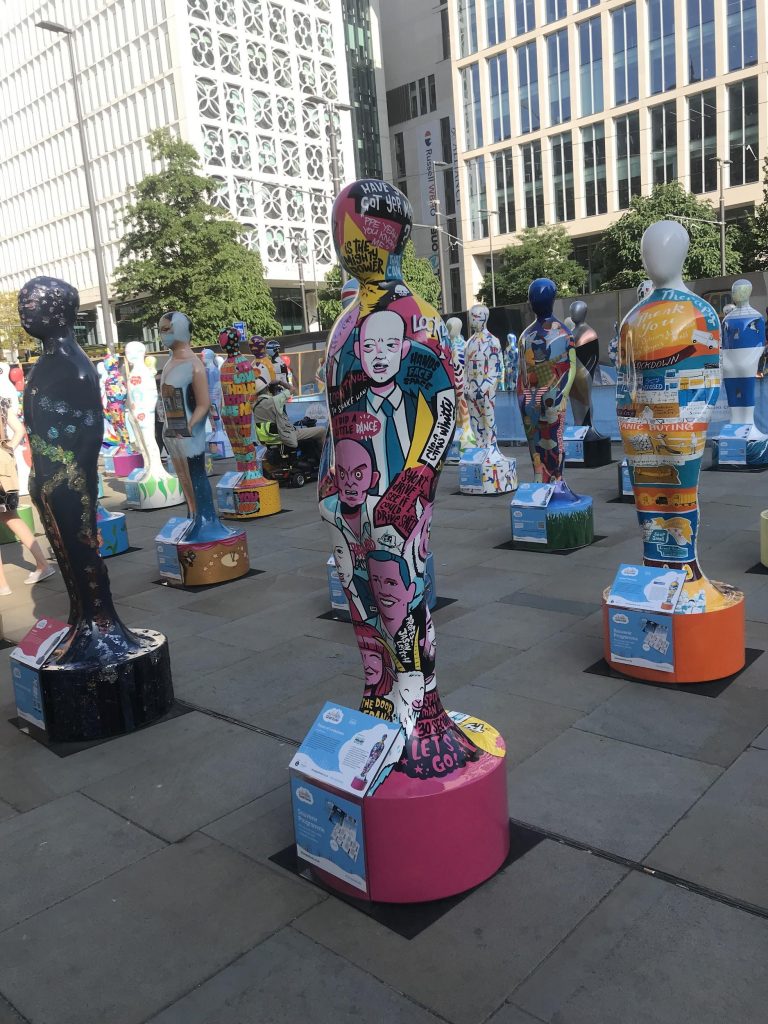 As is noted by the project's collaborative director Dame Zandra Rhodes, artists are in dire need of platforms on which they can showcase their work and help rejuvenate a struggling industry.
Greater Manchester's 'Living with Covid Resilience Plan' states that the city's cultural sector has faced 'significant and potentially devastating' impacts due to Covid 19, and was in 'urgent need of tackling'.
Gratitude is funded by a number of big businesses, ranging from Greg's to HSBC and Premier Inn, and has given national coverage to its creators. Jodie Silverman, a Manchester based artist and art therapist explained: "…Wild in Art has helped me to gain exposure. I was lucky enough to have my gratitude sculpture featured in the Guardian and this was a really proud moment for me."
Her statue 'Creative Resilience' celebrates the innovative ways people adapted during the pandemic, and acted as a form of expression: "Creating my sculpture helped me to process some of my own experiences of adapting my practice during lockdown… I also had some really meaningful conversations with people who work in the performing arts sector. I wanted to show how challenging it has been for people but also how incredibly inventive and resilient people can be."
Gratitude will continue to exhibit in St Peters Square, Manchester until 12th September, when it pays a visit to Edinburgh.
Main image caption: 'Thank You All' created by Oguzhan Secir