Dinner at a gallery? Rose Condo's spoken word performance serves up a delicious combination of poetry and food – but what does it all mean?
Poetry shows don't usually involve hummus.
Yet the Mediterranean dip formed an unexpected centre piece to Rose Condo's latest performance 'How to Starve an Artist'.
Performing in Gallery Oldham as a part of their Live@theLibrary program, the spoken word artist delivered a poetry feast of several courses, all while preparing food for her audience.
The meal was modest, in keeping with the show's title: a shot of water, sweeties to share and a hummus and veg bread roll in the shape of a (slightly deranged) smiley face.
But a side-dish of poetry provided a rich and varied flavour palette, featuring eight original pieces by the Canadian-born performer and three poems by guest artist Kieren King.
Condo's style is whimsical, conversational, comic. She picks out humourous details – imaginary friends, apologising too much, accidentally stealing a pair of jeans from a charity shop – and drills into them for deeper meanings.
Unfolding themes of body image, recovering from an abusive relationship, homelessness and inequality, her playful language morphed into a disarming interrogation of the status quo, always leaving the unspoken question: 'but what if things were different?'.
Condo's ability to blend natural speech seamlessly with her verse, meant that while in the throws of an anecdote or conversation, her audience could suddenly find themselves in the midst of a poem.
That is exactly what the poet's show is about: weaving a bit of creativity into ordinary moments in everyday lives.
Before the show, Condo told Mancunian Matters: "My hope is that it will make people think about different ways that they would want to be creative in their own lives.
"I want to dispel this idea that being an artist is a really fixed, specific thing. Sometimes when I talk to people who don't work in the arts and say that I'm a poet, there's this idea that it's something really hard to get into. When in fact, creativity is available to anybody. And it has a really broad meaning in everyday life."
As the name suggests, Condo's show also touches on the social and financial difficulties of pursuing a creative hobby or career.
Her opening poem is a kind of recipe: how to starve the creativity out of "these artists, these thinkers… these foul f*cking stinkers" by clamping down on arts education and discouraging casual creativity in adults.
Returning after a six year hiatus, the show was first created and performed in 2016-17, when the arts faced the existential threat of huge funding cuts. But the words ring just as true today.
Condo said: "It's funny to think how much of an issue that was when I first created it. It's the same show now, but the landscape has changed and in a lot of ways gotten a lot worse."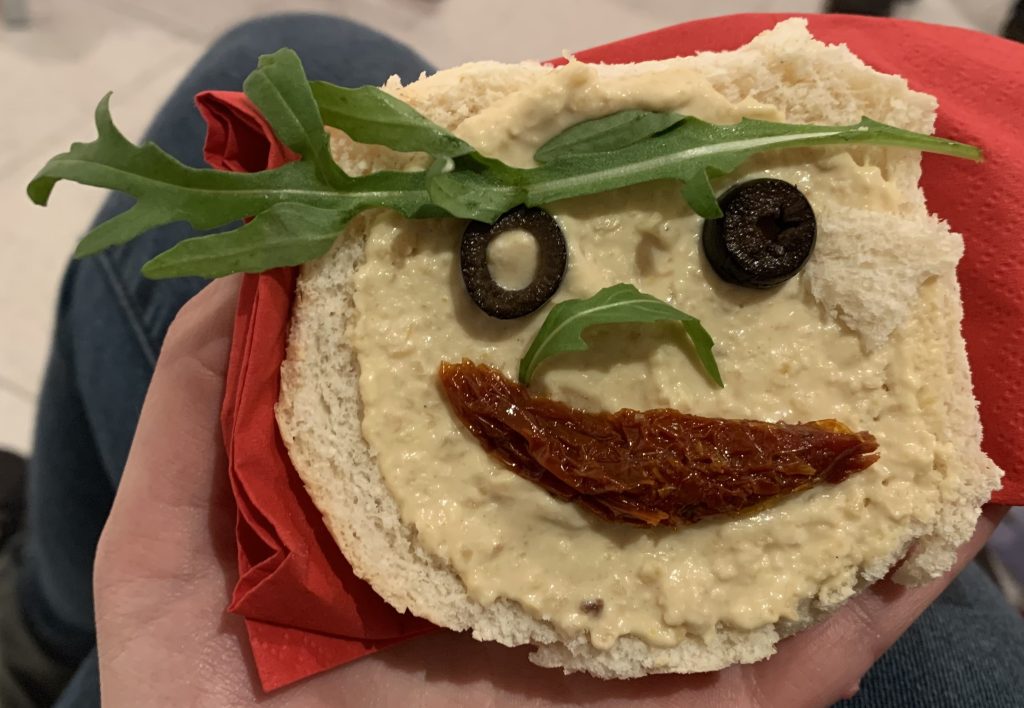 Last year, the government decided to halve funding for art and design courses in higher education and have discouraged arts courses at school level.
And instead of making new investments into culture in the North, they've pursued a 'rob Peter to pay Paul' policy, slashing 50 million pounds from Art Council England so cultural centres outside of London can compete with each other for grants.
Condo said: "It feels daunting and overwhelming to think that educationally and politically and socially we're reducing the space for creativity to flourish."
"It feels like a time when what's really needed is for us to carve out a space and time for thinking about creative development. But it's hard to do that in the face of all the difficult issues going on in the world."
At least for one evening, in a quiet gallery full of local artist Robert Lees' paintings, Condo succeeded in carving out that space – over a round of hummus sandwiches.
Condo will be taking 'How to starve an artist' on tour around the country, with dates and locations to be confirmed. She is also publishing a new poetry collection this October called 'How to find where you belong'.
Photos: Charlotte Hall, featuring Rose Condo and art by Robert Lees