"Life is too short not to be something you love," Kiefer Sutherland declares on what is surely a midsummer night in a sweltering Albert Hall.
The star of 24, Lost Boys, and Flatliners has broken free of his silver screen antihero typecasting to perform country music – a passion in action.
But the jeopardy is clear: Jack Bauer was always getting in trouble for torture – could Sutherland's 'Reckless' tour, with inescapable questions of Hollywood vanity projects aping the whole affair, risk the same charge?
Undoubtedly, the odds are stacked against Sutherland. It's a broiling evening, made all the stuffier by the Albert Hall's bilateral stained glass windows magnifying the evening sun on to a packed crowd taken to fanning themselves with folded tickets.
When the actor takes to the stage dressed as a cross between Prince and Colonel Sanders, acoustic guitar in hand and indecently wide brimmed hat on head, it's hard not to be both appalled and delighted by the downright silliness of it all.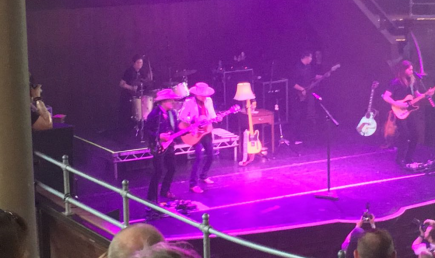 STAR: The actor famously appeared in 24 and Lost Boys
Cracking in straight to a mixture of songs from his 2016 album, Down in a Hole, there is an immediate and compelling charm in Sutherland's show.
His voice suits his subject like ice suits Wild Turkey 101 – the warmth of his sincerity is real, as is the coolness of his presence on stage.
Sutherland is obviously not the real McCoy as far as hard-bitten, spurned Southern American men in the spirit of Hank Williams or Johnny Cash. But then again, the same charge can be levelled at some of the genre's biggest names in recent years (see Keith Urban's oeuvre for further details).
No one, least of all Sutherland, is under any illusions about what this show is all about; comparing Sutherland to Cash would be like comparing rodeo to dressage. He's not trying to be the thoroughbred country artist – he is instead the passionate, reckless, performer.
And a performance is precisely what you get in this show.
His band are, as you might expect an A-lister to attract, exceptional. His lead guitarist is a virtuoso and shreds like an industrial tyre shredder shreds.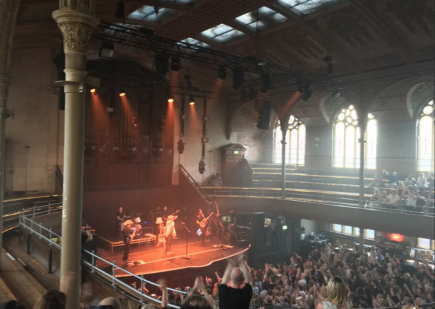 TALENT: The performance is full of genuine earnestness and skill
This is a great performance, but it's not artificial. Sutherland really does mean it.
His excited jumping-jacks and kneeling-eyes-closed-lip-biting are simultaneously wince-inducing and winsome, not because they're affectations but because he really does appear to be overwhelmed by the thrill of what he's doing.
And, reciprocally, the close of each song in the set is met with thunderous applause from a crowd hopelessly entertained.             
Of course, just as Sutherland isn't a real country singer, the audience aren't real country fans either.
People at the gig are wearing Lost Boys t-shirts and blokes are streaming the England game on their phones.
Sutherland himself says: "I know what a huge ask it is to get people to come out and listen to 15 songs they've never heard before."
Yes, this is a vanity project. Yes, the audience would not be there were it not for an actor's celebrity.
But Sutherland is not acting here. Instead, what's on offer is a genuinely talented performer doing something he really loves, and doing it with earnestness and skill.
So who cares about pedigree?