Mother's Ruin promises to be 'a spectacular night of promising and fiercely entertaining comedy'.
However, whilst exploring issues of sexuality, gender, religion and politics (amongst many others), it's so much more.
Set in Manchester's Contact Theatre, the show combines a mixture of spoken poetry, stand-up comedy and musical performance that makes you laugh and keeps you engaged from start to finish.
Walking into the theatre initially feels like walking into a cosy bar with a karaoke stage. But with people crowded around small tables and perched against walls it's hard not to feel at ease in the dimly lit and unpretentious venue.
As soon as the performance begins, Mother's Ruin nestles immediately into the downstairs stage making it the perfect Friday night venue.
Wearing what she describes as a daring combination of green on green, drag eco warrior Timberlina hosts the show.
Entertaining the audience between acts with a blend of shambolic hilarity and sincerity, she cleverly weaves together a variety of performances.
The first act sees Afshan D'souza-Lodhi – a queer Muslim writer from Manchester – take to the stage.
Using spoken poetry, Afshan draws her audience in with her debut collection On Desire.
'Lesbreast' (Lesbian Terrorist), as she calls herself, brings issues of gender, religion and sex to the forefront of her performance.
Weaving anecdotes from her teenage years into her performance, Afshan has no problem making the audience giggle.
With her clever words and the tone, power and conviction of her voice, she is completely captivating.
If the first performance entices you with its powerful prose, the second does the opposite.
Eva Serration takes to the stage with bright blue hair, a black dress and high heels.
With her dulcet tones she teases the audience with only a single song, leaving people to anticipate what will follow.
Using a mixture of poems from his old alias, Chloe Poems (a gay, socialist transvestite poet) and new material, Gerry Potter Poet closes the first half of the show.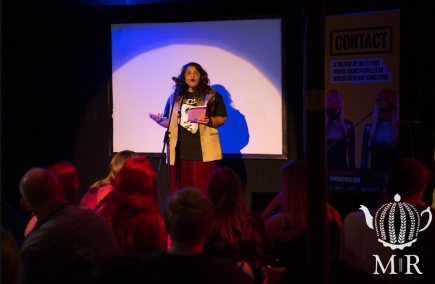 POETRY: Afshan D'souza-Lodhi recited a few verses for the crowd
He proclaims to the audience: "I know you boys like Evian now but try drugs, Evian doesn't make you dance, try drugs."
Gerry is not shy in exploring issues of drug use and sexuality, amongst many others.  It is his final piece about the Tory Government, daringly entitled Fuck You, that really demonstrates this.
It is the fourth performer, Joe Sutherland, who steals the show.
Fresh from his debut at the Edinburgh Festival Fringe, his caustic wit wins over the crowd immediately.
Confessed to have been raised by 'women and the Spice Girls', Joe is completely unapologetic about his sexuality and makes you howl with anecdotes of a short-lived modelling career and growing up gay in a working- class background.
"My family are very salt of the earth whereas I'm more of a Himalayan sea salt', he chimes.
"I would love to date a woman but men earn more," adds Joe, challenging gender equality amongst other things. His sharp wit and unapologetic confidence is infectious.
Closing the show, Holly Penfield takes her performance off the stage and brings it into the audience.
Using a mixture of songs punctuated with comedy, she moves off through the theatre interacting with audience members.
Wearing a dress made from feathers and neck-ties, she is a winning final act.
With its variety of performances, it is hard not to be entertained by this show.
Whilst making you laugh all the way through Mother's Ruin cleverly demonstrates just how radical and contemporary exploratory queer performance can be. 
Images courtesy of Rope Wolf Photography, with thanks.