After a two-month break Hollyoaks actress Jennifer Metcalfe is happy to be back in full swing at the popular Channel Four soap while balancing new fundraising ventures.
The heart-breaking stillbirth story, in which she collaborated with UK charity Count the Kicks, left the actress who plays the infamous Mercedes McQueen feeling 'a total mess'.
Aside from being busy with Hollyoaks again, Jennifer is also taking part in the Better Bike Challenge for Sports Relief in an attempt to get people cycling one mile a day to raise money.
MM met up with her in Manchester and we couldn't resist asking her where her favourite place to eat was – Australasia if you were wondering.
As an ambassador for Lighter Life, she swears by the 5:2 plan and told us: "Eating properly along with regular exercise is key – to look good you've got to feel good more importantly.
"I think there is a lot of pressure for newcomers but I have been in the spotlight for a while now so I'm confident in who I am.
"My advice to anyone new coming into the business would be to do what makes you happy."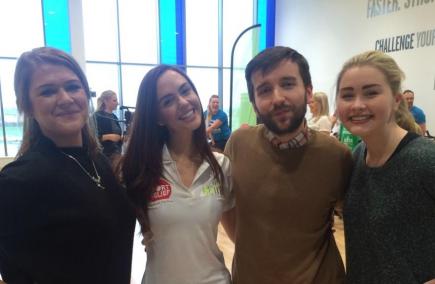 SOUND ADVICE: Team MM with Jennifer Metcalfe, who says 'do what makes you happy' if you're looking to make it in showbiz
When we asked her what boyfriend Greg Lake, former Geordie Shore star, thought about her latest sport antics, she told us there's no chance of him getting out of this one.
"He thinks it's fab – I'm trying to actually get him in the gym – because he's being lazy…" she said.
"Well, he hasn't been lazy, he's just been so busy with work.
"So yeah it's my next challenge: once I've done this I'm getting him in as well – and he's definitely going to do this one-mile challenge!"
With a degree in health and fitness and former life as a fitness instructor, the 32-year-old Bradfordian is the perfect candidate for getting people's hearts racing.
And she's not afraid of a bit of competition when it comes down to a challenge.
A month ago Jennifer and Hollyoaks co-star Jorgie Porter found themselves in a dramatic hula hoop face-off at the GymFit Challenge launch in Liverpool – another charitable act that went down a treat.
"My friends launched the Gym Fit Challenge app, so it was their launch that we went to," she said.
"A couple of drinks as well makes it even more fun! And again for a great cause, all that money went to Sports Relief."
Handled like a pro, Jennifer literally ran rings round her opponent and laughed about buying Jorgie a hula hoop from Champneys for her birthday, a hobby she describes as 'their thing' after seeing snaps of their global success.
"It's really weird!" she said.
"Me and Jorgie have got this thing with hula hooping because we found this collage of us doing hula hoops all around the world."
The stars took part in the Champneys Bootcamp in South Derbyshire along with boyfriend Greg and her fellow cast member Kieron Richardson, to raise awareness with the Pink Ribbon Foundation for breast cancer.
Taking pride in being active and looking after yourself is at the heart for many members of the Hollyoaks cast as they regularly visit the gym after work.
After a busy day at the office she'll enjoy yoga classes in which fellow friend and cast member Gemma Merna, who plays Carmel Valentine, teaches.
In the video featured, Jennifer describes the show as a 'young, good-looking teenage soap' and explains that they regularly egg each other on when it comes to exercise – and no-one is chickening out.