Fans of Adio Marchant, aka Bipolar Sunshine, could not fail to be entertained as they watched the Chorlton-born singer perform at Manchester's Academy.
The former Kid British singer starts by playing Gone Like the Wind as his video intro tape, but what is he trying to say?
Does he find the film's tale of turbulent romance resonates with the theme of songs like Where Did the Love Go?
Or perhaps he feels he can match a cult classic with one of his own?
Either way, an insistent needling drone ramps up the tension as Academy ready's itself for what undoubtedly is the biggest show of his career to date.
He makes his entrance onto the stage blasting out Drowning Butterflies and the thumping bass and falsetto harmonies make for an instantly arresting opener.
Wearing a neon pink shirt he cuts a flamboyant figure not unlike one of his musical heroes, Outkast's Andre 3000.
On stage he has a laid back charm but oozes with charisma and it seems his home city have taken him to their heart as a packed Academy sing along jubilantly with every word.
What sets Bipolar Sunshine apart and could lead to a truly special debut album is his melding of disparate musical styles.
Although the term 'indie-dance' brings mediocre indie bands to mind, which tag on beats in an attempt to sound cool, it's Bipolar's total disregard for genre and love of acts that make his sound unique.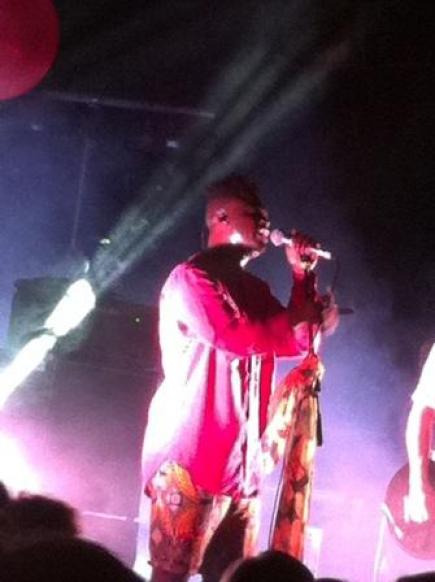 BRINGING THE HOUSE DOWN: Adio Marchant, aka Bipolar Sunshine
They are as far ranging as Kanye West and Morrissey and he combines the style and sonic experimentation of urban music with the emotive pull of indie and rock is fast becoming the Chorlton artist's calling card.
Highlights of the set include the psychedelic textures of debut single Rivers and a chilled out, reggae-tinged Trouble.
Heart-on-sleeve new single Where Did the Love Go is rapturously received while contender for his upcoming album Deckchairs on the Moon also gets an airing.
He introduces the slow burning Fire as a song he wrote when he was in a 'bad place'.
How far those days must seem to him now…
Bipolar tells the crowd he had the 'best time of my life, here on this stage' before ending the show with Love More and Worry Less.
It's a song with 'future festival closer' stamped all over it, a sort of indie anthem that accumulates euphoria as it reaches its sped up ending.
As the house lights come on, Love On Top is played by Glastonbury 2011 headliner from a couple of years back, Beyonce.
On the evidence of the reception Bipolar received from his home town, few people would bet against him following suit in the not too distant future.
Image courtesy of jonasfan1908, via YouTube, with thanks