Talented singer-songwriter Passenger performed an intimate busking set in Manchester earlier today to raise the profile of the Big Issue magazine and its homeless vendors.
Due to the typical Manchester weather, Passenger's street performance was forced inside the city's Cathedral, where he performed to an intimate set to a crowd of less than 200.
The Brighton soloist, 29, rose to fame off the back of his global hit single Let Her Go which has sold more than six million copies worldwide and topped the charts in 19 different countries.
The singer, real name Mike Rosenberg, told MM: "The Big Issue is a wonderful thing, it helps so many people in different ways.
"I don't need to play on the street with my guitar case out to try and live anymore – so it's the least I can do to try and help Big Issue vendors across the country."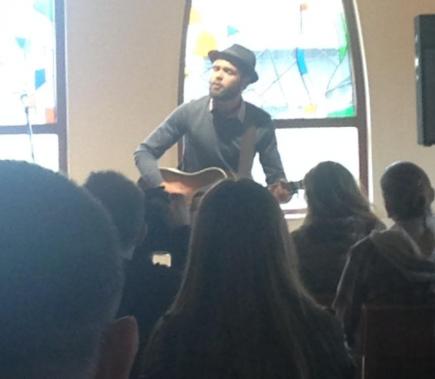 IN THE DRIVING SEAT: Passenger thrills fans with the intimate Manchester Cathedral show
Passenger is penning a blog about his busking tour, which has already passed through Brighton and London and is set to stop off in Dublin, Belfast, Glasgow and Edinburgh.
He added: "I have been busking for years so it isn't really a new idea for me, but it seemed like a really nice way of introducing the new record.
"The gigs have got bigger and bigger, which is wonderful, but I think for this kind of music it is really important to give people something more intimate.
"For example, today there have been people that saw me busking six years ago at the Arndale or saw me supporting Ed Sheeran so it's important to give those people little free gigs."
A hundred or so dedicated fans were joined by Manchester shoppers to enjoy a free show from one of the UK's finest acoustic performers.
The crowd consisted of babies, teenager and grandparents who were all there to appreciate a break in the rain and to enjoy an hour of heartfelt music.
"The reaction across the country has been really good and until today we had been really lucky with the weather – but if it is going to rain anywhere it was going to rain in Manchester," he added
"But today was really special because when I am busking it is usually quite big and we have had over a thousand people watching. It was so intimate and that doesn't happen anymore so it was lovely.
"I love varying the different types. The big gigs are amazing they are such a buzz and you get so much back from it, but smaller gigs you can sing to people and perform unplugged and lovely to do both.
The folk-rock star performed a range of songs including new material set to feature on his new album, which will hit shelves on June 9.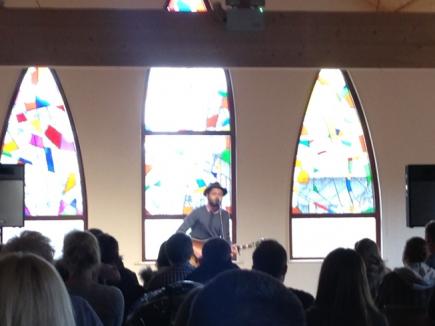 UNPLUGGED: Passenger enjoys playing at smaller venues
"I really can't wait to release the new album, it has been a while since I have released anything and I really do feel like this is the best body of work I have done. It feels like a real step on.
"In a way, there is probably more pressure on me but I don't think that I am ever going to have another Let Her Go because that was a phenomenon – so all I want from this record is for people to enjoy it and connect with it.
"It took a while for things to change after Let Her Go, it kind of went in stages and worked it round Europe and then the United States, it took a year all-in-all which was good, because it wasn't overnight and it felt really natural."
Passenger has long since had a love affair with performing in front of crowds no matter what the circumstances were.
"The best place on this busking tour has been London, it stands out because it was a bank holiday and the sun was shining, we were on South Bank with St. Pauls in the background and it just had a great vibe," Passenger recalled.
"The only thing that has changed is that more people are coming to the gigs which are great.
"Performing on live on a stage and busking are a totally different sort of headspace really. With busking you can break a string or some lunatic will come up and hug you or whatever it is and that is cool because it is part of it.
"Whereas with a gig, people have paid to see you and it is a bit more pressure but I love it as well – there is also a roof as well."