Sir Bob Geldof has revealed to MM that this year's Band Aid song will be his last.
The philanthropist made the revelation while at Asda in Trafford Park yesterday, where he was purchasing the first four copies of the new Band Aid 30 single, Do they know it's Christmas?
However Sir Bob hopes for his legacy to live on through upcoming artists – even without his involvement.
Sir Bob told MM: "I won't do it again I don't think. But I hope that there is someone who is on the record this year who says 'you know we can use that song in 10, 15, 20 years time'."
He also explained how Band Aid is a brand as a charity and this is why it still manages to make an impact.
"People accept it now after 30 years," he said. "Their parents were part of the original one and they've grown up in school singing the song.
"So it may be slightly weird that they are hearing – yet again – the same song, but I think that is all part of it."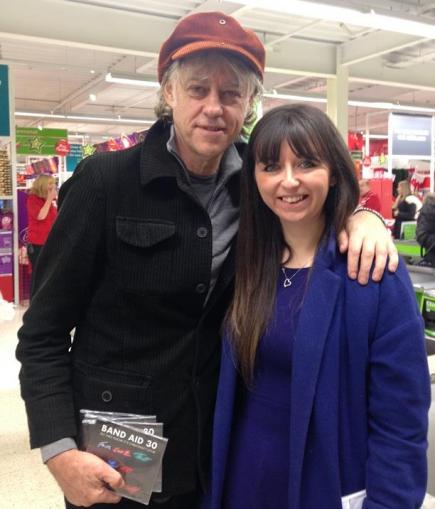 'JOIN THE PARTY': Sir Bob buys the first four copies of Band Aid 30, before posing with MM reporter Rachel Howarth
 
Sir Bob acknowledged that in the internet age people are bombarded with charities appealing for cash with images of poverty and desperation and this was something he kept in mind while filming the latest video.
The 63-year-old said: "I think they're not desensitised by the images, although that may be a very good point.
"This is why I put the six second clip on at the beginning of the video, so that people understand straight away, that even though the 1D fans were excited,  the cause is what it is actually all about."
His choice of artists, which this year includes One Direction, Ed Sheeran, Ellie Goulding, Chris Martin and Rita Ora, is Sir Bob's astute decision to keep a whole generation from becoming desensitised or suffering from 'disaster fatigue'.
"If you can turn on a whole generation; if their heroes – and every 13-year-old girl needs a Harry Styles – can say why they are doing it, then you begin to get another generation thinking," he said.
"This may be why this country responds so well now to Comic Relief and Children in Need.
"Are they desensitised to charity now? No, it doesn't seem so. The returns on charities like that are huge and no matter how hard off people are, they want to get on board too.
"They just join the party. They know that there are always other worse off."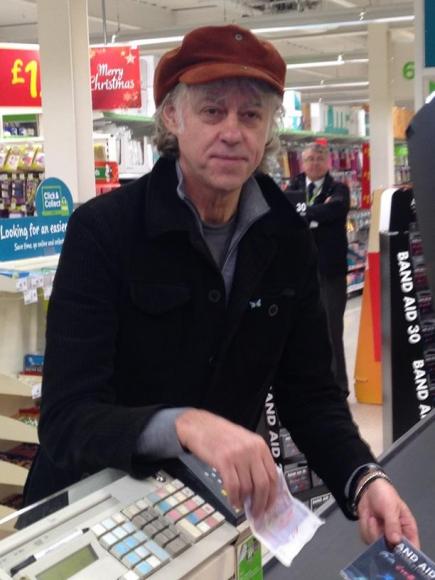 BAND AID WILL LIVE ON: While Sir Bob says he doesn't think he will do it again, he hopes someone will take it on
Sir Bob didn't shy away from the criticism that himself and Band Aid have both received in the past, particularly this year in which lyrics were criticised as reinforcing negative stereotypes in Africa.
He said: "When this generation of pop stars go to back it, people go 'Oh Christ, we're going to have Geldof for the next three weeks crapping on about something in Africa'.
"But I've then overcome a huge section of the argument by starting to get people talking about what Band Aid is actually about. They know the cause."
Do they know it's Christmas? is on sale now priced at £3.99 for a CD and available for download at 99p.