Although many may never admit it, most horror fans fancy their chances of survival in the event of a zombie apocalypse.
And now Mancunians have a chance to put their skills to the test when real-life simulation 2.8 Hours Later returns to the city later this month.
The game, developed by award-winning game designers, Slingshot, is now in its sixth year, with over 60,000 people having already taken part in the event to date.  
Simon Evans, who co-founded 2.8 Hours Later with his business partner Simon Johnson, explained its growing popularity.
"We visited Manchester in 2014, and as the game continues to grow in popularity, we thought we'd bring it back to the city for an even more spectacular event," he said.
"In 2015, the game will offer a whole host of new challenges for our players to contend with and characters they'll meet which will make the experience completely different to previous years'.
"The mission is new, the story is fresh, the gameplay is unlike anything that has come before in 2.8 Hours Later."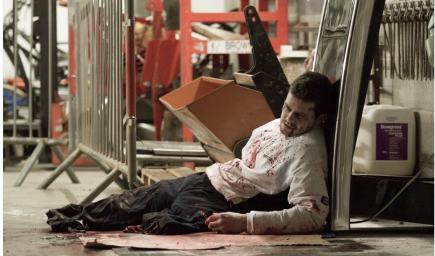 DEAD SCARY: A half-eaten zombie lying on the floor
Every year Manchester dances on the brink of destruction, where zombies out-number survivors and the city poses the only chance for the survival of the entire human race.
But five years after the original zombie infection broke out, a devastating discovery has now been made.
A weaker strain of the zombie virus has infected the entire species and, as a result, no children have been born in four years.
As a participant in the sixth strain of 2.8 Hours later, you will join a resistance movement in humanity's last attempt to locate the only remaining uninfected children left on earth.
The 2015 adaptation of the game, aptly named 'Ruin' takes place in the streets of Manchester.
The story follows on from last year's 'Survival' but this time there is an added element of urgency.
"People are always looking for something that will drag them out of their comfort zone and "Ruin" will do just that," Simon added.
"Adrenaline and fear will push participants forward but they'll need to be careful not to let terror overwhelm them; you will need cunning as well as speed.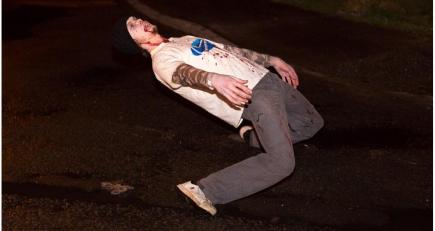 THE WALKING DEAD: A dislocated body parading the streets
Previous players and horror geeks may want to bring their existing knowledge to aid the mission as they battle against the fast and unrelenting bands of zombies.
To locate the children and bring them to safety, participants will have to leave their zombie proof headquarters at 'Asylum' and break in to a quarantined slum run by a brutal warlord and that is rife with the infected.
Armed with little more than a map, players will have to physically and mentally challenging tasks whilst evading the zombie hordes roaming the city streets. (Running friendly clothing is a must).
They will have to infiltrate the warlord's gang, evade police capture and carry out their search and rescue for the children.
Players will need to do all this without being caught by the rampaging zombies. The further from Asylum they get, the more perilous their task becomes.
Characters within the game are played by actors in full costume and make-up. Players who are 'caught' by the living dead will be marked with invisible ink signifying infection.
Simon said: "This offers a unique chance for players to act the lead role in a zombie video game or horror movie.  
"People tend to sign up as a team, but you can sign up individually – our only restriction is you have to be over 18 to play."
Tickets start from £38 per person and are available for April 30, and May 1, 2, 8 and 9.
You can find out more information and book tickets for 2.8 Hours Later by clicking here.