A true connoisseur of music will tell you that less is more, and one company has taken this philosophy to new extremes, arranging an intimate gig… in somebody's living room.
On Sunday evening, a Salford apartment played home to a secret Sofar Sounds gig, showcasing some of Manchester's finest musical talent, headlined with a surprise appearance by Irish artist, Hozier.
For those who have not heard of Sofar Sounds, it's philosophy is simple; to bring back a focused attention and appreciation for music in an environment that cannot allow for anything else.
The intimate gigs have been flourishing internationally over the last few years, with gigs playing out under a strict no talking or texting policy, as the artists attempt to restore the connection between musician and audience.
Former venues include abandoned buildings, a disused art gallery or in this case a domestic flat.  
Having not attended an event like this before, there were no real expectations, however the evening was a truly remarkable celebration of music.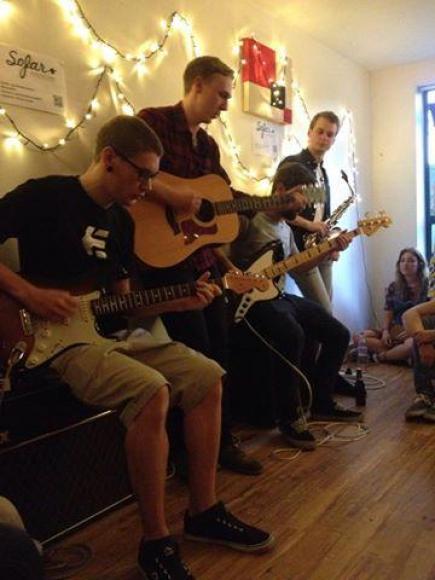 ROCK STARS: Minor Blues sent the crowd wild with their performance 
In a sweat filled haze of beer and fairy lights, more than forty people sat cramped around in a tiny living room.
The lucky ones sat on sofas or kitchen work tops while the others settled for cushions on the floor and eagerly awaited the line-up of acts to grace the presence of the Chapel Street flat.
The Manchester music scene has never been in short supply of diversity in its emerging talent, and this was evident with the three local acts who delighted their audience throughout the evening.
First to take to the stage, or rather the only piece of sticky laminate floor remaining was Manchester's very own Rachel Hillary.
Her voice was as fluid and bohemian as the billowing floral dress that draped around her and her acoustic guitar.
With her lone voice alongside bongo percussion, the beautifully haunting tones were complimented with quirky yet consistently meaningful lyrics that commanded moments of soul-searching throughout the audience, despite the almost fairy folk genre of her set list.
Merry Widow was undoubtedly a highlight of the set incredibly reminiscent of early Laura Marling.
Next up was bluesy rock band Minor Blues.
The four-piece was made up of alongside front man Kyle Edge, guitarist Simon Holden, bassist Adam Keen and Saxophonist Richard Hinckley.
The boys paid homage to their bluesy roots covering Albert King's Born Under a Bad Sign intertwining a sultry sax, funky baseline and smooth electric riff to create something incredibly niche and fresh sounding.
Fourteen Days of Summer, an original track by the group, emphasized the melancholic and darkly beautiful undertones to the bluesy tracks they played throughout their set list.
Minor Blues are definitely one to keep an eye out for on the local scene.
Shauna Mackin, who opened her flat up to host the event, also offered up her musical talents for the audience.
The Irish songstress performed beautiful renditions of her own original material Go Your Way and I'm Altered.
Both of these tracks evoked echoes of folk singer Ben Howard's haunting vocals, and intensified the atmosphere to the point in which a pin drop could be heard.
To close the evening, Irish artist Andrew Hozier-Byrne, an incredibly tall, long haired and double denim wearing man, walked across the room nervously carrying a cup of tea.
The headliner commented on how he was 'surprisingly more nervous' than bigger gigs due to the proximity and intensity within the room.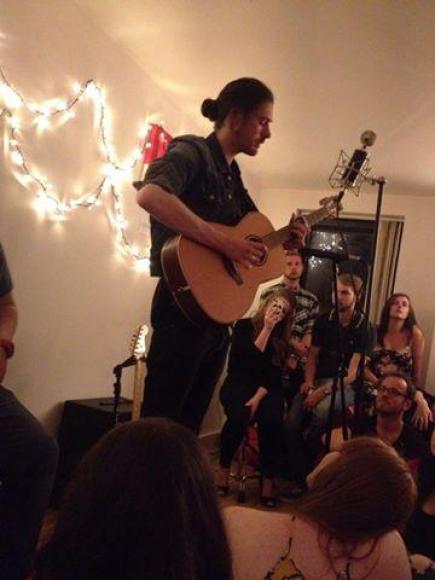 WHEN TWO BECOME ONE: Hozier was glad to go back to basics
A surprise performance, considering he has more than 8.5million hits on one of his tracks on YouTube.
Hozier opened with Cherry Wine, a very gothic and beautiful track that sounded incredibly poignant as the 24-year-old stood in the centre of the living room with only an acoustic guitar facing a dumbfounded and slightly star-struck audience.
Hoizer grazed over his bluesy upbringing and played To Be Alone, presenting a surprisingly graceful high vocal mid song that astounded the crowd.
To the audience's pleasure he played two of his more popular tracks, starting with From Eden and then closed with Take Me to Church, which both portray love as a religious metaphor through spell bounding and incredibly clever lyrics.
Questioning the artists motives in performing free for this very intimate gig, Hoizer simply blushed: "The gig reminds me of where I started."
In an era when celebrities are becoming increasingly disconnected with the everyday world, it's refreshing to see artists remember what, or who, they make their artistry for.