We know it's the festive season when children pile outside the doors of the city's theatres, bursting with excitement to go see that year's production of the Christmas pantomime.
Standing in close proximity, parents and grandparents – who are just as excited, if not more so – to get through the door, await to get their yearly dose of slapstick humour, see their all-time favourite, Muddles, and bring out their inner-child without any judgement.
Snow White and the Seven Dwarfs delivered exactly that. Seven Mancunian dwarfs entered to introduce the storyline to us. Their costumes were cleverly executed by seven men walking on their knees, giving height to their puppet-like legs which, hanging against a black cape, looked like real little legs attached to their bodies.
Although not fully true to their fairy tale 'happy', 'sleepy, 'bashful characters, it was easy to pick up hints of these emotions throughout the panto. They made up for this lack of fairy tale character, however, by their use of thick northern accents and using Manc sayings and colloquialisms to represent themselves as the perfect local group of lads.
Flashy, candy-coloured costumes and stage sets lit up the whole theatre, enticing several 'ooohs' and 'aaaghs' from the children. We meet Princess Snow White (Zoë George) and the dashingly good looking Prince Harry (Joshua St. Clair), who Snow White is destined to marry after her 21st birthday party. The eccentric Dame Nora Crumble (Eric Potts) and goofy Muddles (Ben Nickless) appeared soon after.
But the storyline would be incomplete, however, without the star of the show, the jealous and evil Queen Lucretia (Craig Revel Horwood) appearing with her magic mirror which tells her time and time again that she is no longer the fairest of them all. She sets out to get rid of Princess Snow White forever by leaving her for dead in the Forbidden Forest with the help of Muddles and Nora Crumble, but her plan doesn't quite follow through.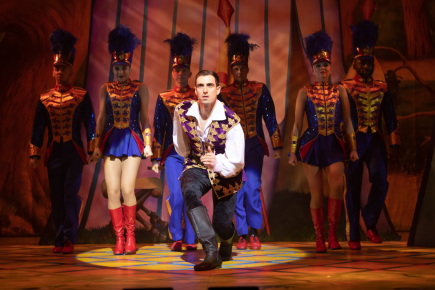 We follow the gang through this journey, all the while being thoroughly entertained by (comedian) Muddles' continuous witty and slap stick humour. Manchester-related jokes were plentiful, impressions of several singers and even David Attenborough were well-executed and the filler scenes (mostly by Muddles and Dame Nora Crumble) had the crowd in tears of laughter. Political jokes were also present, with Boris Johnson's pants coming on stage, a visit from Donald Trump the donkey, inclusions of the budget cuts and mention of the not-so-good at keeping a secret Prince Andrew.
A few notable scenes had the actors themselves in bouts of laughter, having to pull themselves together before they could carry on. One involved a few 'on purpose' or not so 'on purpose' mistakes.
The beauty of this was that no one could actually tell whether it was scripted or not. When Muddles fell through the stage curtain, revealing the stage crew behind setting up for the next scene, or when Dame Nora Crumble lost his hair piece and didn't notice, it had everyone – from the children right through to the grandparents – in a bout of belly bursting laughter.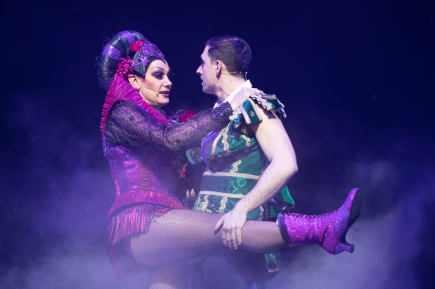 The stage set was extremely impressive, with bold and colourful props everywhere, a little car which Dame Nora Crumble entered on stage with, and a huge and quite scary dragon which flew out over the audience. The costumes and head pieces were phenomenal, each so intricate and delicately detailed, yet bold, flashy and very sturdy.
When those dancers and stage performers began to move, boy did they put on a show!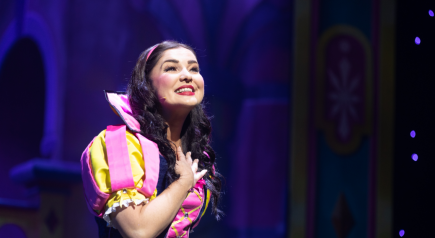 Maybe it was because they felt the pressure to deliver with Craig Revel Horwood right in front of them, or maybe they were just given a few extra tips from him during rehearsals. Regardless, their performances – from the younger children to the long-legged ladies – were nothing but impressive and we often found our eyes drifting off of the main performance to watch the dancers instead.
And speaking of the Strictly Come Dancing judge, we give him 10/10 for his performance. With a decade of pantomime under his belt, Revel Horwood outshone his counterparts whenever he stood on stage. Not only did he prove that he can dance just as well with high heels on, but can sing like no other.
Several of his solo scenes stood out from the rest and his duet with Prince Harry, where they sang Can't Take My Eyes Off Of You, was an extraordinary snippet of good dancing, strong singing, humour and a few naughty lines which had the ladies in the back giggling. His performance most certainly did not drag, and we question whether he was destined to be judging the performers on stage, or actually be on stage himself.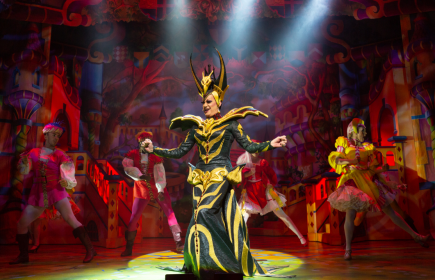 In the words of Queen Lucretia, this whole production was "absolutely fabulous!".
With Snow White and the Seven Dwarfs the classic pantomime experience is had, with a tongue twisted sing-along song, countless interactions with the audience and some extra lively and sassy children talking about their favourite characters on stage. It is hilarious, naughty at times, but quirky and full of witty and clever acting.
*Snow White and the Seven Dwarfs is showing at Opera House, Manchester until Sunday, December 29. You can buy tickets HERE.