Opera North's La Cenerentola (Cinderella) is a fine example of powerful storytelling through the use of beautiful opera and clever comedy.
In fact, it managed to appeal to an audience of all ages as it was presented at The Lowry in Salford.
A team of talented singers and actors make up the multi-national cast – from Canadian mezzo-soprano Wallis Giunta in the role of Angelina, or Cinderella, and South African tenor Sunnyboy Dladla as Prince Ramiro.
Staying true to the romantic magic of fairy tales, the plot focuses on finding love through appreciating the kindness and goodness in people rather than considering social status and reputation.
Gioachino Rossini, who composed the two-act opera in three weeks back in 1817, clearly had his own unique perspective on the old folk tale.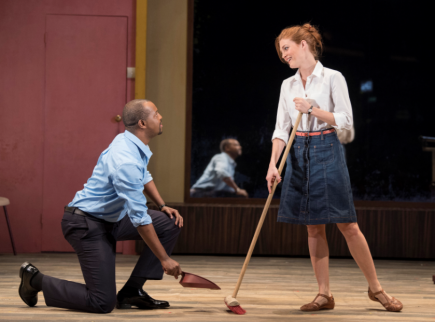 UNIQUE: The production feels familiar yet fresh
Instead of a wicked stepmother, there is a wicked (and laugh-inducing) stepfather. Rather than a glass slipper, there is a pair of bracelets. And in lieu of a fairy godmother, there is Alidoro – the prince's tutor who acts as Cinderella's guide. 
Henry Waddington – who plays stepfather Don Manifico – rises to the challenge when it comes to capturing the comedy demanded from his role.
It's just one of the many enjoyable aspects of the production which builds the excitement on the run up to the royal ball.
In familiar scenes, the two stepsisters – played by Sky Ingram and Amy J. Payne – try whole-heartedly to win the Prince's attention despite their selfish and eccentric ways.
Meanwhile, John Savourin and Quirijin de Lang play the Prince's confidantes, Alidoro and Dandini, who support his quest to learn about his suitors' true personalities.
Like Rossini, director Aletta Collins manages to add her own modern perspective where possible – a feat that makes this production so special.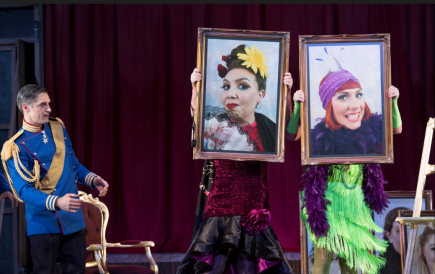 COMEDY: The laughs are well-deserved
The two-hour 45 minute show is packed with new technology, using digital works displayed onto the backdrop mirror and the drop curtain. 
Complementing this is conductor Wyn Davies and his orchestra, who play so skilfully in the background.
All in all, Opera North's La Cenerentola takes audience members on a journey that, while familiar, feels fresh.
This is just one reason why it's hard to find fault with the production.
*Opera North's La Cenerentola (Cinderella) is showing at The Lowry in Salford on Saturday, March 11.