Please note: the guide will be updated throughout the week. Ensure you check back for updates!
So you're after something fun to do in Manchester? You've come to the right place…
Filmonik is the Manchester cell representing the Kino Movement, a worldwide film-making phenomenon which champions the drive to make motion pictures, regardless of means.
The group is hosting a Kabaret video jam session, a film-making masterclass where actors, directors, musicians and graphic designers come together to create a short film.

LENSE LEGENDS: Filmonik give film-makers the chance to strut their stuff (© Filmonik via YouTube with thanks)
The Kabaret has three rounds spaced over 10 days so collaboration is key if a project is to flourish as at the end of each round there's a public screening where participants present their work.
The event is an amazing opportunity to work alongside international creatives and receive guidance, feedback and inspiration. 
When:  July 24 to August 3
Where: Filmonik HQ, New Art Spaces, Federation House, Federation Street, Manchester
Price: Single round £20, All three rounds £50, Public screening £15
The UK's biggest free rock tribute festival comes in the form of Festwich, which will stage dive onto the people of Manchester at St Mary's Park in Prestwich.
The festival will be raising money for Marie Curie Cancer Care charity and promises to deliver more rock than ever before.
The aim of the weekend is to bring rip roaring sets from some of the best bands on the planet without the costly ticket prices.
Festwich have booked some of the most popular tribute acts in Europe to play, with gems like Knot Slip, Guns or Roses and Bon Jovie adorning the line-up.
Tickets are going fast, as the event won't cost a penny but tickets will not be available on the door. 
When July 26 and 27
Where St Mary's Park in Prestwich
Price £2.50 booking fee  
Patrick Swayze Bad Ass Double Bill @ Grimm Up North
Prepare for not one but two helpings of the late great Patrick Swayze in two iconic films.
The first follows our hero as Dalton in Roadhouse, who plays a handsome, existential, hard as nails bouncer.
At his latest job he crosses Wesley, the Don of the town who soon makes life more difficult for the legendary doorman.
What ensues is a barrage of small town explosions, totally manly montage sequences and perhaps the greatest fight scene of all time.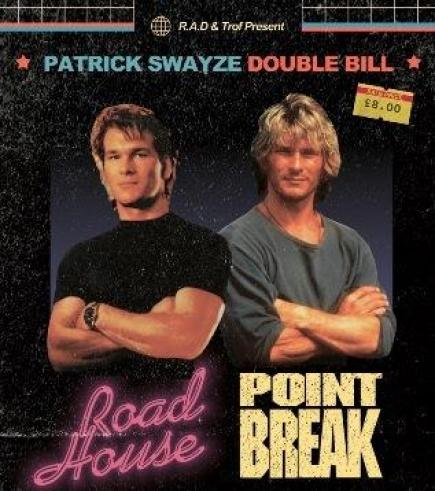 DOUBLE DOSE: 1980's legend Patrick Swayze stars in both these iconic films
This is followed by another great film as Swayze stars alongside Keanu Reeves in Point Break as they play Guru Bodhi and Johnny Utah respectively.
This bromance masterpiece follows the duo as Reeves plays an undercover cop attempting to solve a crime and joins surfer dude Swayze and his gang to accomplish this.
But could there be a twist as the gang Reeves is after could be the one he's working with.
When: July 27 4pm-9pm
Price: £8 (18+)
Bill & Ted's Bogus Double Bill @ Grimm Up North
Get ready for a double dose of laughs and hilarity as Bill S. Preston Esquire (Alex Winters) and Ted Theodore Logan (Keanu Reeves) take you on a ride into the past.
Bill & Ted's Excellent Adventure sees the duo travel through time saving the world with historical figures like Socrates, Beethoven, Napoleon and Ghengis Khan to save the most important band in history, Wyld Stallyns.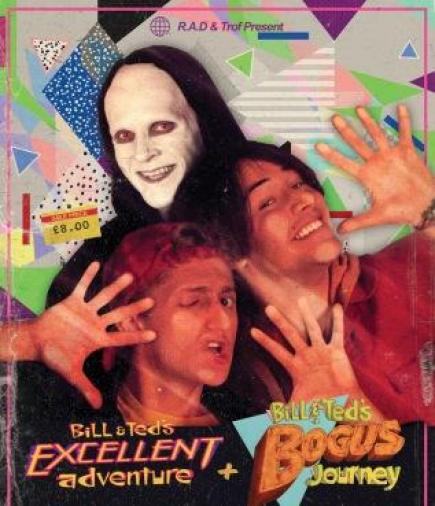 BARREL OF LAUGHS: Prepare for an adventure through time with Bill and Ted
Then immediately after follow them in Bill & Ted's Bogus Journey where our heroes find themselves killed and replaced by two evil clones who intend to kidnap the babes and change the future that the Wyld Stallyn's have built for Jim Martin, Rufus and friends.
When: 10 August 4pm-9pm
Price: £8 (14+)
Manchester's Victoria Baths will play stunning host to HOME's exhilarating take on the world's most famous love story: Romeo and Juliet.
The classic tale has been uprooted from its traditional Verona setting to take place among the Eastern European criminal underworld, the production will see Shakespeare's tale of love, loyalty and tragedy played out in Manchester's beautiful Victorian swimming pools.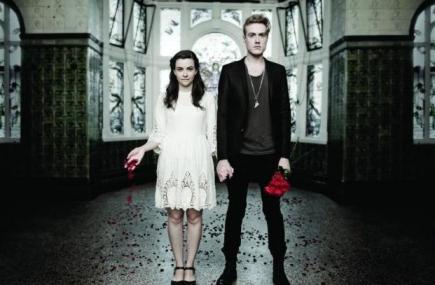 DRAMA: HOME's production promises a modern twist on the classic tale (© HOME_MCR via YouTube with thanks)
The promenade performance will be presented as a contemporary fairytale in a world that's full of intrigue, seduction and danger.
Filled with colourful characters, music from gypsy bands and Balkan choirs, this unique theatre experience will take audiences on a journey as the story weaves through its ornate and iconic performance space.
When: September 10 –Oct 4 2014 All shows begin at 19:30
Where: Victoria Baths
Price: Adults: £10 – £23.50 | Previews (September 10,11,15,16) £10
Main image courtesy of Matthew Hartley, with thanks.