As the film awards season kicks off, one of those to narrowly miss out on a Golden Globe award was Salford University graduate Anna Heinamaa – but she's stil got a shot at an Oscar!
Anna's film The Fencer was nominated for Best Foreign Language Film.
The 54-year-old developed the plot while studying for a Master's degree in Film Screenwriting, which required her to produce her own film script as part of the course.
The 2015 internationally co-produced drama – directed by Finland's Klaus Haro – is based on the true story of Endel Nelis.
Endel was an Estonian fencing master who fled from his home in Leningrad in the early 1950s to escape Russia's secret police.
After moving to the small Estonian town of Haapsalu, Endel founds an after-school for aspiring young swordsmen.
Talking to MM, Anna said she was deeply moved by the character's story and the sacrifices he had to make.
"I was touched by the main character's dilemma – he had had to give up his love for fencing, the one thing in life that kept him going," she said.
"What would he do, where would he find a new outlet for his passion, and what would follow from it?"
Anna studied in Moscow for six months during the 80s so speaks fluent Russian and has experience of living within the Soviet Union – she felt this helped her relate to Endel's struggles.
She said: "Without that experience, I doubt if it would have been possible for me to write the story."
It was not until just six years ago that Anna met Helen, Endel's daughter. who now runs his fencing club, and learned of the story.
"We were visiting some friends in Haapsalu, Estonia, which is the tiny rural town where the story takes place," explained Anna.
"To our great surprise, we saw people walking around with fencing bags. A fencing club? Here?"
"I had given up writing novels more than a decade ago and was not sure if I'd ever write again.
"But when I began to study screenwriting at the joint MA programme of Tampere (Finland) and Salford, I remembered the sadly neglected 'story embryo' that had started to take shape in my mind then and there, as I listened to Helen talk about her father."
Although The Fencer is based on the true story of Endel's struggles to evade the Soviet Union, Anna has stated that it is not a straight biography, but a highly dramatized film to convey a powerful emotional story without getting bogged down in historical details.
She said: "I did talk to many locals and people who knew the actual Endel Nelis, but more perhaps to get the feeling of the story than to gather a great number of historical data."
Anna regards her course at the Greater Manchester university as a wonderful learning process and feels it has allowed her to recognise how to work stories for different audiences.
"I was just thrilled with the screenwriting programme at Salford. I'm originally a novelist, but I'd never studied storytelling before," she said.
"I've always had very good intuitive skills in writing – which I've probably absorbed from dozens and dozens of novels, films, plays etc. – but I lacked the intellectual understanding of my trade.
"The programme took my writing to a whole new level by giving me the tools to understand what the art of storytelling is all about."
Anna has come a long way in her career and since The Fencer was produced in 2014, it has established national recognition.
The drama is also currently Finland's official submission for the Oscar for Best Foreign Language Film at the 88th Academy Awards this year.
Giving some advice to any aspiring screenwriters or novelists, Anna says it is key for every writer to really get to trips with their trade.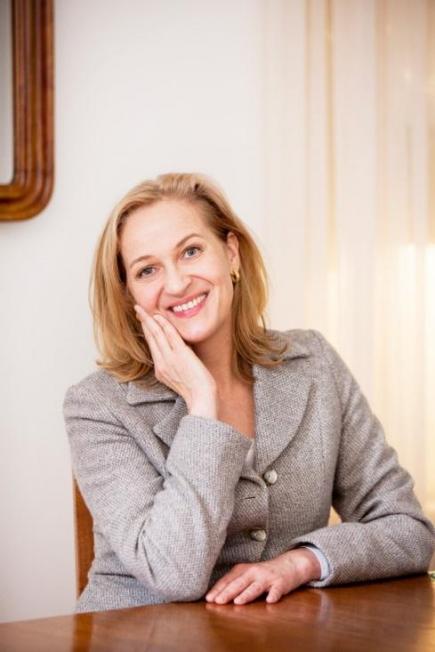 'LOVE YOUR TRADE, LOVE STORIES': Anna said screenwriters should immerse themselves in storytelling like little kids at story time (© Christina Timonen)
She said: "I would encourage aspiring screenwriters to love their trade – love stories, love watching them, reading them, talking about them, taking them apart, analysing them, over and over again.
"Like little kids who want to hear the same story a dozen times – storytellers should do the same.
"It's a lifelong learning process – I read books on screenwriting in bed before I go to sleep.
"So my advice to aspiring film students would be develop a love for story and cultivate it every way you can – it will pay you back manifold."
One of Anna's former lecturers Colin Muir, programme leader for Salford's MA Television and Radio Scriptwriting, has also spoken of Anna's many talents and how proud he is of having her as a graduate.
He told MM: "Anna studied on the MA for two years and was an analytical, imaginative and dedicated writer.
"The Fencer is one of two film scripts she developed and wrote on the programme. There may well be further success in store for Anna in the future."
The Fencer lost out on the Golden Globe for Best Foreign Language Film to Son of Saul – a Hungarian film about a Jewish worker in Auschwitz concentration camp.
Fingers crossed this stunning showcase of Greater Manchester talent has more success at the Oscars!
Image courtesy Klaus Härö, via YouTube, with thanks.