'That farmer looks scary' and 'this better not be boring,' say a young audience member sitting in the theatre.
To be honest, pre-show, I worry the same thing as Babe, the Sheep-Pig kicks off at The Lowry.
Even before it starts I am thinking, 'that'll do pig'. How wrong I was.
As the curtain falls for the final act, it's obvious how much hard graft has gone into this production and that the 'frightening' farmer represents creativity and imagination.
This ingenuity is there for all to see throughout the play with its incredible and impressive mechanical animal puppets, designed by Max Humphries and Dik Downey, which from the start capture the imagination of the younger audience members.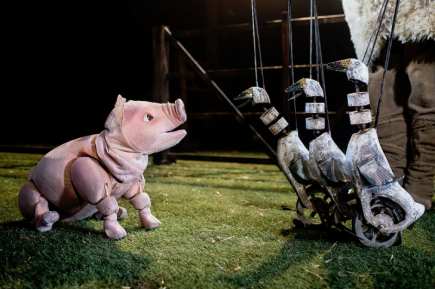 MECHANICAL: The puppets are designed by Max Humphries and Dik Downey
Recognition also needs to go to the production's adaptor, and Oliver Award winner, David Wood, who brings a sense of nostalgia to the audience's older generation, who must feel like they are being treated to the magic of the 1995 Oscar-winning film Babe all over again.
The use of a violin by the multi-talented Oliver Grant is also a clever ploy, as it provides an Irish jig score to the performance, which bolds perfectly well with the Somerset theme.
The performance's interlude comes after a heart-stopping moment involving a wonderfully daring robot-wolf creation, which would maim Ma the ewe; a scene that brings the audience to a shocking standstill.
Sadly though, there is one critique, which comes during the mid-end scene when Nicola Blackman – playing Sheep-Dog – breaks the fourth wall and asks the audience to help Babe remember the secret password.
She says: "I may be Ewe, I may be Ram, I may be Mutton, may be Lamb, but on the hoof or on the hook, I 'bain't so stupid as I look."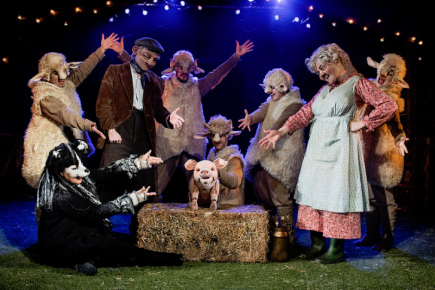 ADAPTION: The production is based on the 1995 Oscar-winning film
At this point the audience interaction feels pantomime-esque and that, only briefly, suggests the show isn't taking itself seriously, which is disappointing because it does so well up to that point.
Overall, the theatre production was never going to outshine the film version.
However, the team and everyone involved have created an innovative, quick-witted, and perhaps most importantly, feel-good adaptation of Dick King Smith's classic children's book 'The Sheep Pig'.
And for that alone, it's well worth the time of theatre-goers.
If there's anything you should watch this weekend – whether it's with your children or significant other – Babe, the Sheep-Pig is your ticket. 'Ewe' won't regret it.
*Babe, the Sheep-Pig is showing until Saturday, April 15 at The Lowry, Salford.