The lights dimmed, the crowd huddled together and started to sway to the familiar beat playing ever so quietly. And then from completely out of sight Brian Molko's ethereal voice broke through the darkness with the opening of Pure Morning.
After a good but not fantastic supporting act from Dundee indie-rock band The Mirror Trap, which left the audience tepid at best, the simple but effective drama of Placebo's entrance was a reassuring 'we're here now and we're what you have been waiting for'.
The London alternative rock band, formed in 1994 by lead singer and guitarist Brian and bassist Stefan Olsdal, arrived at Manchester's O2 Apollo half way through their most extensive run of shows in the UK since 2006.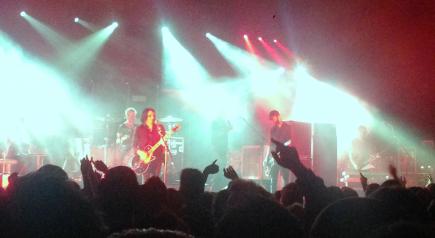 PLACEBO EFFECT: Every you and every me was blown away by the power of Brian Molko's vocals
The strikingly beautiful and talented duo is accompanied on this tour by Bill Lloyd on keyboard and bass guitar, violinist Fiona Brice, Nick Gavrilovic also on guitar, and the newest addition drummer Matt Lunn.
This tour, which will conclude in Hammersmith, London, on March 24, is a celebration of their 2013 album Loud Like Love and an incredibly successful 20-year career that has seen them achieve more than one million album sales at home, and more than 12 million worldwide.
In that time they have played to loyal fans in 63 different countries.
Some of their followers have been there from the very beginning, some are just discovering Placebo now, and others – like the stranger standing next to me who decided to share a little insight into his life – the group has been the one constant throughout two decades of ups and downs.
And looking around at the crowd last night it was obvious a fair share of every type of fan was there to show support and have their minds blown.
Placebo tonight in Manchester. Brian Molko looks and sounds exactly the same as the last time I saw him in 1999 pic.twitter.com/ePkJ5Ss7FH

— Jools (@kerplunkchik) March 13, 2015
The head bangers banged – their heads not each other – the ageing not-so-gracefully rockers rocked and the teenyboppers bopped as they churned out hit after hit peppered with some of the new bits.
A set-list that included oldies but goodies like Song to Say Goodbye, Infra-Red, Special K, Meds and The Bitter End and newer soon-to-be-classics such as Exit Wounds, Scene of the Crime and Rob the Bank was never going to disappoint!
The hardcore, ripped tights, multi-coloured hair and piercing types got to go heavy to songs like Space Monkey while the Joe and Jane Bloggs, who'd clearly come from office jobs and had tattoos peeking out from under their sleeves, got to reminisce to Every You Every Me and Running Up That Hill.
Every one unique, every one breath-taking in its own way, and yet every one harmonised in their melancholy – an angst of a youth not yet forgotten or perhaps still being endured – and the songs were alright too.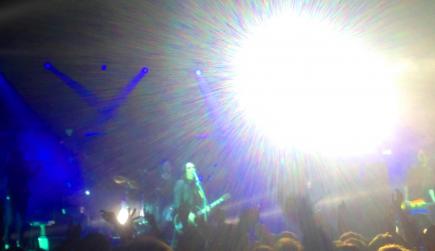 PURE FAWNING: Between each song girls' screams of 'I love you Brian' filled the Apollo
Non-gender specific royalty of androgyny, front man Brian, delivered every song with total perfection. Not a single note was off-key and not a single beat was missed.
In almost every track each musician was given their time in the spotlight to show how well-deserved their place in one of the most successful British rock bands is with impeccable solos. They haven't come this far or achieved so much for no reason.
While it is often the singer who gets all the praise, the moments when the entire band would drop away to just leave Brian singing the final few lines or a rearranged verse of a song were without a doubt the highlights of the show.
The power behind his iconic high-pitched, angelic vocals is astounding when backed with instruments let alone when laid bare, vulnerable and gorgeous in front of you.
Those moments alone made the night one the audience would carry with them forever.
This morning this feels like a #dream #placeboworld #placebo #gig @PLACEBOWORLD @O2ApolloManc pic.twitter.com/dfmIUY5Jeo

— Kimberley Reader (@kj_rdr) March 13, 2015
Then when you throw in the musical aptitude of Placebo's other integral members, the chemistry, the performance factor, the bone-shaking bass of the sound system, and an endlessly impressive light show…
Well, then you get a band who not only have fans coming back for more so many years on, but a band who even after two decades are still gaining new followers.
You get musicians who bring together people from every clique and circumstance with lyrics of hope and pain to which they can all relate – a band with a vocalist whose tone is the only crutch you'll need to get you through the tragedy of your teens and the turmoil of adulthood.
You get a band who seemed to master their art so long ago and yet somehow deliver even more at every show – last night being no exception.
You get a five-piece instrumental extravaganza whose members walked back onto the Apollo stage, at the end of their set and an encore, applauding and thanking their AUDIENCE before holding hands and taking a bow.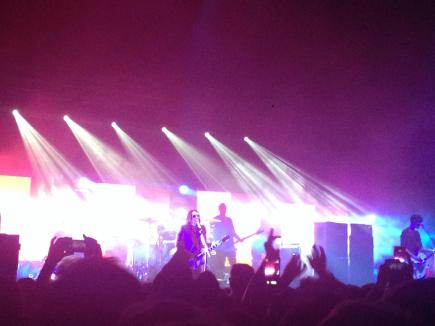 THE BITTER END: It felt like every fan would break the back of love for a little more Placebo
They are a band who 'are not gods but men' yet fill your soul with whatever the opposite of loneliness is. Placebo, here's to 20 more years.
Placebo's next stop on their UK tour is Sheffield, where they'll play to presumably equally thrilled crowds, before heading to Norwich. For more information click here.
If you can't make it to a gig (although you most definitely should) also to commemorate 20 years together the rockers have made all their material available to stream.
Image courtesy of Marco Maas with thanks.