For lovers of the iconic post-punk group Joy Division and revellers of the Manchester music scene, New Dawn Fades brings to light the perfect combination of history, tragedy and earth-shatteringly dark comedy associated with one of the city's most influential music acts.
Having first debuted at the Manchester Fringe Festival in July 2013, New Dawn Fades, written by Brian Gorman and directed by Emma Bird, has returned to the stage at the Dancehouse.
It's a production that promises laughs, music, despair and a celebration of the life of Joy Division frontman Ian Curtis, intertwined inside the complex storytelling of Manchester's illustrious history.
Narrated throughout by Tony Wilson (Alan Donohoe, pictured below), ITV Granada presenter and co-founder of Factory Records, New Dawn Fades commences in the context of Manchester's rich narrative, documenting the city's creation from its birth as a Roman fort to the point of the infamous Sex Pistols gig at the Lesser Free Trade Hall in 1976, with a pinch of Joy Division's creation story thrown in for good measure.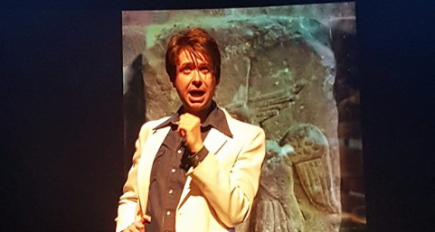 PERFECT COMBINATION: The show entwines history, tragedy and earth-shatteringly dark comedy 
Punctuated by moments of rib-tickling humour generated throughout by Bill Bradshaw in his role as abrupt bass guitarist Peter Hook, Act One leads the audience into the spellbinding backstory of Joy Division's creation – from their humble roots as band Warsaw to their breakthrough on Tony Wilson's ITV Granada television show So It Goes.
With all Joy Division biopics – whether it is 2007 film Control or comedy-drama 24 Hour Party People – the iconic cult figure of Ian Curtis (played by Joe Walsh) provides an ideal counter-balance to moments of dark humour, shaping a mellow undercurrent throughout with the musician's saddening story spiralling out of control following his diagnosis with epilepsy, a troublesome marriage and increasingly evident depression.
With ample live covers of Joy Division classics proliferated throughout (with Walsh on vocals, Bradshaw on base, Nathaniel McCartney as Bernard Sumner on guitar and Matthew Melbourne as Stephen Morris on percussion), the set comes to life to provide an authentic regeneration of the group's most loved anthems to the engrossed audience.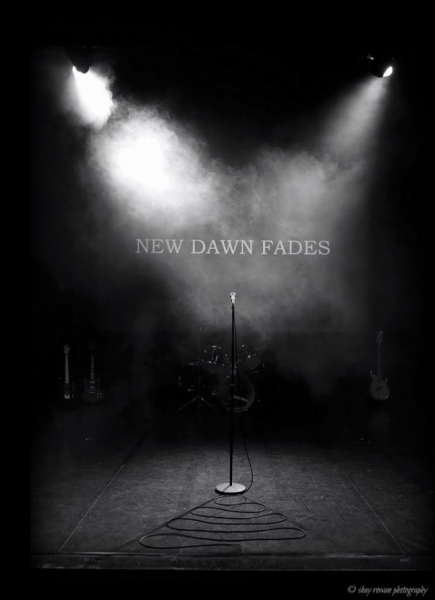 FASCINATING: It's an entertaining and enticingly dark interpretation of Joy Division's history
All notions of comedy and humour gradually fade as Curtis' deepening strains become increasingly problem, unfortunately in tandem with the ever-growing commercial success of Joy Division as the band emerge from Salford and Macclesfield no-marks  to intercontinental music stars. That is, until Curtis' final moment of desperation brings the curtain falling on the act.
A particular mention must go to Donohoe's characterisation of Wilson, perfectly balancing his role as narrator, storyteller and Factory Records co-founder whilst closely mimicking the authentic persona, mannerisms, and character of one of Manchester's most crucial music figures.
New Dawn Fades successfully develops a fascinating, original, but entertaining and enticingly dark interpretation of Joy Division's history, music and characters in a not-to-be-missed production for any Manchester music aficionado or Joy Division enthusiast.
*New Dawn Fades is playing at the Dancehouse, Manchester until Saturday, 14 April. You can buy tickets HERE.