Marvin Gaye's 1971 album What's Going On reverberates through Spike Lee's latest 'joint' Da 5 Bloods – a vital and timely film which confronts America's role in the Vietnam War and unearths what it means for black Americans.
The despondent sounds of Gaye's masterful album feature many times throughout the film. Its title track, which features the line of "war is not the answer, for only love can conquer hate" provides an appropriately scathing, but concise opinion of the conflict in Vietnam, one which is reflected in Lee's film.
Yet, with mentions of "trigger-happy policing" and Gaye's request of "don't punish me with brutality", the album deals with more than what was going on in Vietnam. What's Going On is as much about the treatment of black Americans as it is about America waging war, and creates a pretty rounded assessment of the state of the nation in the 1970s, which has not gone away.
This is a feat replicated and updated by Lee, in this, his 24th and most ambitious feature to date, which follows a group of African-American Vietnam War veterans as they return to the nation in the present day.
The result is an unconventional film of immense depth and urgent poignancy. It provides a contemporary analysis of the war, but also uses the experiences of a group of African-American men to lay bare and examine a society which is not only engineered against them, but continues to claim so much from them. If ever an album and film were made to be paired, well, they're right here.
Gaye's Inner City Blues plays over a bravura opening montage, beginning with Muhammed Ali's famous anti-Vietnam war stance, before it intersperses wartime imagery from the south-east Asia nation with anti-war protests from the United States, while also focussing on the concurrent struggle for black liberation. In a wide-ranging yet concise prologue, Lee reveals his themes from the outset. We know what we're dealing with, we're just not quite sure where it will take us.
As the montage ends and we arrive in the present day, the film introduces its four leads, a group of ageing African-American Vietnam War veterans, namely Paul (Delroy Lindo), Otis (Clarke Peters), Eddie (Norm Lewis), and Melvin (Isiah Whitlock Jr.). The group, along with Paul's son David (Jonathan Majors), have returned to the nation for a final 'tour', with the purpose of locating the burial site of their fallen Squad Leader, along with a gold fortune which they helped him to hide.
As the remaining 'bloods' make their way across Vietnam one last time, Lee begins in a upbeat, almost playful manner, subverting imagery from classic Vietnam War cinema to present their quest as almost a heist-style journey, with old friends back together for one last job.
Yet, what follows over the following two and a half hours could not be further from such a film. Not only is Da 5 Bloods an emotionally toiling and hard-hitting portrayal of life after war, it traverses new cinematic ground – looking at the effects of America's foreign policy through an African-American gaze.
The point that black soldiers were fighting for their country in Vietnam while a battle for civil rights was ongoing at home is salient throughout. The film notes the inability of black Americans (unlike many of their privileged white compatriots – one in particular) to avoid military servitude in Vietnam. This drives many of the film's other themes – as the men return to Vietnam to find the hidden gold, they disagree over what they should use it for. Reparations are discussed, whether that is interpreted as personal gain, or as investment in African-American movements and helping to bring an end to exploitation. Lee thrives with this conflict of opinion, allowing him to develop ideas of greed, allegiance, and brotherhood. He draws elements of morality tales and plays with allegiances within the group.
Gawd Friday Mawnin. I Thank You,I Thank Everyone From All Over Da World Who Have Supported My Joints Throughout The Decades. I Hope You Enjoy #DA5BLOODS. Peace And Love. Be Safe. Yours Truly,Spike pic.twitter.com/mun89GF841

— Spike Lee (@SpikeLeeJoint) June 12, 2020
Much like 2018's BlacKkKlansman, Da 5 Bloods is very much a Spike Lee joint. A number of amusing captions, quick asides and visual interjections provide frequent communication from the director himself, while his droll humour and political leanings have an omnipotent presence on the film. 
Though a caustic script cuts through many a tough scene, this is a serious operation, and a very tough watch at times. There is anguish and depair throughout, underlined and emphasised by an imposing score from longtime Lee collaborator Terence Blanchard.
On a technical level, Newton Thomas Sigel's cinematography and Wynn Thomas' production design are immaculate, as the film captures the look and feel of a nation at odds with its characters' (and possibly the audience's) existing view of it. Through a combination of lighting, iconography and setting, the film produces some truly indelible cinematic images.
Sigel's camerawork is also dynamic, which matches Lee's frenetic direction and produces several outstanding and tense set pieces. As ever, these are aided by precise writing and underscored by impressive character development.
The film uses several 'flashback' scenes to illustrate the group's time at war, as Chadwick Boseman appears as the fifth of 'da five bloods' – their fallen comrade 'Stormin' Norman. Featuring taut battle scenes, the flashbacks are beautifully shot, shifting to a narrow aspect ratio and introducing a grainy, celluloid texture, which marks them as well and truly in the past. Yet, Lee's decision not to recast or de-age his four veterans for the flashbacks creates a series of strange, but deeply powerful and distinct images. Though the older, battle-weary men live vicariously through their younger selves, they don't change in the viewer's eyes. We watch them caught up in conflict alongside the much younger Norman – poignantly the one member of their group who was not able to grow old, still looking as he did in the 1960s.
Norman is referred as the group's "Martin and Malcolm". He teaches black history and sparks their political awareness. Watching the older men as they are now, shaped by their struggles, transported back to fight alongside the man who inspired them is a moving stylistic choice, which also amplifies the dramatic weight of these sequences.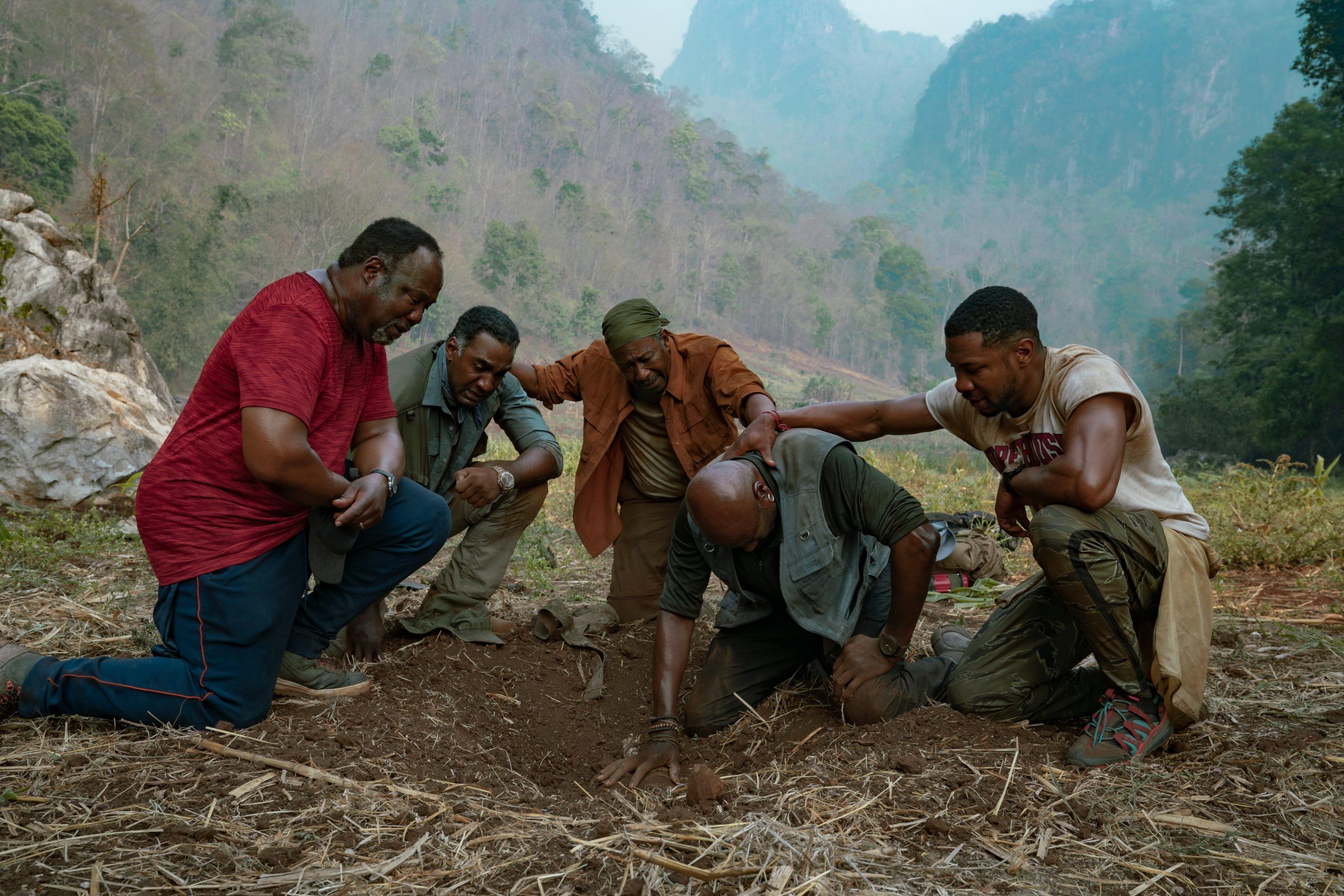 For all the thematic weight of the conflict, Lee's interest goes beyond the period of the Vietnam War – this is a film very much concerned with legacy, both personal and political.
The group now are very different to the men who arrived in Vietnam fifty years ago. With families of their own, living in differing financial circumstances and holding varying political views, each of them returns carrying plenty of baggage, some provided by the war, some by the harsh realities of life back in America afterwards.
They are looking to reckon with their shared past and draw a line under their Vietnam experiences, yet this does manifest so simply. Personal anguish and many bumps on their journey reveal fractures within the group. This is a goldmine for the acting ensemble, who are superb throughout and handle the frequent switches between conflict and harmony adeptly. Lewis and Whitlock Jr are excellent in more supporting roles, while Peters is a charismatic and comforting presence as the group's apparent leader Otis.
Yet it is Delroy Lindo as Paul – a reactionary and deeply troubled figure, who produces an extraordinary and award-worthy performance. American cinema has produced many examples of the tortured Vietnam veteran, yet Lindo's is a fiercy original and truly distinctive take on the figure.
Hardened yet vulnerable, Paul's life has not manifested in the way he imagined. Bitter, he has turned to views with which his friends, and the film's director, evidently don't agree. However, Lee handles the character with sympathy and understanding – he refuses to judge Paul, instead attempting to understand the resentment consuming him. This allows Lindo to deliver the finest work of his career. Constantly battling his demons and aiming to curtail their volcanic influence, Lee captures Paul's eruptions in a series of brazen close ups, which are both tough to watch but both striking and affecting.
Not since his work with Denzel Washington has Lee directed such an enduring performance.  
Hollywood has dealt with America's post-Vietnam trauma in many ways, but never like this. In looking at the political ills of the war, specifically through its impact on black America, Lee's film is righteously angry and acerbic. In connecting the past and present, the director has made an urgent reminder that, as one character remarks: "after you've been in a war, you understand it really never ends".
For Lee's veterans, this is true on many levels.
Released into an opportune moment, Da 5 Bloods is Lee at his unconventional, stimulating best. He throws plenty at the screen, not everything sticks, but when it does, the outcome is electric, incisive and deeply affecting.
No director expresses an image of America quite like Spike.
Rating: 5 stars
'Da 5 Bloods' is available to stream on Netflix
Images courtesy of Netflix Film on Twitter, with thanks